Soaring prices of millet sees a Shanxi village revitalized
p.china.org.cn,September 26, 2018

Adjust font size: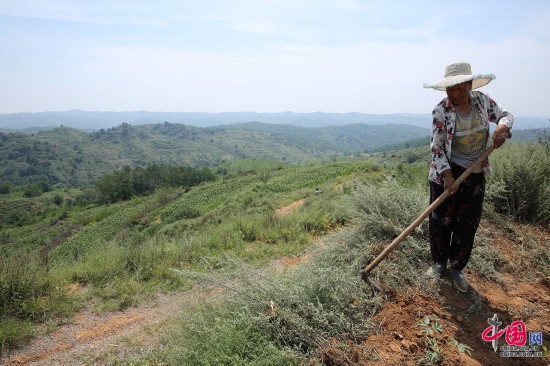 A farmer planting what's known as "Qinzhou Yellow Millet,"so named by Qing Emperor Kangxi around 300 years ago.[Photo by Dong Ning/China.org.cn]
Three hundred years ago, the county's millet was given as an offering to Qing Emperor Kangxi, who named it "Qinzhou Yellow Millet."
QYMG sells two types of millet across China, regular and organic, depending on the land conditions. The organic variety is grown using organic fertilizer, and its wholesale price can reach 20 yuan (US$3) per kilogram compared to non-organic typeat 6 yuan (US$0.9).
Wang also signed contracts with QYMG. In 2017, her family turnedtwo hectares of lands on mountain slopes into farmland and planted organic millet. The family'stotal income that year wasabout100,000 yuan (US$15,000).
"Life was tough before,"Wang said, adding that it was hard to access water on the mountain top and that the price of corn was much lower. After deductingthe costs of seeds, fertilizers and labor, the annual net profit of corn was only about 1,500 yuan (US$230). But now, the annual net profit from millet can reach 30,000 yuan (US$4,500) per hectare.