Soaring prices of millet sees a Shanxi village revitalized
p.china.org.cn,September 26, 2018

Adjust font size: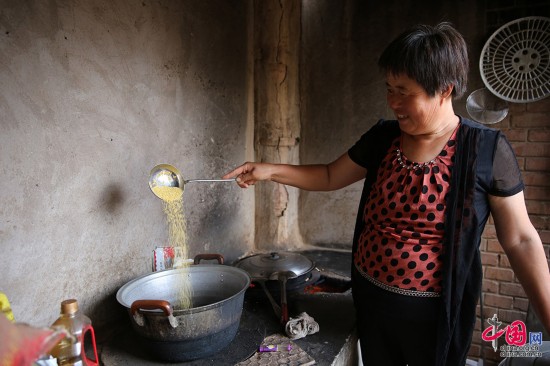 Li Xianping, also fromQin County,scoops millet into a pot to make porridge. Millet is a local food crop that is favored for its high yields and short growing seasons in hot and dry conditions.[Photo by Dong Ning/China.org.cn]
Li Xianping and her family ofXibeiVillage, Qin County, have planted millet for generations.In the past, her family only planted it for themselves, because the market was not good enough for selling millet.
Things changed after she signeda contract with Qinzhou Yellow Millet Group (QYMG), a local agricultural company that not only works with farmers to grow the crop, but also buys the harvest. The wholesale price of millet increased.
According to Zhang Xuepeng, the director of Xibei Village, more than 60 of the 207 households in the village have signed contracts with QYMG, and the total area allocated to millet cultivation in the village now exceeds 20 hectares.
In 2015, grain prices in China fell, with the price of millet dropping from 7 yuan (US$1.05) to 5.2 yuan (US$0.79) per kilo. However, QYMG stuck to its price and purchased some 6,000 tons of the crop at 7 yuan per kilo, spending 10.8 million yuan (US$1.62 million) more than the market price.