Words from hearts of the impoverished
p.china.org.cn by Wang Ning,September 15, 2017

Adjust font size:

"As we greet the New Year, there is one thing that remains most dearly attached to my heart. That is those fellow citizens who still live in hardship. I'm seriously concerned and wonder how their food supply and accommodation are being maintained, how they are celebrating the New Year and the Spring Festival…" In his 2017 New Year speech, President Xi Jinping expressed his deep concern for those living in hardship.

So, how had they been doing throughout 2016? What were their new-year plans, and what do they want to say to President Xi?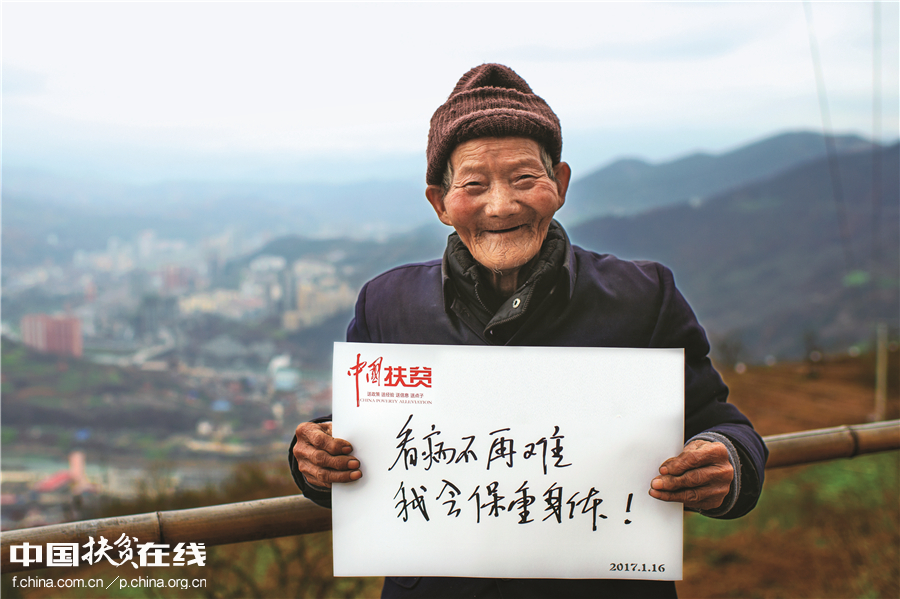 A resident of Shuangya Village, Chengguan Town, Xunyang County, in the city of Ankang, of northwest China's Shaanxi Province, 84-year-old Zhang Dehan fell into poverty as a result of illness. In 2016, after benefitting from the government's poverty elimination healthcare policy, he has almost fully recovered and now praises the Party's policies to everyone he meets. He holds up a sign that reads, "Healthcare is not as difficult to access now. I will take care of myself!" [Photo by Liu Hongtao]