Black goat farming helps impoverished villagers escape from poverty in Hainan
p.china.org.cn by Wang Jinli ,July 28, 2020

Adjust font size: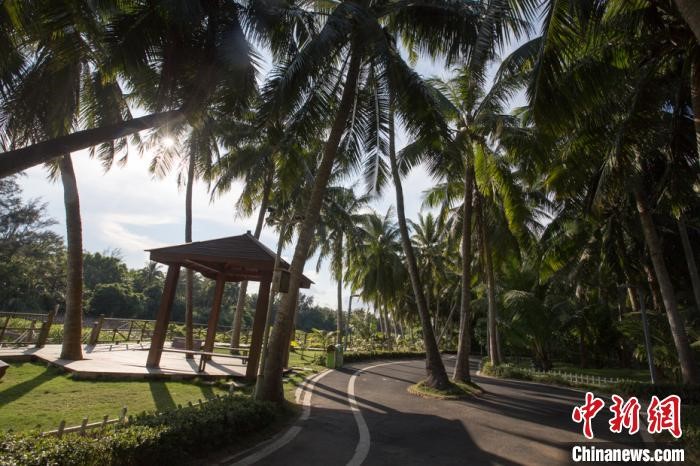 A clean and tidy street in Haosheng village (Photo by Ling Nan)
Located in Longlou town, the seat of the fourth new space launch center in China, Haosheng village is just 7.2 km away from the Wenchang Satellite Launch Center. Once a small fishing hamlet, the locale has become Hainan's first village themed on aerospace science and technology. In June 2017, Haosheng resident Fu Huan led 18 local impoverished households to establish the Longlou Honghai Goat Farming Cooperative with the support of the town government. A 200-sq m goat shed that can house 200 goats was built, and a free-range model was implemented. Fu is the head of the cooperative and is responsible for feeding 130 black goats, cleaning the goat shed, and selling agricultural products that the cooperative produces. Consumers tend to think that black goat meat is a little expensive but often change their minds once they taste it.
"The local government encouraged impoverished households to become shareholders in the cooperative by investing their poverty alleviation funds and skills into it," Huang Liangji, deputy chief of Longlou, mentioned. A total of 276,400 yuan (US$39,166) of funding was procured during the start-up stage.
The households that became shareholders receive annual dividends equivalent to 15 percent of their investment contributions, and the collective issues a total of 15,000 yuan (US$2,124) of additional dividends to all of its 22 members every year. The organization has distributed more than 80,000 yuan (US$11,328) of dividends to its members thus far.
Fu stated that issuing dividends is just one part of what the cooperative does for its members. He believes that only by learning animal husbandry and marketing skills can the cooperative members launch their own farms so as to steadily increase their incomes.