'Cancer hotels' in Beijing: Hope and woe
china.org.cn by He Shan and Zhang Lulu, January 17, 2017

Adjust font size:

Crushing medical bills

Adding to the pain are the huge medical bills. Though the country's health insurance system covers almost all of China's 1.4 billion citizens, the coverage is rather basic, and patients often have to drain their savings to pay for their treatment.

Reimbursement rates are lower in better hospitals, which means that patients who turn to higher-level hospitals often have to pay more.

The man with lung cancer has spent 280,000 yuan -- including nearly 20,000 yuan for each round of a 21-day chemotherapy treatment using a drug from France -- since coming to Beijing. But only 80,000 yuan was reimbursed by medical insurance, as the French drug is not covered.

"The reimbursement is quite inadequate compared with the actual cost, as imported drugs -- which are usually expensive -- are not covered by insurance," said his wife, who frowned from time to time in an apparent sign of distress.

Medical insurance covers less of the treatment cost in Beijing than it does back home, she added.

Official data as of the end of 2015 showed that around 44 percent of the country's registered poor families were dragged into poverty because of illness.

Gao Chao, a doctor at the Beijing Cancer Hospital, said that about 80 percent of patients in the hospital are from outside Beijing.

"If the patient's family cannot afford the medical expenditures, we will advise him to return to his local hospital for treatment, which enjoys higher rate of reimbursement, and give him our treatment plan," he said. "That will be helpful to him."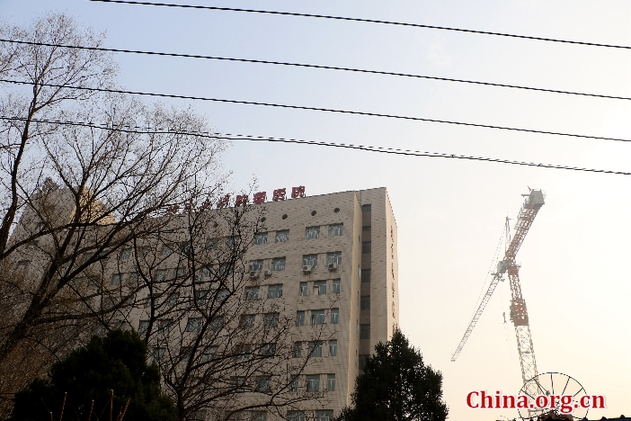 The main building of the Beijing Cancer Hospital in western Beijing on Jan. 4, 2017. [Photo by He Shan/ China.org.cn]
Overcrowded hospitals, insufficient beds
Official data shows that Beijing's top-level hospitals received more than 110 million patients as of the end of 2014. As cancer diagnoses have soared over the past few years, it is more difficult to secure a bed in a cancer hotel in Beijing.
"Sometimes, a patient has to wait for as long as a month to get a bed," said Dr. Gao.
For 35-year-old Pang, seeking treatment for his mother in Beijing is becoming increasingly difficult.
"There are more patients than two years ago," said Pang, who came to Beijing with his mother from Shanxi -- a province more than 500 kilometers away from the capital city -- after she was diagnosed with stage three gastric cancer in 2014.
To get chemotherapy and arrange check-ups, he and his mother have to travel to Beijing once every two weeks.
"Now we have to schedule a CT or B scan at least one week ahead," he said. "Two years ago, the waiting time for a check-up was only two or three days."
Pang chooses to stay in a cancer hotel whenever he comes to Beijing on his own, but when his mother comes to Beijing along with him, they usually stay in a better hotel. "I try to make my mother feel comfortable." he said.