'Cancer hotels' in Beijing: Hope and woe
china.org.cn by He Shan and Zhang Lulu, January 17, 2017

Adjust font size: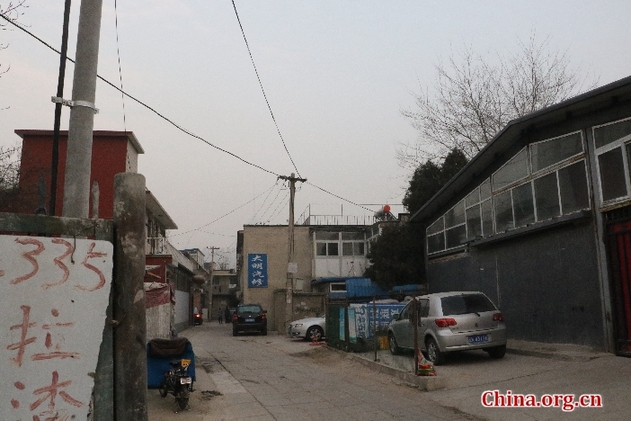 Rows of two-story brick buildings, known locally as "cancer hotels," act as cheap accommodation to cancer patients seeking treatment in Beijing, on Jan. 4, 2017. [Photo by He Shan/ China.org.cn]
'Beijing has the best doctors and equipment'
A 60-year-old man from central China's Henan Province, who preferred to remain anonymous, was one of the cancer hotel occupants in the rundown area. He has been in Beijing with his wife since May 2016.
He said he used to stay in nearby budget hotels which cost about 300 yuan a night, but later moved to an 80-yuan-a-night room with two beds in the cancer hotel.
The man, wearing an apparently fake fur coat and a white-and-green mask, was strolling in the dense grayish smog near the hospital with his wife in the afternoon. They went to a nearby market to buy some Chinese pancakes and pork -- a rather meager dinner -- to cook at their hotel kitchen.
He said he began to cough and had a persistent fever in January 2016. A check-up at a local hospital in the city of Cangzhou of Hebei Province, where the family ran a small business, did not find any serious illness. Seeing no improvement, he got a second check-up five months later and was told that he may have lung cancer.
Upset about the failure to diagnose his case in the initial check-up, he decided to seek treatment in Beijing.
"Medical resources in my home city are not as good as in Beijing," he said. "Beijing has the best doctors and equipment."
He is not alone. A surprising number of cancer patients seek medical care in China's biggest cities, like Beijing and Shanghai. Among the country's top 100 hospitals, Beijing is home to 23, and Shanghai to 19, according to a ranking published by the Hospital Management Institute of Fudan University.
After two rounds of chemotherapy, the man had surgery and then two more rounds of chemotherapy.
"Chemotherapy is very painful, but to survive, you have to endure it," he said.