'Cancer hotels' in Beijing: Hope and woe
china.org.cn by He Shan and Zhang Lulu, January 17, 2017

Adjust font size:

Behind the Beijing Cancer Hospital, one of China's most famous hospitals for the treatment of cancer, is a desolate park under renovation. At one corner of the park is a dilapidated area, with a run-down car repair shop on the outside and a frozen, lifeless river nearby. This quarter is home to a number of what have come to be known as "cancer hotels." Despite the name, these are not hotels in the traditional sense, but spare rooms within people's homes that are rented to patients and their families seeking treatment in the hospital, which is just a three-minute walk away.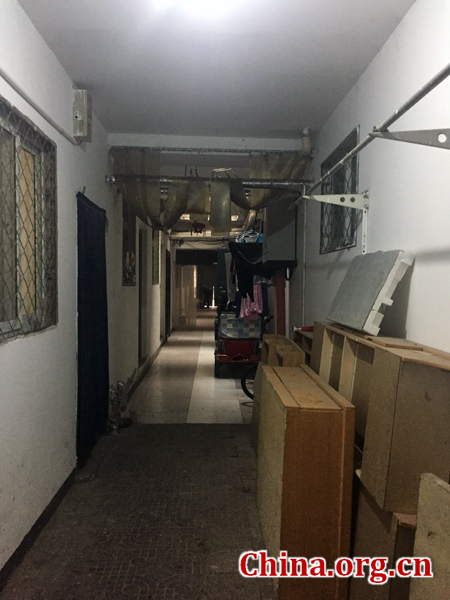 The hallway of a rundown cancer hotel near the Beijing Cancer Hospital on Jan. 4, 2017. [Photo by Zhang Lulu/China.org.cn]
Underground cancer hotels
Ms. Zhang, a woman in her 60s who declined to give her full name, runs one such hotel. Her hotel, like the others tucked secretively in the area near the hospital, looks like an ordinary brick house from the outside, but when one lifts the thick black-and-blue blanket on the door (which is used in winter to block heavy wind), one finds a two-story modest house, crammed with cartons, groceries and a variety of other things.
Each room in Zhang's hotel is less than 12 square meters, with nothing more than three or four beds and a TV set. The guests share a communal toilet, which the attentive Zhang tidies up every morning. A communal kitchen lies on each floor, enabling patients to cook for themselves. A room costs 100 yuan (US$14.5) to 120 yuan per night, less than half of the price of the budget hotels nearby.
"The kitchen is really helpful, they can cook for themselves. Think how much they could have to pay staying in an average hotel!" Zhang said.
Patients coming from outside Beijing to be treated in the city's hospitals often have to wait for check-ups, diagnoses and treatment, which can take a considerable amount of time. In order not to add to the often staggering medical bills, many patients resort to staying at the relatively cheap cancer hotels nearby, which have sprung up in major Chinese cities in recent years.
A total of 4.3 million cancer cases were diagnosed in China in 2015, or almost 12,000 cases per day. About 2.81 million people, or 7,500 people every day, died from cancer that year.
Ms. Zhang and many of her guests have become friends, and she listens to their woeful tales when they need a sympathetic ear.
A man in his 40s diagnosed with lung cancer had to go home without further treatment, as the family had reached the end of their means and had a son in college to support. The man's wife, who did not tell her husband the truth, confided to Zhang during a long night of tears.
Zhang is particularly saddened by young patients. She talked about a fresh college graduate who was misdiagnosed with breast cancer in her hometown and had her breasts cut off for nothing.
"She was so pretty you know. How is she going to date and get married? So young!" she bemoaned.
Though not providing the services one often finds in an average hotel, Zhang lends a helping hand whenever she can. "They often don't know where to find the most suitable hospitals for their specific illnesses as they are from outside the city, so I often tell them where to find the best hospitals and doctors," she said, taking out a notebook where she keeps the information and experience gained as a Beijing native familiar with many of the city's hospitals, which number over 1000.
Zhang and her neighbors who run such hotels shy away from the media, as the hotels are not officially registered. To register the hotels would incur costs relating to security, fire control and many other things, for which the patients would have to bear the brunt, Zhang said.
Some of her guests never come back, which means they have probably given up hope, but some have their illnesses cured here, Zhang said.