Rural areas taste commercial success
China Daily, April 11, 2023

Adjust font size: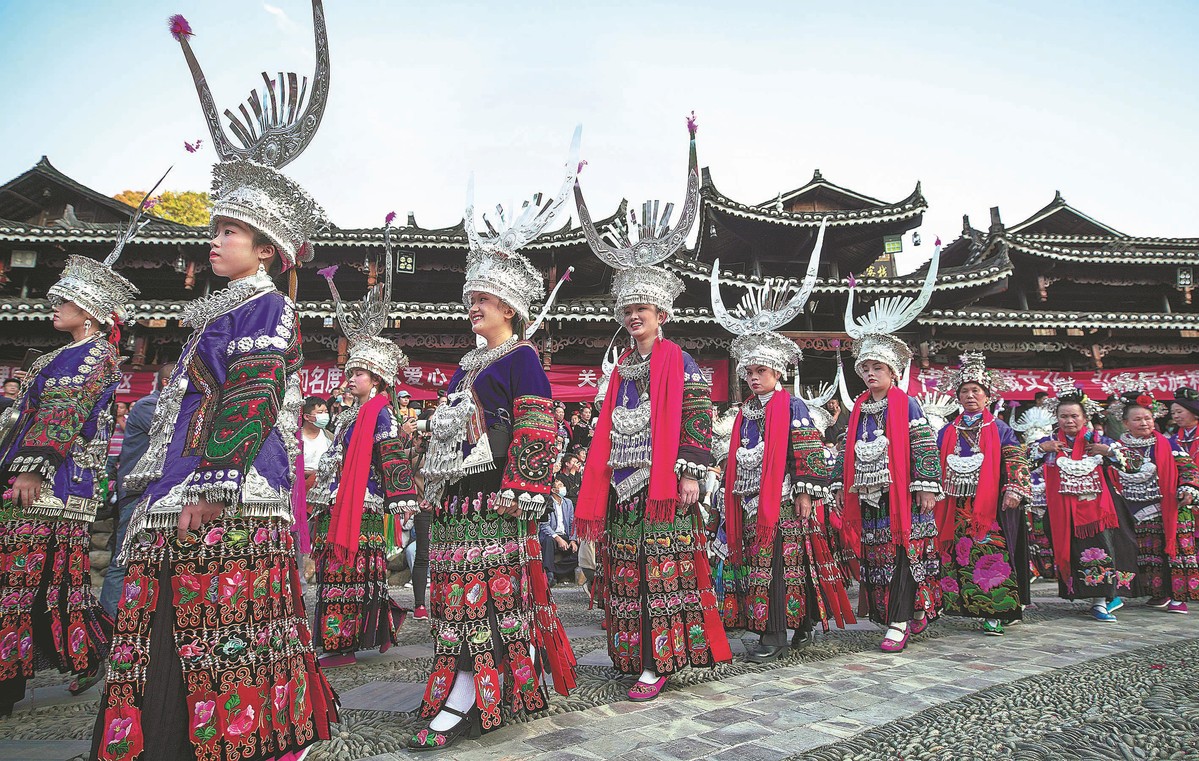 Residents of Xijiang village, Leishan county, Guizhou, attend a dance festival in November.
Competitive edge
To help Xijiang gain a competitive edge amid increased rural tourism, which has been pursued by the authorities since 2013 to end some of the nation's most entrenched poverty, the institute researched and documented the intangible cultural heritage of the Miao people, such as their folk songs. Li said these efforts provided the basis for devising entertainment projects to provide visitors with an immersive experience.
For example, one of the village's main attractions was inspired by the Miao tradition of throwing lanmenjiu, or rice wine parties, to entertain wedding guests.
Li suggested that the tradition be adapted to welcome visitors to Xijiang. According to tradition, only when visitors have drunk 12 cups of rice wine — each cup representing one wish from villagers for visitors, such as becoming more attractive — would arrivals be allowed to enter the village.
"While we need to find those traditions that resonate with modern-day visitors, we simply cannot just reinvent traditions out of thin air," Li said
Younger travelers often lament that some ancient towns are becoming overly commercialized, but Li said they do not dislike commercialization itself.
"They hate homogenization," he said, referring to simply replicating established tourism models. "Tourism must be based on local culture and a region's distinctive resources," Li said.
Rural poverty has been eradicated as China sets out on a new journey to vitalize the countryside.
In December, a guideline published by the Communist Party of China Central Committee and the State Council stated that construction projects, such as renovating rural homes and upgrading dirt roads, are being planned to bolster rural infrastructure. Rural tourism fostered during the 10-year fight against poverty is also likely to see further growth, experts said.
With such work now underway, Premier Li Qiang has emphasized that after they are revamped, rural villages should not look the same.
On March 13, at a news conference to mark the close of this year's National People's Congress, he said, "China is a vast country with cultures and customs that vary from village to village, even though they may be just a few miles apart."
Li took time at his first public appearance since being appointed premier just two days earlier to stress that rural development is not solely about economic growth. It is also important to highlight the countryside's economic, ecological, social and cultural values, preserve local rural culture, and avoid all villages having the same appearance, he said.