Rural areas taste commercial success
China Daily, April 11, 2023

Adjust font size: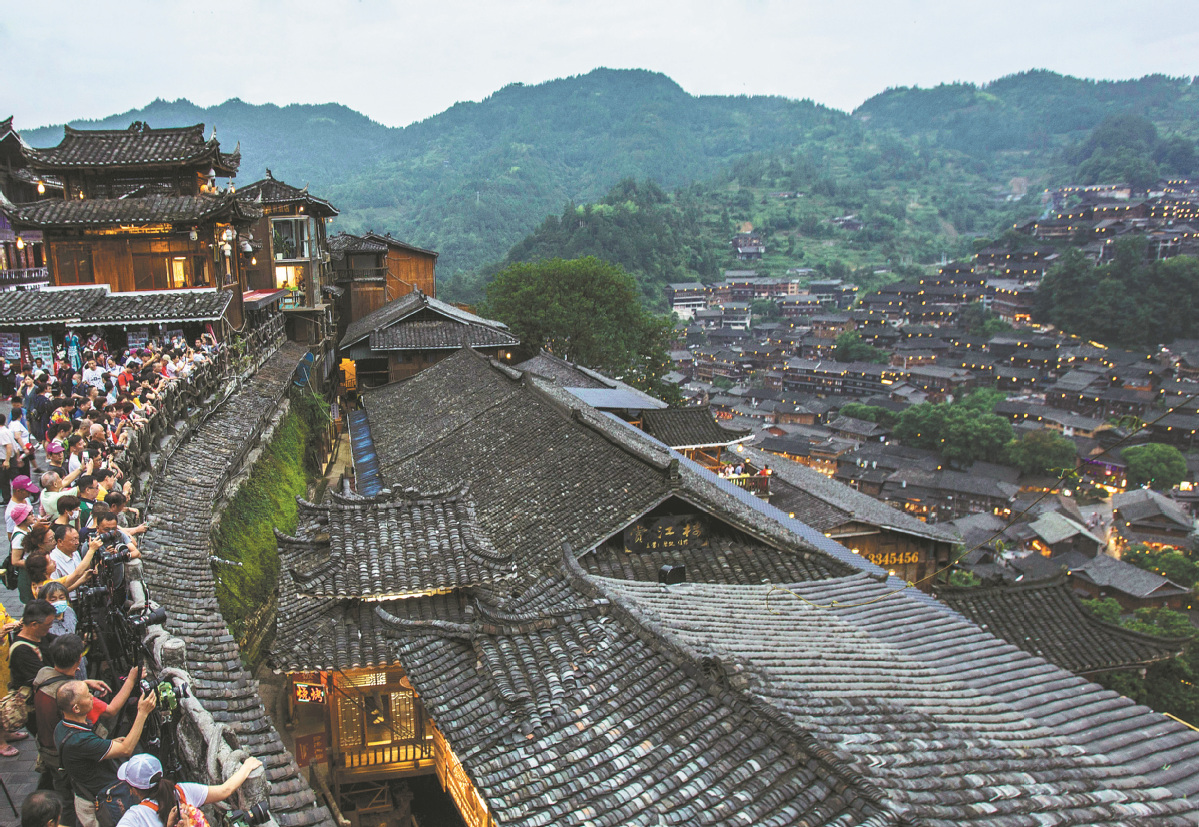 Xijiang Qianhu Miao village in Guizhou province is a highly popular destination among visitors. Seen from above, the village is a sea of bamboo houses situated amid terraced rice fields.
Vitalization projects bring new life while preserving traditions
Tucked away in the rugged terrain of Guizhou province, Xijiang Qianhu Miao village — a highly popular destination among visitors — is making its mark in the competitive rural tourism industry.
Born and bred in Xijiang township, sociologist Li Tianyi, 48, has witnessed firsthand the village's transformation since the early 1980s.
Some 40 years ago, the ethnic village inhabited by members of the Miao and Dong communities was grappling with intractable poverty. Now, the village ranks among the top scenic spots for young urban residents longing for a respite from the hustle and bustle of city life and for the chance to post photos of their visits on social media.
Li, a member of the Miao ethnic group who teaches at Guizhou Minzu University in Guiyang, the provincial capital, said the secret of the village's commercial success is its distinctive culture.
In 1982, as China gradually opened up its economy and prioritized growth, Xijiang Qianhu Miao Village, which roughly translates as "Miao village with 1,000 households", was designated a scenic spot by the provincial government for its breathtaking views.
Seen from above, the village is home to a sea of bamboo houses spread among rolling terraced rice fields and fish ponds. As night falls, tens of thousands of light bulbs gleaming dim and yellow from residents' homes transform the ancient hamlet into a kind of fairyland. Some vloggers have even compared the village with those depicted by Japanese director Hayao Miyazaki in his 2001 animation film Spirited Away.
Visitors immerse themselves in local culture by taking part in festivities in which villagers dressed in traditional clothing parade on the streets and slaughter pigs by the roadside.
Li said: "The terraced fields, festivals, folk songs and dances are all embedded in the rice-growing culture of the Miao people. The core to the village's development is its culture."
For years, Li monitored the development of tourism in the village. In 2016, he set up the Xijiang Qianhu Miao Village Cultural Research Institute, with the aim of reviving the fading culture of his people and ultimately sustaining the tourist boom from which locals and those living beyond the area have prospered.
Tourism and traditional culture, as Li has observed, go hand in hand. "Tourism gives traditional culture a second life in modern times and also enables traditional culture to travel farther," he said.