Ammar HIJAZI
china.org.cn,December 08, 2021

Adjust font size: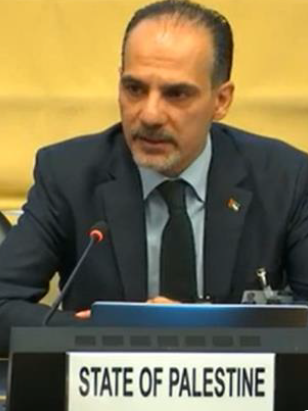 Currently the Assistant Minister for Multilateral Affairs at the Ministry of Foreign Affairs and Expatriates of the State of Palestine, Mr. Hijazi oversees Palestine's endeavors at multilateral fora. Throughout his diplomatic career, Mr. Hijazi has participated and led Palestine's successful applications to international organizations and accession to multilateral treaties and other international tribunals, including UNESCO and Interpol memberships. Mr. Hijazi also oversaw the inscription of Hebron's Old City as a World Heritage site by UNESCO and headed the State of Palestine's delegations before different United Nations Treaty Bodies, including the Committee on the Elimination of Racial Discrimination. When the State of Palestine assumed its role as a Chair of G77 and China in 2019, Mr. Hijazi directed the negotiations on climate change and represented the Group in various conferences and meetings, including the Bonn and Madrid Climate Conferences.
Mr. Hijazi also played an instrumental role in the Ministry's negotiations with the Holy See, culminating in the signing of a comprehensive bilateral agreement between the Holy See and the State of Palestine, which is the first of its kind between the Holy See and a majority-Muslim country. Between 2011 and 2012, Mr. Hijazi served as the coordinator for the Political Committee, which oversaw Palestine's efforts to join the United Nations. Prior to that role, Mr. Hijazi served in the Permanent Observer Mission of Palestine to the United Nations from 2004 to 2011, where he was in charge of issues related to the Question of Palestine, international humanitarian law, development, climate change, and disarmament and participated in several relevant international conferences.
Before his post in New York, Mr. Hijazi worked in the Peace Process Affairs Department and the North America Department in the Ministry of Foreign Affairs. Mr. Hijazi joined the Ministry in 1996, where he also served in various capacities in the Aid Coordination, Eastern Europe and Systems and Information Departments in the Ministry.