Prosperity and green outcomes achieved at South-to-North Water Diversion Project site
p.china.org.cn by Jin Ling,September 18, 2020

Adjust font size: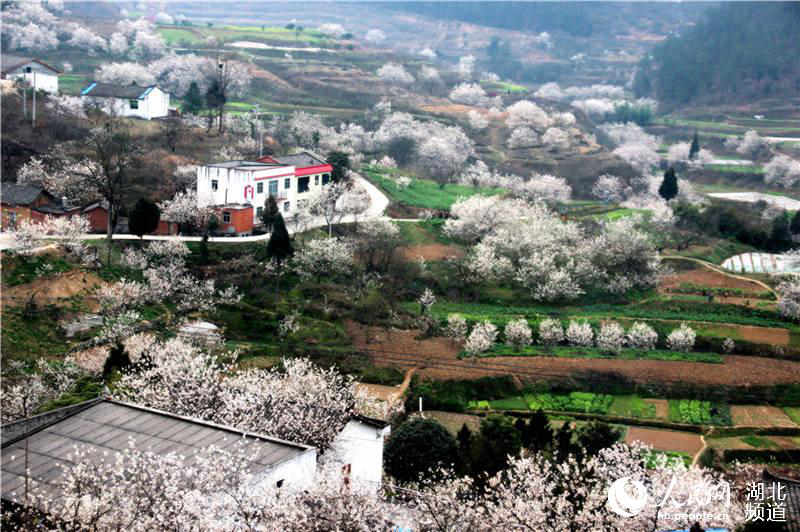 Cherry trees in bloom in Yunyang's Yingtaogou village on Mar.5, 2017 [people.cn/Xue Lesheng]
Green businesses promote environmental conservationin Yunyang
Grade-II or better water quality levels have been maintained at the Danjiangkou reservoir over the past five years, meaning that the water is suitable for drinking directly after it is filtered. The middle route of the water diversion project had transferred 4.3 billion cu m of water to Beijing by Feb. 15, 2019, according to the South-to-North Water Diversion Project's Central Route Construction and Management Bureau. Beijing's tap water now tastes much better than it did before as a result of its water hardness having decreased significantly from 380 mg per l to 120 mg per l.
"We should help make it possible for Beijing's residents to be able to drink safe water," formerly impoverished Guanmenshan village resident Ma Yonggui stated. He explained that he always removes trash from the water in the area if he sees any. The farmer was able to escape from poverty at the end of 2018 as a result of assistance with vegetable sales that he received from Beijing.
Grateful for the efforts that have been made by Yunyang and its citizens, Beijing's Dongcheng district began supporting poverty alleviation and environmental protection efforts in the Shiyan administrative area in 2014. It invested 110 million yuan (US$15.71 million) of special funds in Yunyang's poverty reduction and ecological preservation. In the meantime, it successful introduced 2 billion yuan (US$285.6 million) of private investment in the same endeavor.
At the end of 2016, the Ministry of Water Resources, formerly the Office of the South-to-North Water Diversion Project Construction Commission of the State Council, began dispatching poverty alleviation teams to Yunyang to promote prosperity in the area. In 2017 and 2018, the Yunyang trade fair in Beijing – jointlysponsored by the Ministry of Water Resources and Beijing's Dongcheng district – ordered more than 30 million yuan (US$4.28 million) worth of more than 300 types of agricultural products from Yunyang.
A view of a waterway in Yunyang's Huangshiping village that was once dirty and emitted foul odors but eventually underwent treatment and is now a scenic area. The photo was shot on May 26, 2018 [people.cn/Zhou Jiashan]
Environmentally friendly industries such as eco-agriculture and green tourism are helping to raise living standards in Yunyang as well. Yunyang and Beijing Jiabowen Biotechnology Co., Ltd recommended by the Dongchengd istrict collaborated to establish a demonstration farm that produces organic products in waterside areas. Two thousand ha's worth of farm soil has been improved, and two waste treatment plants respectively capable of producing 20,000 tons and 40,000 tons of organic fertilizer annually were constructed.
Two hundred ha's worth of vegetable greenhouses and more than 106 ha of small fruit farms have been built in townships including Liupo and Chadian, and 3,000 ha of ecological forests that produce products like papaya, walnut, and tea have been developed in 10 of its townships since 2014. The averageper capita share of economic forests now stands at 0.06 ha in Yunyang.
More than 10 processing enterprises have established facilities at the 666.67-ha Shiyan Agricultural Processing Park in Yunyang's economic development zone. They currently employ over 70,000 villagers that were impoverished until recently.
Rural tourism has also been booming in recent years. Environmentally friendly destination complexes have been developed, such as Cherry Vale, the Longyun New Village, Hanjiang River Green Valley, and Moon Lake; large events have been held, including a mushroom harvest festival and Dragon Boat Festival activities and celebrations; and local cherry blossom festival, rape flower festival, peony festival, chrysanthemum festival brands have been created.
In 2018, Yunyang was designated a national rural tourism demonstration zone and China's top health and leisure tourist resort area. That year alone, the district received a total of 8 million visitors from China and abroad, overall income related to cultural tourism exceeded 6 billion yuan (US$856.8 million), and more than 60,000 impoverished people benefited from the industry.
A total of over 160,900 people escaped from poverty in Yunyang from 2014 to 2019, its poverty rate fell from 35.63 to 0.21 percent during these five years.