Prosperity and green outcomes achieved at South-to-North Water Diversion Project site
p.china.org.cn by Jin Ling,September 18, 2020

Adjust font size: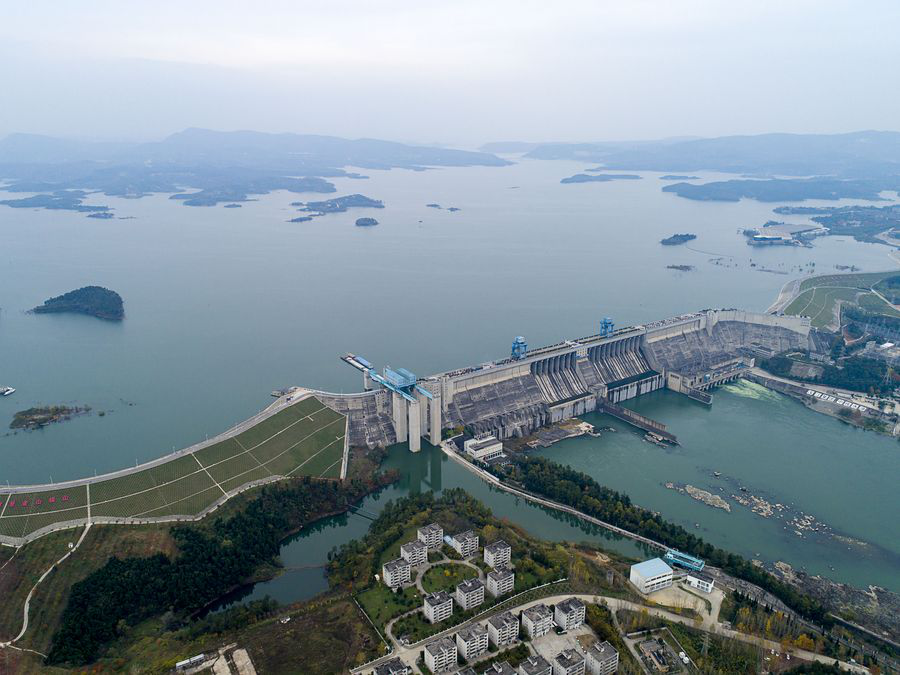 A view of the Danjiangkou reservoir in Hubei province, which is part of the middle route of China's South-to-North Water Diversion Project. The photo was shot on Nov. 26, 2019 (Xinhua/Xiong Qi)

Submersion of Yunyang's old city
About 2,480 waterways run through Shiyan city's Yunyang district in central China's Hubei province, including the Hanjiang river, a major tributary of the Yangtze river. The district is one of the major water sources for the middle route of China's mega South-to-North Water Diversion Project, which starts at Danjiangkou reservoir.
The original Danjiangkou dam was constructed on the border of Hubei and Henan provinces. Work began on Sept. 1, 1958 and was completed 10 years later. Approximately 480,000 people in the two provinces had to relocate in the intervening interval. Numerous cities, townships, and villages were submerged when it went into operation in 1968, including Yunyang's old city, which was established more than 500 years ago.
About 120,000 of Yunyang's inhabitants had to resettle in other areas. More than 6,300 residents of Yeda township alone relocated fromlow-lying areas to mountainside locations, with flat land decreasing from 0.04 ha to 0.007 ha per capita in the township.
The drawbacks and inconveniences that occurred made it possible for major positive outcomes to be achieved. The lower reaches of the Hanjiang river did not experience any droughts or flooding in subsequent decades, and grain output has increased steadily in northwest Hubei and southwest Henan with each passing year. The wide-ranging social benefits that the Danjiangkou dam project has made possible, such as improved water transportation, hydropower generation, and enhanced fishery industry in the area, have vastly outweighed the costs associated with the undertaking.
The State Council decided to begin working on the middle route of the South-to-North Water Diversion Project in October 2008, and the Danjiangkou dam was raised to 176.6 m in order to store water for Henan and Hebei provinces as well as the cities of Beijing and Tianjin. More than 60,000 of Yunyang's residents relocated again beginning in 2008 before one-sixth of the district's new area was flooded in 2014.
A total of 4,274 households from 18 townships have resettled in Yunyang's Qinglongquan community. [10yan.com/Zhang Jianbo]