Diversity of human rights model urged
China Daily,December 12, 2019

Adjust font size: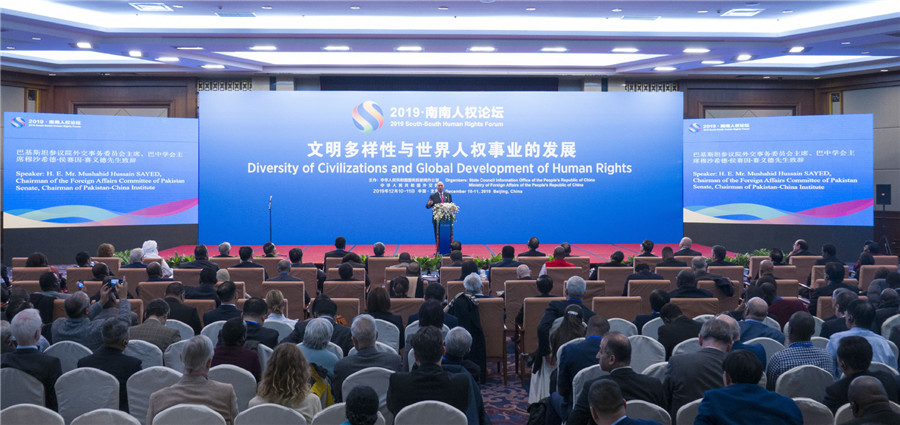 2019 South-South Human Rights Forum is held on Dec 10-11 in Beijing. [Photo/Xinhua]
Developing countries oppose applying double standards, politicizing issues
Human rights representatives from developing countries expressed strong opposition to moves that politicize human rights issues or that smack of double standards, and they called for a more just and reasonable global human rights governance system.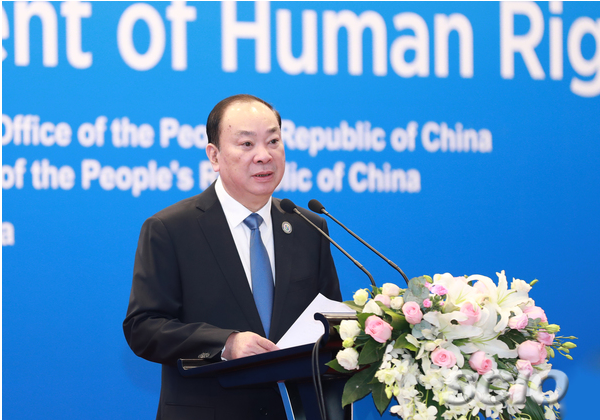 Huang Kunming, a member of the Political Bureau of the Communist Party of China (CPC) Central Committee and head of the Publicity Department of the CPC Central Committee, delivers a keynote speech at the 2019 South-South Human Rights Forum in Beijing on Dec. 11, 2019. [Photo by Jiao Fei/China SCIO]
Developing countries, in which 80 percent of the world's population live, should jointly participate in designing a human rights development agenda that reflects their wills and interests, they said.
They made the remarks during the two-day 2019 South-South Human Rights Forum, which ended on Wednesday in Beijing. The forum, with the subtheme of "Diversity of Civilizations and Global Development of Human Rights", was attended by more than 300 officials, academics and foreign envoys from more than 80 countries and international organizations.
Huang Kunming, a member of the Political Bureau of the Communist Party of China Central Committee and head of the Publicity Department of the CPC Central Committee, said in the keynote speech on Wednesday that some countries, forces and politicians have grossly interfered in other countries' domestic affairs in the name of human rights.
"This has severely damaged the course of international human rights," Huang said.
Every country's model and concept of human rights varies due to their differing socials systems, development stages, cultural traditions and values, and no one should force his own way of thinking and standards of conduct upon others.
Huang quoted President Xi Jinping as saying that there is no such thing as a one-size-fits-all global development model for human rights and called for human rights development to be promoted according to each country's conditions and its people's needs.
China has paved a path of human rights development that meets its own conditions and has contributed Chinese wisdom to the world, he said.
Vice-Foreign Minister Ma Zhaoxu said that in today's world, some countries neither appreciate the diversity of other civilizations nor respect the right of the peoples of other countries to choose their own development path.
Out of self-interest, some countries have begun trade wars and blatantly interfered in other country's internal affairs, for example by passing a so-called human rights and democracy act and threatened economic sanctions, Ma said.
"These behaviors have not only impeded the development of the global economy, but also violated the human rights of people in the targeted countries, and should be firmly opposed and rejected," he said.
Tom Zwart, a human rights law professor at the University of Utrecht in the Netherlands, said China has a very long-standing and proud human rights tradition and that it's lifting hundreds of millions of people out of poverty is "the biggest accomplishment in human rights in human history".
"All countries struggle with human rights challenges. We should help countries that have issues to improve rather than sitting on the sidelines and criticizing. I don't like that criticizing at all, because it's being used for political purposes, especially in the case of the United States," Zwart said.
"Western powers have not only tried, but have intervened in other countries affairs in the name of human rights," said Bouthaina Shaaban, political and media adviser to the president of Syria. They act as if it is up to them to assess who complies with human rights and who does not, "regardless of how we feel or what we do", she said.
"It's important that developing countries chart a new concept of human rights and new ways of implementing human rights," she said, adding that China's willingness to hold such a forum represents a historical opportunity to redefine the concept of human rights for the benefit of the whole world, and to break the West's monopoly on the concept.