Behind the story – how a dilapidated village became a template for agricultural development
p.china.org.cn by Zhang Weilan,September 20, 2019

Adjust font size:

Wang Chuanxi, whose poverty alleviation stories were widely acclaimed by People's Daily and the local media in Shandong province, acknowledges the important role of the rural collectives or the village co-ops in Dai village's transformation. Inspired by the modern agricultural industry, Wang and his fellow villagers are committed to rural tourism and e-commerce.

Looking around the beautiful Dai village, located in Lanling county,the author was impressed by the clean and well-organized buildings surrounded by different crops and vegetables. The village is now famed for the Lanling National Agricultural Park, the first of its kind in Shandong. This is where the village hosted the 7th China Lanling Vegetable Industry Expo last April, and it is now ready to celebrate the 70th anniversary of the founding of the People's Republic of China. According to a guide, "The village attracts over 1 million visitors every year while the villagers themselves number only a few thousand."

With the total output of the rural collectives reaching 2.8 billion yuan (about395 million U.S.dollars), revenues of collective economic undertakings120 million yuan (about16.9 million U.S.dollars), and the annual average income of villagers 68,000 yuan (about 95,900 U.S. dollars) last year, Dai village has taken the lead in building a new countryside.

Promoting grass-roots leadership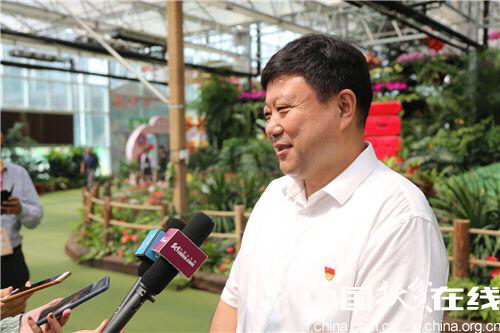 Wang chuanxi, the Party chief of Dai village, was awarded the title of "Role Model of the Times" in 2008. [Photo by Zhang Weilan]
However, as recently as the late 1990s, the remote settlement still suffered from extreme poverty and debts of the rural collectives had soared to more than 3.8 million yuan (about 536,000 U.S.dollars). The situation changed when Wang Chuanxi, the village-elected Party secretary, took office.
Wang, 51,has served as a village official since 1999. In 2005, he decided to change the whole village and tried to lift 11,325 residents in Dai and some other neighboring villages out of poverty through developing agricultural industries. Having considered local conditions, Wang and other village officials managed to transfer land use and management rights from each household to local cooperatives and companies. "By doing so, we hoped to gather the scattered landholders into large-scale farms and improve the farmers' bargaining power," said Wang.
At first,some villagers hesitated to join a collective, so the village officials organized training sessions to build up their confidence and teach them modern agricultural methods, the Party chief recalled. The methods worked and improved productivity. "Joining a collective enables villagers to earn a better living and also allows them to get involved in rural reconstruction," Wang added.