Drawing the roadmap for rural vitalization
P.china.org.cn,March 10, 2018

Adjust font size:




Create new rural industries

Li Guoxiang, a researcher with the Department of Social Development under the Development Research Center of the State Council, said the rural vitalization strategy will give rise to thriving businesses, which can raise agricultural comparative effectiveness and China's agricultural competitiveness in the world.




To promote the development of new industries and new business models in rural areas and solve problems in obtaining rural construction lands, China will clear away obstacles in current institutions, improve the arable land requisition-compensation balance system, prioritize necessary land supply for rural vitalization and guarantee the land quotas for agricultural and rural development, he expected.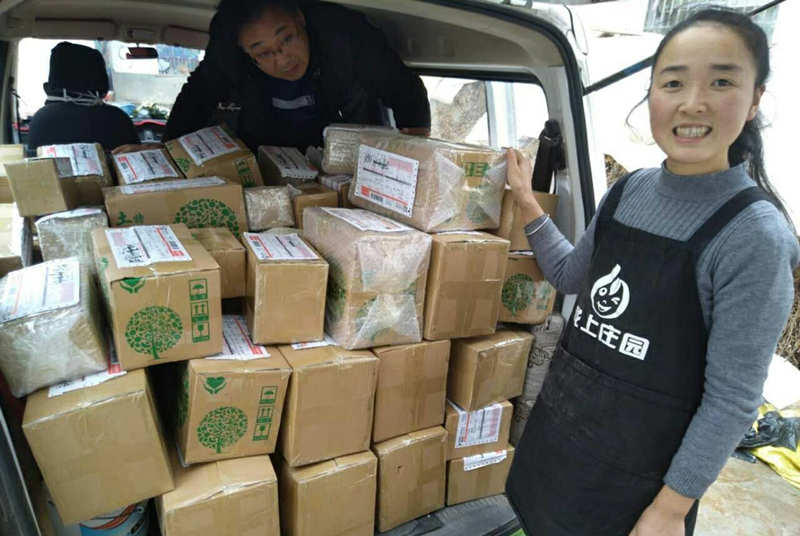 Entrepreneur Liang Qianjuan sells agricultural products through her online store to customers across China. [Photo provided by Liang Qianjuan]

Liang Qianjuan, a deputy to the 13th National People's Congress (NPC), introduced that e-commerce is playing an important role in alleviating rural poverty in Longnan, a city in China's northwest Gansu province.
"The business model has increased farmers' incomes by enabling them to sell agricultural products without traveling far," said Liang, a native of Longnan who owns an online agricultural products store.
Encouraged by the local government's policies supporting e-commerce development, Liang quit her job in a multinational company and returned from Shenzhen to her hometown to start her own online business in 2013.
Through her platform, local farmers sell their agricultural products, such as honey, walnuts and mushrooms, across the country.
Over the past five years, Liang said, her store had generated sales of about 45 million yuan (US$7 million) and helped increase the incomes of 300 households, 126 of which were in poverty.
Green mountains and clear waters
President Xi has also noted that the people should be able to see green mountains and clear waters, and have hometowns capable of anchoring their nostalgia. He added that we should protect the environment like we protect our eyes and treat the environment like it is our lives.
Deng Xiaogang, a deputy to the 13th NPC and director of Hainan's Department of Ecology and Environmental Protection, suggested laws and regulations be improved to form a long-term mechanism for environmental protection, so that the green development strategy can be fully implemented in Hainan province.
Water and soil conservation should be given top priority to narrow the gap causing the shortage of water and soil resources necessary to produce safe agricultural products, said Yu Fawen, director of the department for research on the agricultural environment and ecological economy of the Rural Development Institute under the Chinese Academy of Social Sciences. 
"To realize the green development of agriculture and ensure the quality of agricultural products, the top priority must be ensuring that agriculture is grown with enough high-quality water and soil," Yu added.