A Language Created by Women, for Women
China Today, January 24, 2017

Adjust font size:

Lyrics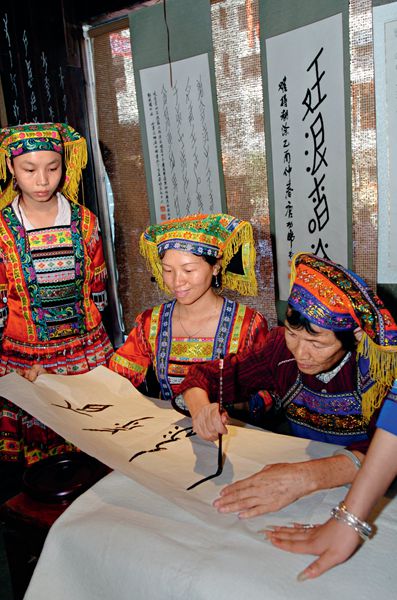 Women's Script was openly sung and chanted, so the younger generation of women could learn it and pass it on orally.
Researchers have discerned fixed tunes in the sung Women's Script. They are in the three basic scales of high, middle, and low pitch. The repetition of simple tunes and scales imbues the songs with an innocent, pristine quality. As Nü Shu phonetically records the local Jiangyong dialect, the tunes naturally convey its seven tones in specific rhymes.
Women's Script was included in the first batch of national intangible cultural heritage in 2006.
The function and value of Women's Script come to the fore at weddings, fairs, and other folk activities. It is traditional in Jiangyong to hold a night-long song fair for a bride shortly before her wedding day. The venue for the event, usually the Hall of the Clan, is hung with red lanterns three days before the wedding, and the tables heaped with candy and local delicacies. Bridesmaids and the bride's female relatives and friends are invited to sing and so bid her farewell. Women sing and read stories in Women's Script till dawn, enjoying the last hours with their friend until she joins her prospective husband's family. These pre-wedding celebrations are, in effect, "hen nights", although there is no fixed date on which they are held.
Professor Gong Zhebing of Wuhan University, one of the academics to discover this esoteric language, regards the local dialect as the social soil that nurtured Nü Shu. The construction of rural schools after the 1911 Revolution and the drive to eradicate illiteracy after the founding of the People's Republic of China in 1949 gave local women access to school education. There they learned to read and write the official language, Putonghua. The subsequent decline of Women's Script was one of the many cultural sacrifices to social modernization.