A Language Created by Women, for Women
China Today, January 24, 2017

Adjust font size:

Women's Spiritual World

Nü Shu, used in villages along the Xiaoshui River in Shangjiangxu Town of Jiangyong County, not only refers to the characters themselves as well as works written in these characters, but includes the chanting and singing of these works. Even in this small enclave where the language evolved and was prevalent, not all the women there have mastered it, at most around one or two out of every 10.

Nü Shu literary works were usually in seven-character verses which expressed the bitterness of the lives of the women who wrote them. Women sourced writing implements from everyday things, using twigs as pens, soot for ink, and writing on cloth, coarse paper, paper fans, or silk handkerchiefs.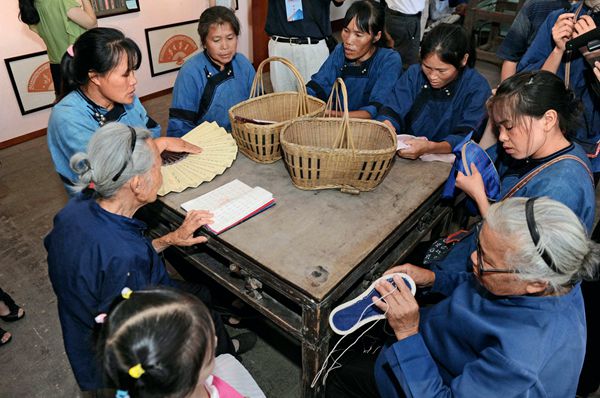 Women read and chant their own works while doing needlework.
The works have various themes. Those most creative are the Three-Day Books and Articles by Sworn Sisters, the latter of which are testaments to eternal friendship among women. Some works set down the lyrics of folk songs, ballads, and dirges chanted at funerals and sacrificial ceremonies. Others are adaptions of popular works of literature. For these women, reading and chanting their works was a pastime to be enjoyed when they gathered to do needlework.
The women wrote mostly about their daily lives rather than making social commentary. Unlike other folk songs, few of their compositions related to creation myths. They were rather preoccupied with the more personal matters of marriage and family life, love affairs, anecdotes, folk songs, and riddles.
Given the dictates of the prevailing patriarchal society, women generally did not go to school. They were expected to stay at home and keep the household running smoothly. The sewing bees where the women of Jiangyong gathered to sing and teach one another Nü Shu were precious opportunities to meet and exchange inner thoughts. Public activities like funerals, sacrificial events, and theatrical performances were main sources of their creative inspiration.
Women's Script was passed down for generations from mothers to daughters. This extraordinary writing system allowed otherwise uneducated and illiterate rural women to record their thoughts and write stories. Moreover, the creativity they inspired in one another formed life-long bonds among these women. Their works were created with the intention of being shared and sung with fellow sisters rather than as private diaries.