Rural teacher sticks to position in China's Guizhou
Xinhua, September 12, 2023

Adjust font size: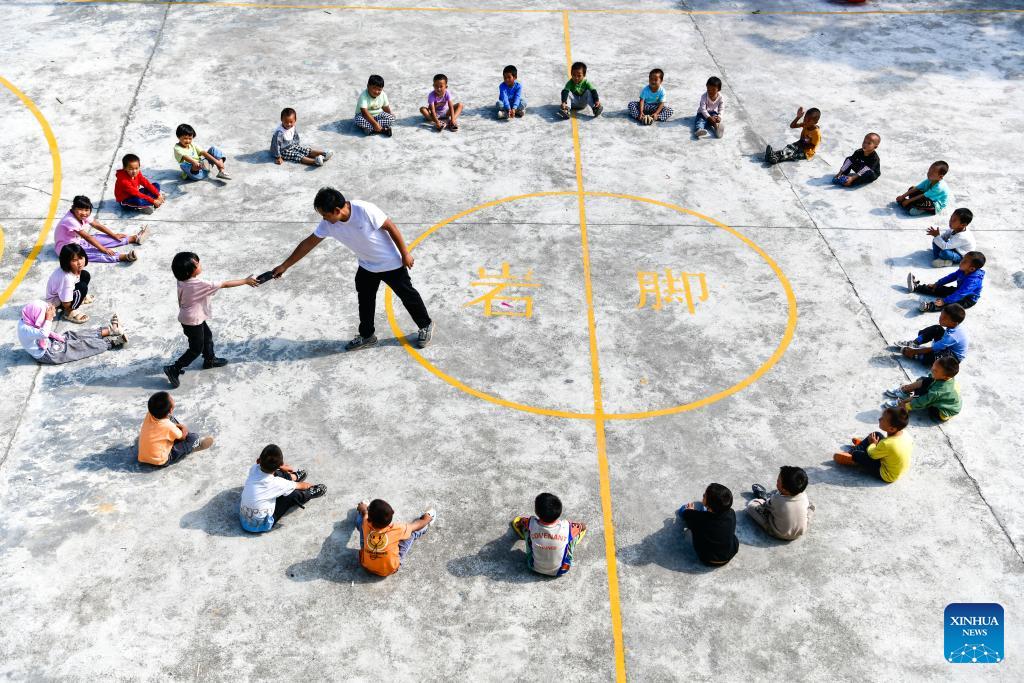 Lu Chengwen (C) and his students play the game "drop-the-handkerchief" during a PE class at Yanjiao teaching point in Yanshan Township of Guiding County, southwest China's Guizhou Province, Sept. 6, 2023. Yanjiao teaching point is a "micro primary school" located at a flat area among mountains in southwest China's Guizhou. Lu Chengwen is the only teacher here with 28 preschool and 6 grade one students.
In 2012, Lu, who had just graduated from the university, chose to teach at the remote Yanjiao teaching point. Preschool students, grown up from the mountainous village of the Miao ethnic group, could hardly speak Mandarin Chinese. In order to help his students learn Chinese characters and Mandarin Chinese, Lu taught them bilingually in Mandarin Chinese and his self-taught Miao language.
For his students, Lu is their teacher and caretaker. Besides literacy course, Lu has been teaching PE, art, and music all by himself, and also assisted in purchasing nutritious meals and ensuring students' safety. (Xinhua/Yang Wenbin)