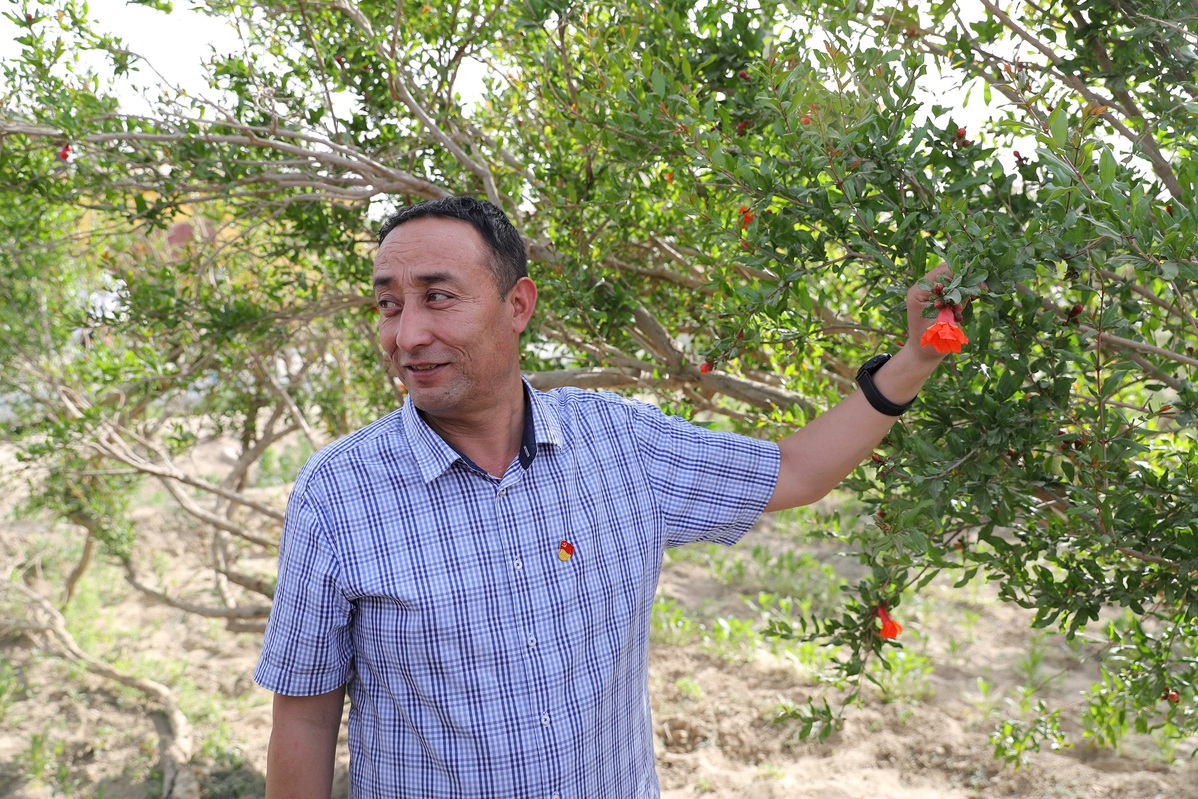 Memetreyim Memetmin, Party chief of a pomegranate-growing village in Qira county, Hotan, shows off a pomegranate tree flower. [Photo by Wang Zhuangfei/chinadaily.com.cn]
Sitting on an embroidered couch in his 80-square meter home, 50-year-old Rozmemet Abdula was playing the dutar, a two-stringed musical instrument popular among Uygur herders.
Rozmemet and his wife, who have no child, leased three greenhouses to plant chilies and grapes. Apart from the lucrative agriculture, he said the tap water here was a great convenience.
"The water is as clear as bottled water," he said through a Uygur interpreter. "There was no tap water at his home pasture, and the water he used to consume was muddy."
Such paired assistance programs as Jinnan New Village are well documented by multimedia illustrations at a nearby exhibition hall, which was built with help from Tianjin to remember those who contributed to reinforcing unity in Qira.
They include a Uygur farmer who adopted, raised and sent to college a deserted, ethnic Han baby that he had found at a local hospital in 2000.
Another was an ethnic Han businessman, whose date-growing operation in the Gobi Desert created jobs for hundreds of locals and helped turn large tracts of sand dunes into an oasis.
Memetreyim Memetmin, Party chief of a pomegranate-growing village, also earned a place in the hall.
He was elected a deputy to the National People's Congress, the top legislature, between 2013 and 2018, and was received by President Xi Jinping on the sideline of the annual meeting of national lawmakers in 2017.
While showing visitors around the pomegranate orchards, which sits not far from a pomegranate winery built by Tianjin, Memetreyim said that, in 2017, the commercial crop was the theme of the report he had made to the president.
"The president replied to me that people of all ethnic groups should unite together, just like pomegranate seeds," he said.