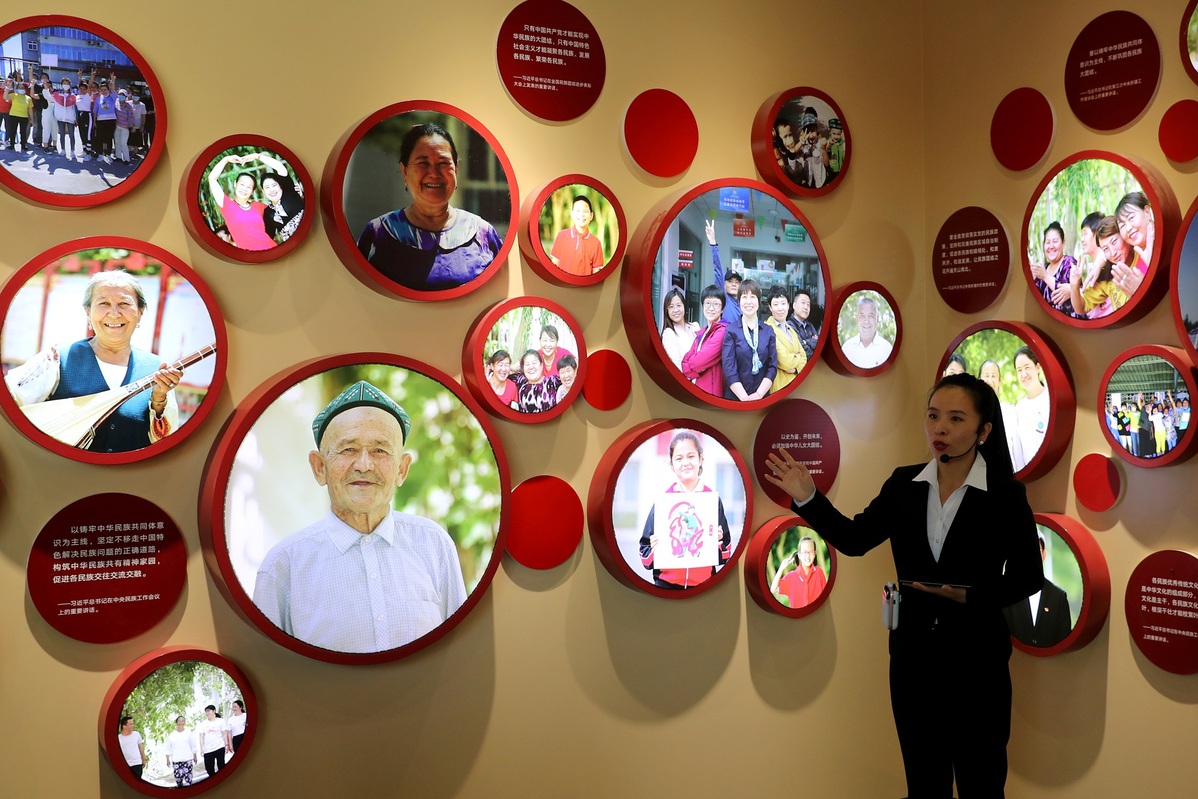 A tour guide gives a presentation at an exhibition hall in Qira county, Hotan. [Photo by Wang Zhuangfei/chinadaily.com.cn]
Paired assistance program matches wealthier eastern provinces with impoverished counties in Xinjiang Uygur autonomous region in China's far west with the aim of providing assistance in terms of economic development, education, healthcare and more. It has long served as a way to advance unity and common prosperity.
One such program, Jinnan New Village, nestles amidst the rolling Gobi Desert in Qira county, Hotan.
In 2014, the village was still vast swathes of wasteland on the southern verge of Taklimakan Desert.
Then a team of officials from the village's namesake district in the port city of Tianjin came from more than 2,000 kilometers away.
They poured tens of millions of yuan into the poverty relief fund for the area and, in just four years, built from scratch a vegetable-growing village with more than 400 greenhouses.
Since 2018, about 370 ethnic Uygur families, mostly herders roaming pastures on the slope of Kunlun Mountains, moved here, into free homes complete with tap water and flush toilets. The village is equipped with a kindergarten and, just two kilometers away, an industrial park built by Tianjin stands ready to offer jobs to the herders-turned-workers.
With aid from mostly ethnic Han technicians sent from Tianjin, villagers learned how to plant tomatoes, trim fig trees and grow cucumbers. Now each greenhouse helps rake in an average revenue of 20,000 yuan ($2,842) annually.
Gulzulnur Turson, 23, was one of those who relocated.
Recently, Gulzulnur and her sister, Ibadat Turson, 26, were checking fig trees in one of the three greenhouses leased to their family three years ago. The family also raises chilis and tomatoes.
The family moved here in 2018 from a secluded mountainous pasture.
Gulzulnur recalled that she had to study at a boarding school in the county seat of Qira, due to the poor transportation.
"I went home just once every two weeks at the time, usually by a car arranged by the school," said the woman, who was later admitted to a college in Urumqi, the regional capital, and now helps out at home.
Gulzulnur said she was preparing for a local civil servant exam, because she said she wants to be close to her parents and occasionally returns and helps out at the family operation.