E-commerce a crucial tool to raise living standards
China Daily by YUAN SHENGGAO , September 30, 2021

Adjust font size: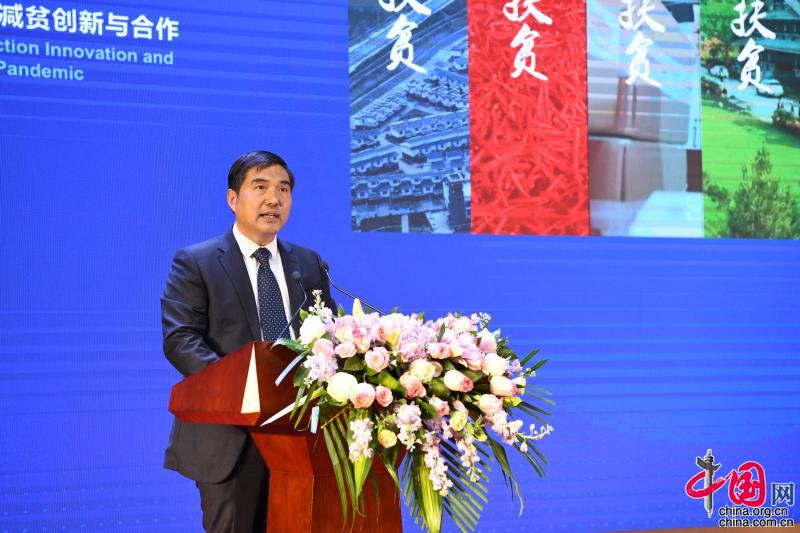 Sun Xuetao, Party secretary of Longnan, the host city of the seminar, shares with the attendees how local residents escape poverty through e-commerce.
Longnan, Gansu province, is exploring various approaches to implement a strategy of targeted poverty alleviation, which has lifted more than 1.3 million people out of absolute poverty so far, said the city's senior official.
Sun Xuetao, Party secretary of the city, made the remarks at the 2020 International Seminar on Global Poverty Reduction Partnerships held in Longnan on Tuesday.
One of the poverty relief efforts makes use of e-commerce, which is in particular crucial to Longnan, which is well-off for a mountainous region.
Back in 2011, there was no expressway, railway station or airport in Longnan and two-thirds of its administrative villages had no access to the internet, Sun recalled.
The lack of transportation and poor infrastructure posed challenges for its promotion of high-quality agricultural products.
To address the issue, "we started with building expressways, expanding internet access and logistics networks, offering training programs to help set up online shops and running promotions and marketing campaigns," Sun said.
Government data show more than 12,000 kilometers of roads were built or renovated in rural areas; a rail line linking Lanzhou, capital of Northwest China's Gansu province, and Chongqing in Southwest China was put into use in 2017 that runs through Longnan; and an airport was built for the city in March 2018.
Currently, 95 percent of the administrative villages in Longnan have access to the internet and a group of logistics companies including SF Express and Deppon Logistics have settled in the city. At the same time, local startups joined the flourishing business, establishing a total of 1,045 logistics service centers across the city, with their outreach almost hitting all villages in Longnan.
Local authorities organized inspection tours to regions with advanced online marketing and sales and have founded an e-commerce school. The school, in cooperation with leading e-commerce companies, has offered e-commerce training to some 260,000 people.
To date, more than 18,000 residents in Longnan are involved in e-commerce, including 285 online shop owners who had lived in poverty.
This year's Singles Day shopping festival saw Longnan ringing up 44.43 million yuan ($6.75 million) in online sales. It recorded a sales volume of 5.91 million yuan during the peak hour on e-commerce platforms.
Online businesses are not only benefiting shop owners, but also creating employment opportunities for their fellow villagers.
Liang Qianjuan, a delegate to the National People's Congress, opened a store on retail portal Taobao. It employed more than 20 women farmers in the winter slack season, each on a monthly payroll of more than 1,000 yuan.
Du Linlin, one of the registered poor in Longnan, escaped poverty by selling specialty produce and agricultural tools and equipment online. Du's business also provides jobs to more than 70 poor families and helps them increase their income.
Along the industrial chain, ranging from production, processing and packaging to logistics and marketing, e-commerce provides various positions for people from poor families to realize their value, local officials said.
More than 110,000 people from poor families have found jobs along the industrial chain, according to the city government.
"Longnan has leveraged the opportunities brought by the internet and vigorously promoted e-commerce in recent years, to empower the poor population, energize industrial development and facilitate good governance at the grassroots," Sun said at the global seminar.
The city has won the honors of the National Demonstration City for Poverty Alleviation Through E-commerce and the National Base for Poverty Reduction Exchanges, according to the city's Party secretary.
"E-commerce goes beyond the mere increase in income," he said. "More importantly, it transforms people's thinking, mindset and their way of production and lifestyles in a subtle way.
"In Longnan, mobile phones are becoming a new farming tool; livestreaming, a new farm job; and data, a new agricultural asset.
"The fast growth in e-commerce has brought a high reputation and visibility to the city, boosting local people's aspiration and self-confidence, which is the most far-reaching effect and invaluable intangible asset for Longnan."