China confident about combating poverty amidst COVID-19 outbreak
p.china.org.cn by Jin Ling,September 30, 2021

Adjust font size:
An epidemic prevention team working in Anhui province's Songgang village helps impoverished villagers spray herbicide. [Photo by Chen Chuanzhong]

The Chinese government's current Five-Year Plan (2016-2020) includes a goal of helping all of the nation's impoverished rural citizens and counties escape from poverty by 2020 as part of a broader plan to promote the development of a prosperous society.Chinese academics and poverty alleviation staff are confident that the country can eliminate absolute poverty this year as planned, even amidst the challenges posed by the sudden COVID-19 outbreak.
Challenges posed by COVID-19 outbreak
According to the State Council Leading Group Office of Poverty Alleviation and Development (LGOP), the COVID-19 outbreak has posed four main challenges to poverty alleviation efforts:
Firstly, it prevents some people from working. Some businesses have delayed resumption of operations after the Spring Festival holiday; some people have chosen to stay at home in fear of the virus; some poverty alleviation factories in impoverished areas have stopped their production.
A worker living in Shenzhen named Wu Xiaoyan traveled to Hunan province for the Spring Festival holiday, which ran from January 24 to 30 this year, and visited the village that she is from. Wu postponed her return to Shenzhen several times because of the epidemic and ultimately arrived on Feb. 8.
"I was one of the first people to return to work at my company," the Hunan native mentioned. "Some of my colleagues haven't even come back yet."
Secondly, it hinders businesses for poverty alleviation. Some areas have taken measures such as closing roads, villages, and communities to control the spread of the virus, which have prevented transportation of some products and materials.
Thirdly, it slows down the progress of some poverty alleviation projects. For example, roadway and drinking water improvement projects in some villages have been delayed.
Fourthly, it makes it more difficult to provide onsite assistance. Some poverty alleviation staff can currently only help by phone, WeChat, and so on.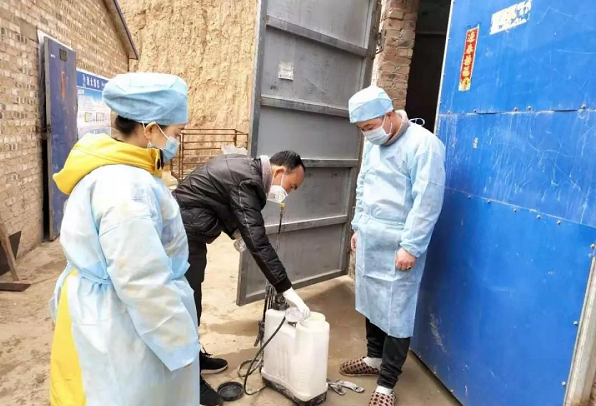 Two animal epidemic prevention technicians from Shaanxi province's Yanchuan county teach a farmer how to disinfect his livestock farm. [Photo courtesy of the Ministry of Agriculture and Rural Affairs]
Countermeasures taken against challenges
Released Feb.5, 2020, "China's No. 1 central document" prioritizes poverty alleviation and the improvement of weak links in rural areas. It stipulates that stable poverty alleviation policies should be implemented in order to help impoverished people find new opportunities and that institutional guarantees that prevent people who have escaped from poverty from falling back into it should be provided in a bid to consolidate results.
China is taking measures against the challenges that COVID-19 has posed, such as the following:
1. Efforts are being made to help people get back to work. China has arranged for people to return to the localities that they work in phases in order to avoid congestion and has given priority to impoverished villagers. Local employment opportunities in the poverty alleviation factories or other public welfare positions are also provided. These undertakings enable impoverished villagers to earn a living near their homes.
2. Endeavors are being made to help businesses resume their operations. The Ministry of Agriculture and Rural Affairs issued a notice that calls for the expansion of agricultural sales and the maintenance of unimpeded delivery channels. The LGOP and the China Banking and Insurance Regulatory Commission jointly declared that repayment of poverty alleviation microloans can be extended by up to six months as well.
3. Assistance is being provided with the commencement and resumption of poverty alleviation projects. China encourages poverty reduction staff to implement eligible projects as soon as possible. Personnel who are working on projects that have not yet met requirements should work on finding staff and preparing materials.
Many farmers have faced difficulties with sales as a result of the closure of some offline transaction channels during the COVID-19 outbreak. E-commerce giant Alibaba devised a special plan and helped move 12,000 tons of overstocked fruits and vegetables within five days.
Ye Xingqing,director of the rural economics department of the Development Research Center of the State Council, suggested that areas experiencing little or no infection should restore road transportation as soon as possible, ensure smooth circulation of agricultural products and materials, and resume work while implementing protection measures.
China Agricultural University professor Tang Lixia recommended the implementation of additional measures, such as strengthening connections between farmers and purchasers and planning crop production according to specific supply agreements, construction of preservation facilities to extend the storage life of agricultural products, and the creation of more public welfare positions. The academician also suggested creating anincentive mechanismthat entails impoverished villagers having the opportunity to participate in construction projects involving infrastructure and facilities like roads, toilets, and tap water systems,so that they canearn extra money, rather than receiving direct financial aid.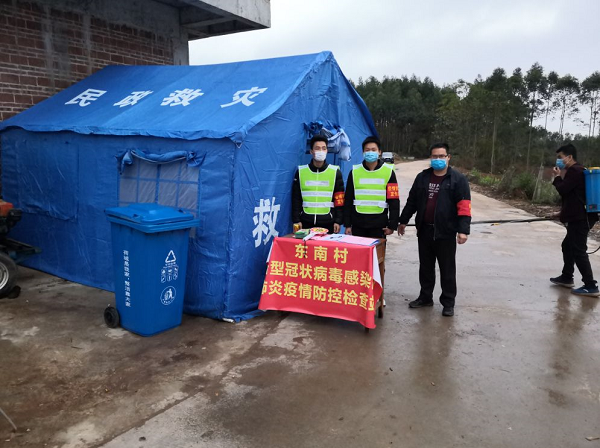 Three village officials workat an epidemic prevention station at the entrance toDongnan village in Guangxi province. [Photo courtesy of the Guangxi Poverty Alleviation Office]
Confidence in winning the battle against poverty
"The challenges posed by the virus do not currently affect China's overall poverty alleviation progress," Wei Houkai, director of Rural Development Institute of Chinese Academy of Social Sciences, asserted. He explained his reasoning, emphasizing that seven provinces that have poverty rates of over one percent — Guangxi, Guizhou, Yunnan, Tibet, Gansu, Qinghai, and Xinjiang — are not badly affected by the outbreak.
"With regard to impoverished families, the epidemic mostly temporarily affects some of their incomes but does not have an impact on overall efforts related to making food, clothing, compulsory education, basic medical services, and safe housing available," stated Wang Sangui, director of China Institute of Poverty Alleviation, Renmin University of China. He explained that the average income of those who have escaped from poverty is much higher than the poverty line and that most of them will not fall back into poverty as a result of the virus.
Tang also feels confident that China is able to help its remaining 5.51 million impoverished villagers and 52 poverty-stricken counties escape from poverty by 2020, citing that the country has helped more than 13 million people do so every year since 2012.
"We are confident that we can defeat poverty on time," said Wang Wenquan, director of the Longnan City Poverty Alleviation Office in Gansu province. He also mentioned that the continuous increase of poverty alleviation funds in Longnan helps to compensate for various shortcomings and that measures have been taken to help families escape from poverty, such as assistance with relocation, business creation and provision of a safety net.