Characteristic industries end poverty in Gansu province
p.china.org.cn by Pang Jie,April 19, 2021

Adjust font size:

I

nsufficient technical support

,

poor management

, and weak infrastructure tended to impede industrial development in Gansu province's poverty-stricken regions until recently

.

The combined effect of a

griculture, tourism

,

and advancing technology

has made it possible for various sectors to rapidly expand

and

optimize

their configurations, however, which has created

new ways for

the

people

who live in these areas to escape from poverty and become more prosperous

.
A sheep farm in Huanxian county, Qingyang city, Gansu province (Photo courtesy of the Gansu Province Department of Agriculture and Rural Affairs)
In 2017, Gansu determined that six major agricultural pursuits, namely herb, fruit, potato, green vegetable,sheep, and cattle farming, would be the best poverty reduction-oriented undertakings for its impoverished locales to engage in due to the fact that they make the best use of the advantages and characteristics present in them, and a series of targeted poverty alleviation policies were implemented in order to help people who lack capital and technical know-how and are apprehensive about risk participate. The efforts helped 1,314,500 local people escape from poverty from 2018 to 2019.
Five types of smaller characteristic industries, namely poultry farming, handicraft production, endeavors associated with the courtyard economy, small retail business, and factory production, complement the agricultural undertakings that Gansu's impoverished population has been pursuing as well.
"Sheep and cattle inventories and land area devoted to growing potatoes, green vegetables, fruit, and herbs used in traditional Chinese medicine increased significantly from 2017 to 2019," Liang Zhongke, deputy director of the Gansu Province Department of Agriculture and Rural Affairs, recently mentioned.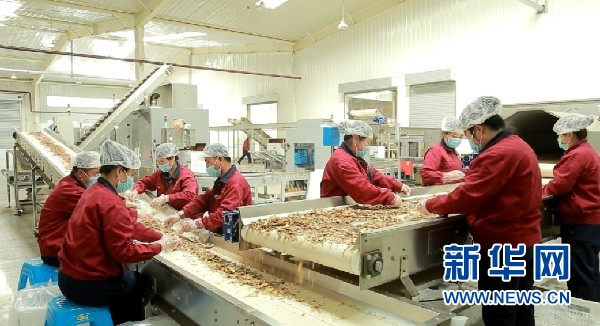 Staff process herbs used in traditional Chinese medicine at a factory in Longxi county, Dingxi city, Gansu province. (Photo courtesy of the Gansu Province Department of Agriculture and Rural Affairs)
The small-scale farming that occurred in Gansu in the past has given way to larger endeavors, production has gradually modernized, and the province's farmers have become more connected to major markets. A total of 2,937 leading enterprises currently cooperate with10,200 of the province's farmers' collectives. The two types of organizations have developed characteristic industries' value chains and generate over 100 billion yuan (US$15.47 billion) of total output value at present, which has helped more than 2 million people increase their incomes.
Poverty alleviation endeavors related to areas such as rural tourism, e-commerce, and science and technology have also been developing rapidly and achieving good results. A total of 16.2 billion yuan's (US$2.51 billion) worth of agricultural products were sold online in 2019 alone, for example, which resulted in an average of an extra 380 yuan (US$59) for Gansu's farmers.
"The industry-oriented poverty reduction that has occurred in Gansu represents a development trend based on regional division of labor, concentrated production, gradual enhancement of value chains, and continuous improvement of quality and efficiency," explained Li Wangze, director of Gansu Provincial Department of Agriculture and Rural Affairs.
The Gansu government plans to scale up the poverty alleviation industries that have taken root in the administrative area by establishing at least 100 agricultural parks based on local characteristic undertakings and constructing more than 10 other modern agricultural parks worth a total of 10 billion yuan (US$1.55 billion) in the province over the next five years. The efforts will lead to the formation of an animal husbandry and potato and apple farming cluster worth 50 billion yuan (US$7.74 billion) and a green vegetable and herb cultivation cluster worth 100 billion yuan (US$15.47 billion).