Energy-oriented poverty reduction illuminates the road to prosperity
p.china.org.cn by Liu Yizhou,April 08, 2021

Adjust font size:

Receiving an average of 3,033 to 3,317 of sunlight hours each year, the solar panels that are mounted to Xinbao village, Guazhou county, Jiuquan city, Gansu province, resident Sun Yonghong's roof yield approximately 3,000 yuan (US$464) of annual income in addition to the electricity that they generate.

"Poverty reduction-oriented photovoltaic power stations have also been constructed in the village," Chen Xinglin, Xinbao Party secretary, explained recently. "They provide financial support for road and bridge projects and public welfare positions."

More than 2.7 trillion yuan (US$417.7 billion) has been invested in major energy endeavors in China's poverty-stricken areas since 2013, which has illuminated the road to prosperity and helped them develop rapidly. The energy sector's advantages have been harnessed in order to promote high-quality poverty reduction, and regions that suffer from extreme poverty have received special attention. Approximately 4.15 million impoverished households living in locations ranging from the Dabie Mountains to the hinterland of the Qinba Mountains and from the Loess Plateau to snowy highlands throughout China have benefited from solar power-oriented poverty reduction projects.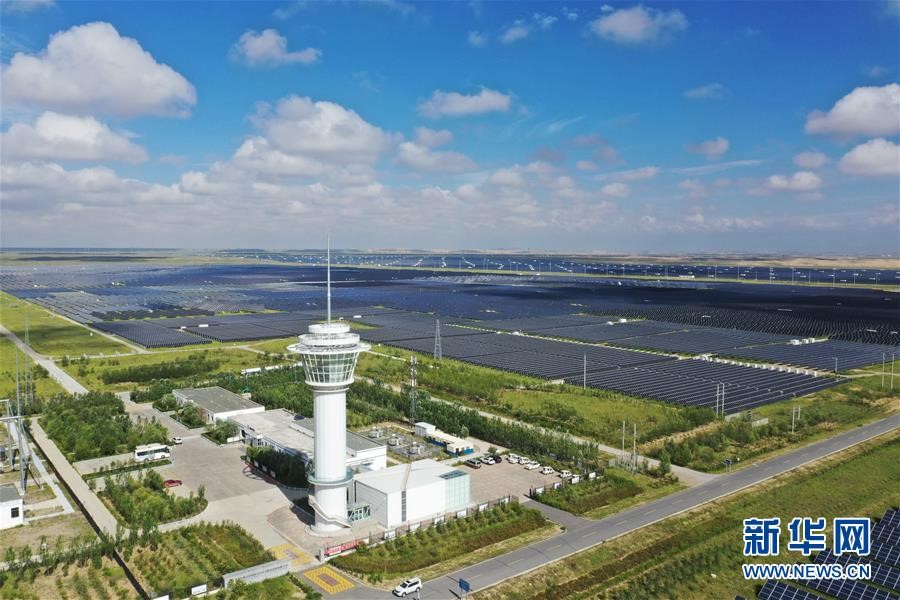 A photovoltaic power station in Hainan Zang Autonomous Prefecture, Qinghai province [Xinhua / Xing Guangli]
Enhancing the power grid helps people attain happy new lives
Guomang village, Ya'ertang town, Baima county, Golog Tibetan Autonomous Prefecture, Qinghai province, resident Caisang recently mentioned that their hamlet officially became electrified on December 23, 2015 and that the lives of the community's residents have become more colorful.
"We don't need to rely on oil lamps for lighting anymore!" the formerly impoverished citizen remarked. "My family started watching TV when we got electricity, so now it's easier for us to understand the outside world."
The present phase of China's campaign to enhance the power grid in its poverty-stricken rural areas has led to some locales becoming electrified and the power supply being upgraded in others, resulting in people's living standards improving significantly in these locales.
Growing numbers of people are cooking with electric rice cookers and induction cooktops rather than with coal and firewood throughout rural China, and electric refrigerator and washing machine utilization rates have increased significantly in these areas as well. Data provided by the State Grid Corporation of China indicates that people living in the"Three Regions and Three Prefectures," which refers to Tibet, the Tibetan ethnic areas of Sichuan, Yunnan, Gansu and Qinghai provinces, the four prefectures in southern Xinjiang (Hotan, Aksu, Kashi and the Kizilsu Kirgiz Autonomous Prefecture), Liangshan in Sichuan, Nujiang in Yunnan and Linxia in Gansu,have acquired approximately 72,000 refrigerators, 127,000 washing machines, 211,000 TVs and 266,000 electric stoves since 2018. Electrical consumption increased by more than 30 percent in the first half of 2020 in these locales compared with the same period in 2017, reflecting the improved quality of life that their inhabitants now enjoy.
"In the past, we burned coal to generate heat, and our home was full of ash," Fuping county, Baoding city, Hebei province, resident Zhu Haihong noted. "Our home is warm and clean now that we have electric heating, and it is also affordable."
China has been engaging in a campaign to convert from coal heating to natural gas or electric heating and utilize heat from renewable sources according to local conditions in rural areas in the northern part of the country since 2017 and has prioritized financing availability and energy security in impoverished parts of these regions. The clean heating rate has increased from 9 percent to more than 30 percent in the territory that the campaign has targeted to date, with key areas reaching 71 percent.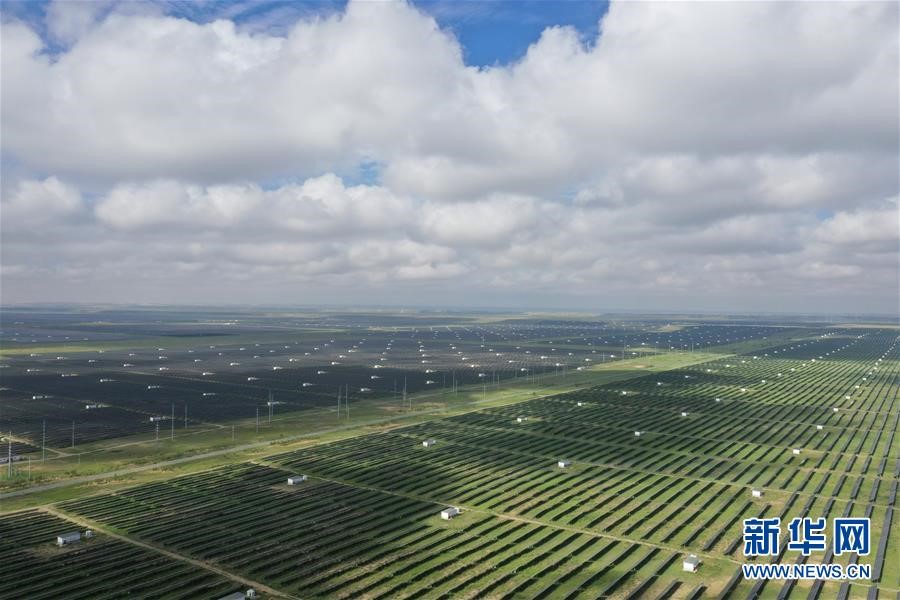 A photovoltaic power station in Hainan Zang Autonomous Prefecture, Qinghai province [Xinhua / Xing Guangli]
Power grid improvements enhance industry, helping people increase their wealth and incomes
Many of China's rural locales have plenty of wind, sunlight, and other renewable resources, which has made it easier for them to harness energy for poverty reduction purposes. The industry acts as a cash cow and promotes general economic development, thereby helping people increase their incomes and escape from poverty.
"Poverty eradication-oriented photovoltaic power stations act as 'sunshine bankbooks' and pay dividends every year, which has resulted in more money in my pocket," a Yaoqu village, Tunli town, Jixian county, Shanxi province, resident who had previously fallen into poverty as a result of health problems named Liu Haipeng mentioned.
A total of 26.36 million kilowatts' worth of poverty reduction-oriented power stations have been built in China to date, benefiting nearly 60,000 impoverished villages and 4.15 million poverty-stricken households. The power that these "sunshine banks" generate yields approximately 18 billion yuan (US$2.78 billion) of annual income, which has helped them emerge from poverty and become more prosperous.
Energy projects promote economic development and employment in impoverished areas in addition to the direct benefits that they provide. Approximately 336.2 billion yuan (US$52.01) of the more than 2.7 trillion yuan (US$417.7 billion) that has been invested in major energy projects in impoverished parts of China since 2012 has been invested in the power grid in poverty-stricken regions in the west, which has contributed to more than 860 billion yuan (US$133.04 billion) of direct income being generated from outgoing power transmission thus far. A number of large hydropower station, modern coal mine, and clean, efficient coal plant projects have been implemented in poverty-stricken areas across the country, creating a total of more than 100,000 jobs.
Enhanced supply of electricity promotes industrial development
The comprehensive electrification that has occurred throughout rural China promotes the development of modern agriculture in its villages now that they have a stable supply of energy.
"All we have to do is flip a switch, and water begins to flow, which makes irrigation much easier than before!" Shangguantun village, Gaotang county, Liaocheng city, Shandong province, resident Li Qingrui stated. "The diesel-powered pumps that we used cost at least 375 yuan (US$58) to operate per ha, whereas the electric equipment that we now use costs less than 75 yuan (US$11.62) per ha."
A project that involved connecting the power grid in Tibet's Ngari prefecture with that in the central part of the autonomous region was completed in 2020, and the resulting network officially came online in December, which expanded the supply of reliable electricity in the area and has helped industries that promote poverty reduction proliferate.
There was not enough voltage available to operate Jiawei Snow Mountain Agricultural and Animal Husbandry Product Development Co. Ltd.'s equipment at its facility in Ngari's Rutog county in the past, for example, so it sold coarse wool that its staff produced by hand at a rate of 7 yuan per kg (US$1.06) before the undertaking was completed. The organization currently sells machine-processed wool quilts for nearly 900 yuan (US$139) each and has established fully electric factories that produce Tibetan incense and a unique, nutty-tasting flour made from roasted barley, known as tsampa, as well now that energy bottlenecks no longer restrict development in the area.
"Our mechanized equipment is finally being put to good use," Jiawei manager Gesangnima exclaimed happily, "and our employees make an average of 40,000 yuan (US$6,188) per year at present."
Plenty of electricity is currently flowing in China's rural areas, which has made it possible for various industries to develop and prosper. State Grid Corporation of China data indicates that grid expansion projects have led to the establishment of 25,000 new agricultural production and processing facilities and that annual income related to characteristic animal husbandry and tourism endeavors increased by about 2.7 billion yuan (US$417.7 million) from 2018 to 2020 in the "Three Regions and Three Prefectures." In 2020, the manufacturing industry consumed 26.57 percent more electricity in rural parts of Sichuan's Liangshan Yi Autonomous Prefecture year on year, the administrative area's township-level enterprises used 11.27 percent more electricity than in 2019, and tourism-related energy consumption increased by 17.73 percent in the province's Garze Tibetan Autonomous Prefecture as compared with the year prior. The development of poverty alleviation industries has been generally accelerating in rural parts of the country.