A trip to the Xiangyu olive ecological park in Longnan city, Gansu province
p.china.org.cn by Justin Davis,March 30, 2021

Adjust font size: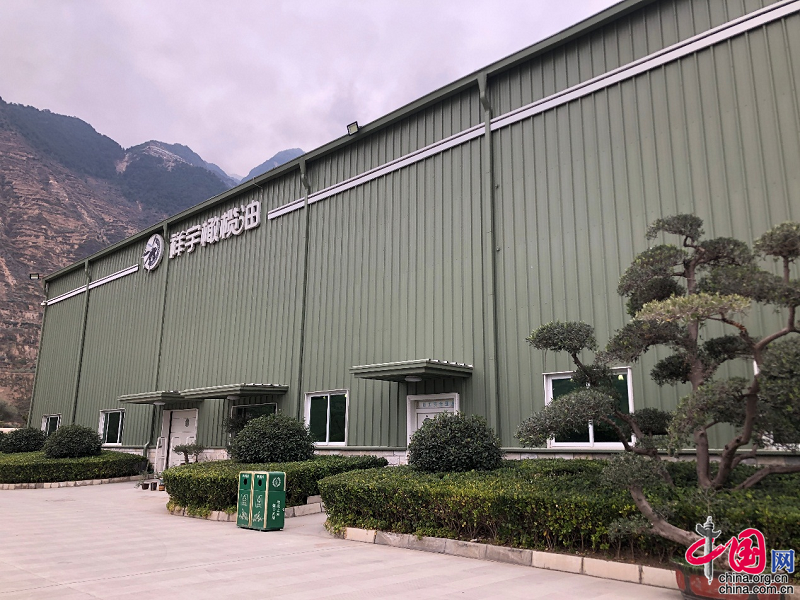 The Xiangyu olive ecological park in Chengxian county, Longnan city, Gansu province [Photo by Xu Lin / China.org.cn]
I recently had the occasion to receive a tour of the Xiangyu olive ecological park in Chengxian county, Longnan city, Gansu province, and learn more about the company and the poverty reduction campaign that it has been involved with.
I like olive oil and Israeli, Moroccan, Turkish, Mexican, Greek, Italian, and other cuisines that it plays a major role in, and I like to make condiments and dishes that use it as an ingredient, such assalsa, hummus, salads, chicken, and pasta, so I was interested in hearing about the development of the olive oil industry in China as well.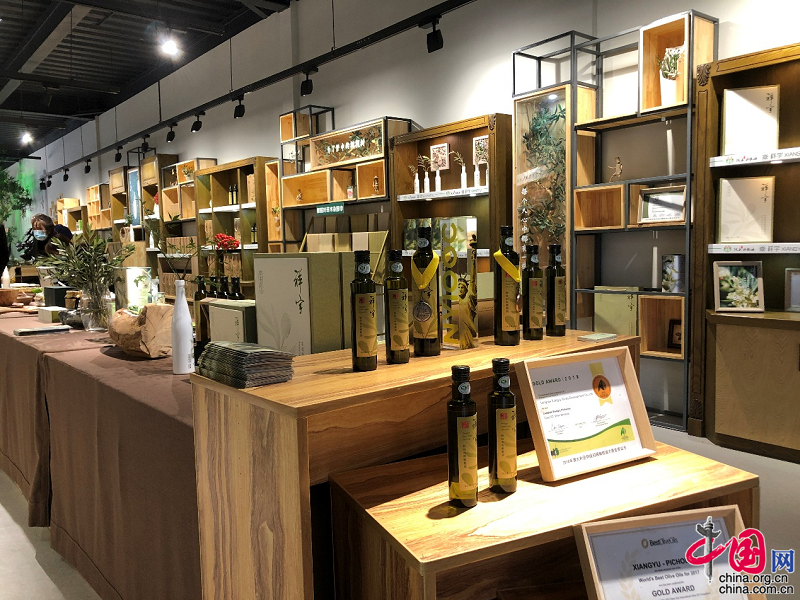 The display hall in Xiangyu olive ecological park [Photo by Xu Lin / China.org.cn]
I was told that Zhou Enlai, the first premier of the People's Republic of China, planted the first olive tree in the country in 1964 after he arranged for the import of 10,000 of the plants from Albania. The group I was with was informed that China's olive oil industry did not develop until much later, however, and were apprised that Xiangyu was established in 1997 as it began to expand and become a serious undertaking. We also learned that Gansu is responsible for 80 to 90 percent of olive oil production in China and that the industry is one of the pillars of the province's economy, especially in Longnan. We were told that the government provides subsidies in order to promote its growth and its poverty reduction effects as well.
I learned that olives are grown on 200 sq km of land in Longnan and that this benefits 3 million people directly or indirectly, some of whom are members of the more than 300 cooperatives that are engaged in olive cultivation in the city. It is great that such a large number of people are able to experience gains from this sector of the city's economy.
I was impressed by the various ways Xiangyu advances industrial development and poverty reduction in the area. A guide explained that the company provides training and financial support to growers in order to help them master various cultivation techniques and ensure that they have the resources they need to get started.I was also told that Xiangyu collaborates with grassroots Communist Party of China organizations on issues related to poverty alleviation leadership and that the company is committed to expanding the market and helping farmers increase their incomes.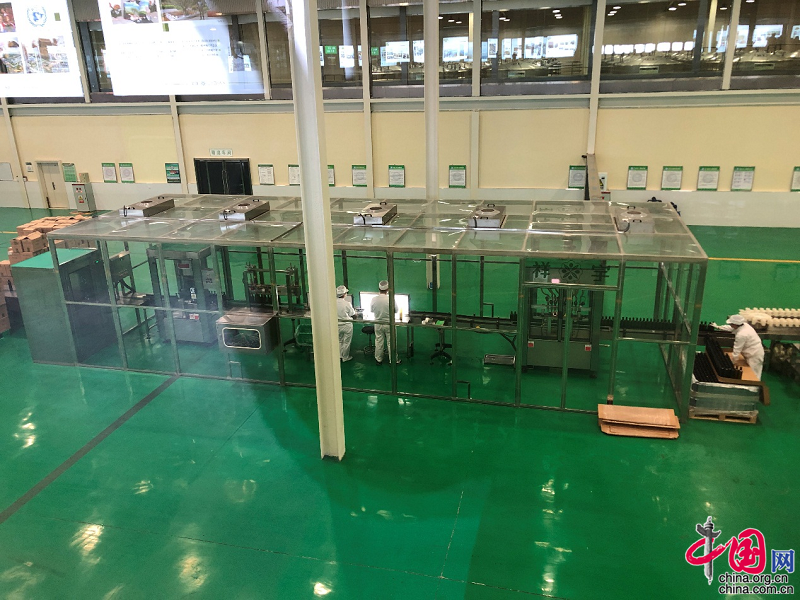 A sunken factory floor in the Xiangyu olive ecological park [Photo by Xu Lin / China.org.cn]
The group I was with was eventually led through a display hall that fills part of a mezzanine level above a sunken factory floor at a production facility at the site. Awards from various international competitions and illuminated panels with photos and information about the company were mounted along the outer wall, while large windows built into the inner wall provided a view of the factory's workspace. Black-and-white footage of Zhou planting China's first olive tree was also projected ona screen at the end of the first segment of the walkway as one travels clockwise. I enjoy archival film, so it was nice to see this pivotal moment in the history of the country's olive oil production captured on celluloid.
I was told that the factory produces a total of 1,400 tons' worth of goods every day, including the cosmetics, healthcare items, and other side products that it manufactures in addition to olive oil, across a total of 27 production lines and that they are sold both domestically and in other parts of the world. It is great that the company has achieved a good scale and has connected with major markets. Its diverse output is also advantageous. Olives have a lot of different applications, and I buy some of the other types of products that they can be used to make sometimes.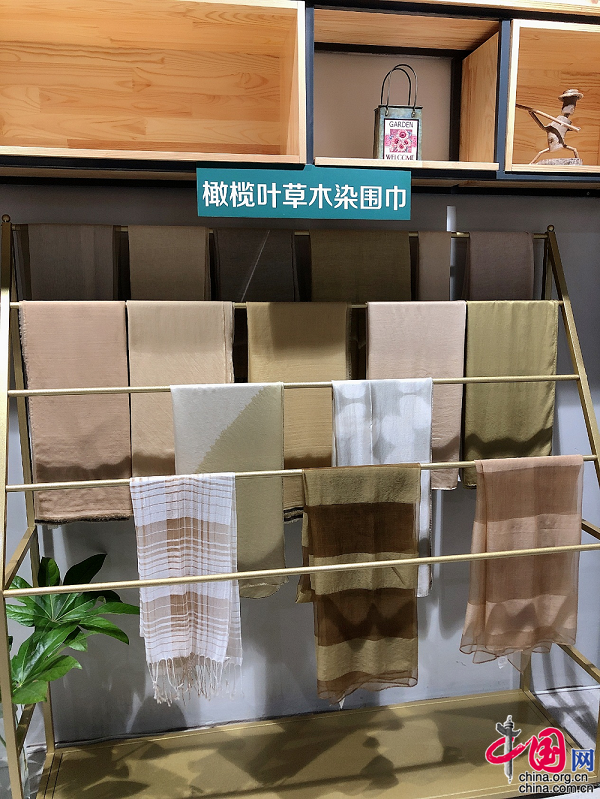 Some of the side products that the factory in the Xiangyu olive ecological park produces [Photo by Xu Lin / China.org.cn]
I was informed that a lot of innovation has been occurring as well and that Xiangyu has developed various partnerships with researchers, universities, and international partners in order to create improved varieties of olives and help farmers, which is interesting.
I was interviewed at one point and talked about how people can increase their incomes by cooperating and collaborating with Xiangyu. I am familiar with the poverty alleviation model that has been implemented in the area and the income streams that the company offers as a result of the work that I do. I mentioned that Xiangyu leases land from farmers, improves employment in the area, and purchases olives at higher-than-market prices from growers. These options make it possible for people to participate in the way that suits them best and obtain multiple sources of income in many cases.
It was interesting to learn more about the details of how Xiangyu operates and the history of olive oil production in Longnan and other background information. I was glad that I got to take a tour of its ecological park and gain a greater understanding of its endeavors and the poverty reduction campaign that it participates in.