Stuffed flatbread cart brings hope to deaf couple in Hefei city
p.china.org.cn by Ye Kai,March 26, 2021

Adjust font size: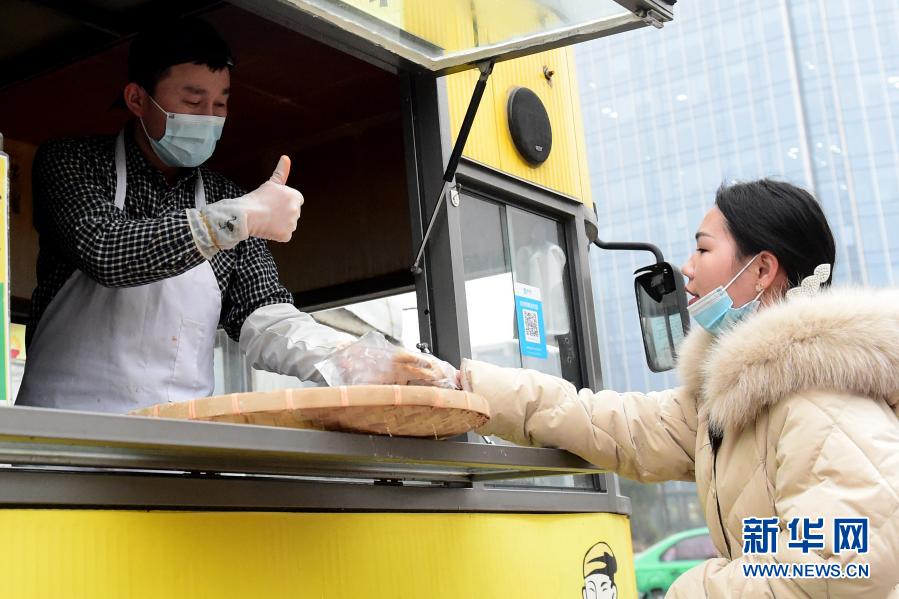 Zheng Zhangqin gives a thumbs up to a customer. (Xinhua/Zhou Mu)
A type of round, layered flatbread known as Shaobing is sold out of a special food cart near exit D of Metro Line 2's West Bus Station in Hefei city, Anhui province where transactions are conducted in an entirely silent manner. Instead, its owners and customers use gestures to communicate with each other.
Zheng Zhangqin and his wife, Xiang Yanfei, run the food cart. The two married in 2013 and have two sons. The couple are both deaf but have been working hard in pursuit of better lives.
In 2016, their eldest son, Zheng Weilai, developed acute leukemia, which was a heavy blow to the family. The couple sold their house and car in order to pay for his medical care at that time. They fell into debt, but the treatment was a success, and he began to recover.
The couple stopped working far from their home in order to be able to take care of their eldest son. In 2019, a friend of Zheng's taught him to make a type of crispy sesame Shaobing that originated in Hefei's Xiatang town during the Han Dynasty (202 BC to AD 220) and may be stuffed with meat, pickles, and onions and encouraged him to sell it. He took his friend's advice and began doing so every day, regardless of weather conditions. The cook currently wakes up at 5 a.m. and goes to sleep around 11 p.m. or midnight and is very committed to his new job.
The Zhengs have also received assistance from various people and organizations in recent years. The Wangyan village, Sanshigang town, Luyang district, Hefei city, village committee helped the couple apply for a subsistence allowance, Hefei's Gaoxin district urban management authority reserved a section of land near West Bus Station for their food cart, and many kind-hearted citizens often buy the Shaobing that they make.
"I am thankful for the help that I have been given," Zheng Zhangqin stated recently. "I plan to work even harder to help my family members attain better lives."
Zheng Weilai is currently in first grade, and his younger brother is four years old. Their parents' biggest wish is that their children can grow up healthily and happily.