Business partners transform their lives by offering camel rides in Horqin Desert
p.china.org.cn by Ye Kai,March 22, 2021

Adjust font size: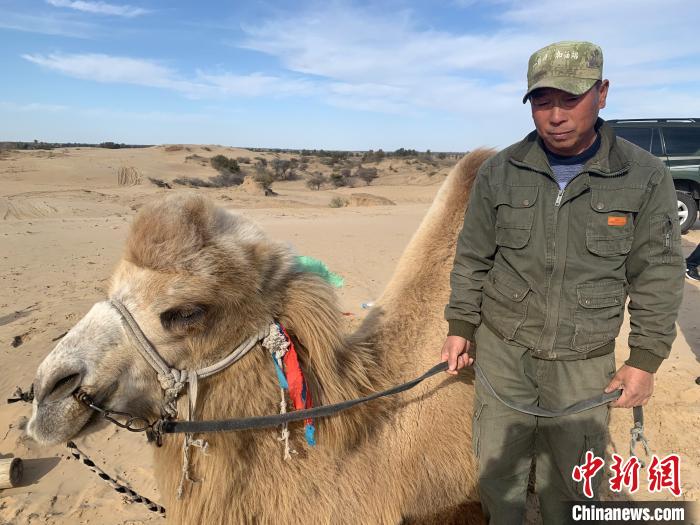 Li Shun and one of his camels (Chinanews.com/Ao Lan)
"Tourists pay dozens of yuan (US$5 to US$15) for a camel ride," camel driver Li Shun mentioned while working in the Horqin Desert in the fall of 2020. "We have earned 20,000 yuan (US$3,095) per animal in the past six months alone."
Camels walking in the desert are a unique attraction that interests many people. Owners and operators of the only business that offers camel rides to the public in a section of the Horqin Desert located near its southeastern border known as the Caogan Desert Scenic Area, Li and his business partner, Chang Ying, are very busy during the tourist destination's peak season, which lasts until the end of October.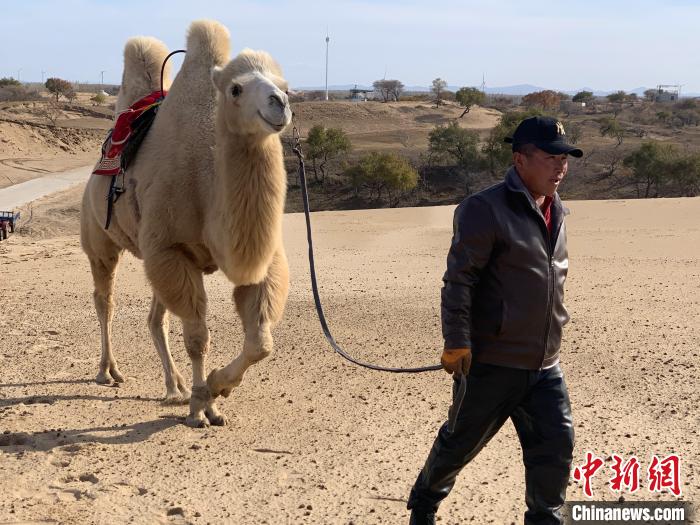 Chang Ying walks one of his camels. (Chinanews.com/Ao Lan)
The Caogan Desert Scenic Area is located in Chejia Wopu village, Sandu Sumu (an administrative division similar to a township), Horqin Zuoyi Rear Banner , Tongliao city, Inner Mongolia Autonomous Region. Possessing small amounts of arable land, the hamlet's residents made less than 2,500 yuan (US$387) a year per capita until the local government began developing the picturesque swath of the Horqin Desert in 2014, which made it possible for the administrative area's impoverished inhabitants to increase their incomes by getting involved with the tourism industry.
The Caogan Desert Scenic Area currently logs more than 100,000 visits every year. Chejia Wopu 's residents run farmstays, sell agricultural and sideline products and tickets to various attractions, work in restaurants and as security guards, and are engaged in other occupations at the tourist site.
"Everyone who works at the Caogan Desert Scenic Area is from Chejia Wopu ," noted its director, Wang Xin, "and all of the village's residents that used to be impoverished were able to escape from poverty by doing so."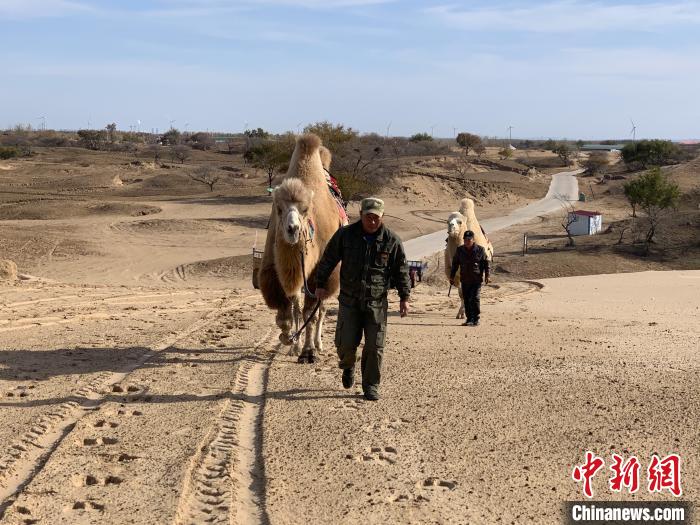 Two camel drivers in the Horqin Desert (Chinanews.com/Ao Lan)
"The village chose people who have health problems or are members of impoverished families to work as camel drivers," Li explained.
The 51-year-old used to grow corn for a living but achieved limited harvests. He injured his waist while working when he was younger and has been unable to engage in strenuous labor ever since.
"It was barren and empty here in the past," Chang remarked . "There was nothing but the Loess Plateau to the southwest and the sky above us. It was not easy to make money. How can you not fall into poverty when your wife becomes ill and you have school-aged children? Let's not get into food and clothing. We couldn't even get 10 yuan (US$1.55) together to celebrate Spring Festival. No one dared to lend us money."
"Li and I own nine camels and more than 20 horses at present," the 53-year-old continued. "The scenic area loaned us some animals when we started in 2015. I spent more than 20,000 yuan (US$3,095) on camels in 2016, and we have gradually expanded to where we are today."
Chang and Li currently raise and take care of all of the camels in the Caogan Desert Scenic Area. Visitors have the opportunity to ride them and enjoy beautiful views along designated routes during tourist season.
"My eldest daughter had to drop out of school many years ago because I lacked enough money for her to continue," Chang stated. "Now she works in Caogan, and is talking about getting married soon. My second and third children are in university, and I can afford to pay a total of 2,000 yuan (US$310) for their living expenses every month."
"Caogan saved me," the father-of-three continued, full of emotion. "My wife's health has improved, and our burdens have decreased. She used to be under a lot of stress, but we have a lot more money than we did in the past these days, so we are able to pay for our healthcare expenses."
"My family has experienced many changes in recent years," Li mentioned. "I have even been able to pay off my father's medical debt, which came to more than 200,000 yuan (US$30,952). I also built a cowshed and sheepfold and applied for a 50,000-yuan (US$7,738) poverty reduction loan so I could buy some cows. We are currently raising dozens of head of cattle and more than 50 head of goats."
"My life has finally gotten a lot more manageable," Li declared with a long sigh of relief.
"My story encourages other villagers," Chang noted. "Their outlooks have changed. They don't want to be left behind and have striven to find ways to increase their incomes."
The Horqin Zuoyi Rear Banner government has been busy implementing the "tourism + poverty reduction" model in other administrative areas under its jurisdiction in order to scale up the results that have occurred as a result of "one household helping several other households, one industry driving the development of more industries, and a scenic area promoting development" in Chejia Wopu so that their residents can enjoy greater prosperity as well.