Formerly impoverished rural residents find new lives in Tongren city
p.china.org.cn,March 15, 2021

Adjust font size: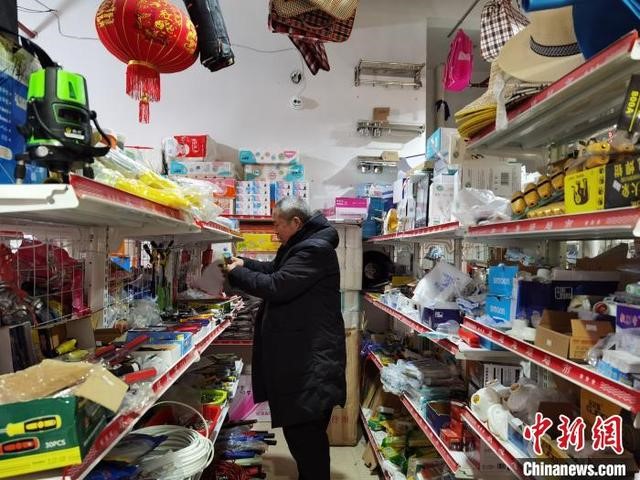 An Jingxu organizes products in his store. [Chinanews.com / Zhou Yanling]
The start of 2021 marked the beginning of An Jingxu's third year in the city. His current residence is the fourteenth that he has had throughout his life, so he has vowed to never move again.
The former migrant laborer's skin is tanned, and his hair is gray. He worked and ran businesses in Yunnan and Guangzhou provinces and other areas during his early years and lived in caves and brick houses with iron roofs. An Jingxu relocated from place to place for most of his life, eventually started a family that moved with him, and carried tens of thousands of yuan (thousands of U.S. dollars) of medical debt until recently.
In 2018, An Jingxu's household was classified as impoverished, and his family had the opportunity to relocate from the most remote village in Sinan county, Tongren city, Guizhou province, to a resettlement site in the prefecture-level administrative area's Wanshan district, known as the Wangjia community, along with more than 10,000 other people, most of whom also came from outlying hamlets.
An Jingxu took out a business loan after he moved to Wangjia and used the money that he raised to start a small variety store on the first floor of the street that he lives on. His eldest son, An Dongni, runs a hair salon next door and helps out at his father's shop when he has extra time. The elder An was able to pay off his loans during the second year of his store's existence and got his driver's license and a van around the same time. The shopkeeper likes to help Wangjia residents get around and local small and micro enterprises transport materials and supplies when he is available.
"My store brings in more than 20,000 yuan (US$3,096) of revenue per day when it is at its busiest, and I plan to start stocking produce soon also," An Jingxu mentioned happily when asked about his business recently.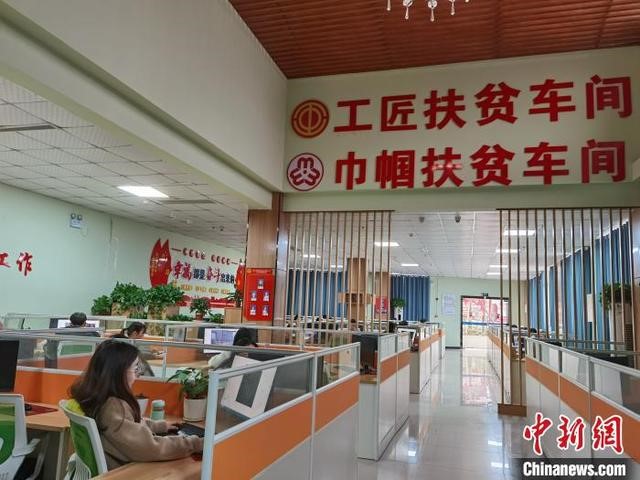 The data collection office that Chen Xia works at [Chinanews.com / Zhou Yanling]
A woman named Chen Xia has been working for a big data company at a 6,000-sq m business park for small and micro enterprises across the street from An Jingxu's shop since she moved to Wangjia. Her job is not difficult, and she makes 4,000 to 5,000 yuan (US$619 to US$774) a month.
"My daily work involves collecting data that will be used for research and development related to driverless technology by classifying people, cars, and obstacles in photos," Chen Xia explained recently.
The office employee takes her daughter to a kindergarten next to their home every morning. Her work is only a five-minute walk from the area, so she is able to go home for lunch every afternoon and take a nap afterward.
Some of the people who have relocated to Wangjia are employed in factories near their homes, some start their own businesses, and some prefer to increase their incomes in southeast China's coastal region.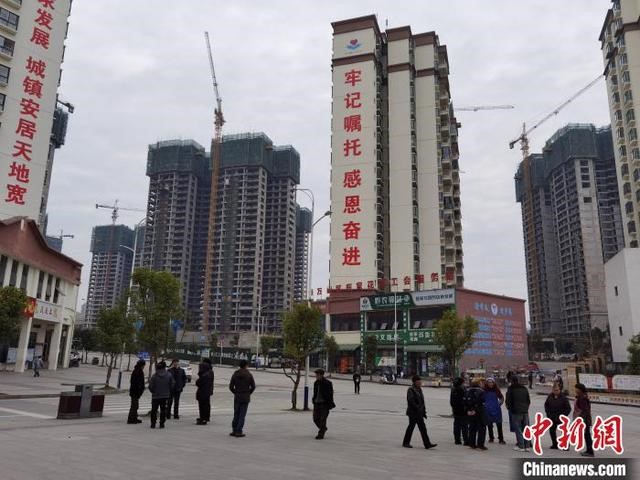 A view of the Wangjia community [Chinanews.com / Zhou Yanling]
The province with the largest number of residents who have participated in poverty alleviation-oriented relocation programs in China, Guizhou helped 1.92 million people move from impoverished locales to resettlement sites in more prosperous areas from 2016 to 2020, a number equivalent to more than five times the population of Iceland.
An orderly layout of schools, public squares, health facilities, convenience centers, and many other buildings and facilities comes into view when entering Wangjia. Every morning, senior citizens dance and practice Tai Chi in the community's squares, people quickly shuffle across its streets on their way to work, restauranteurs busily serve breakfast in small eateries...