Business booms as villages cultivate characteristic agricultural products in Dingtao district, Shandong
p.china.org.cn by Jin Ling,March 10, 2021

Adjust font size: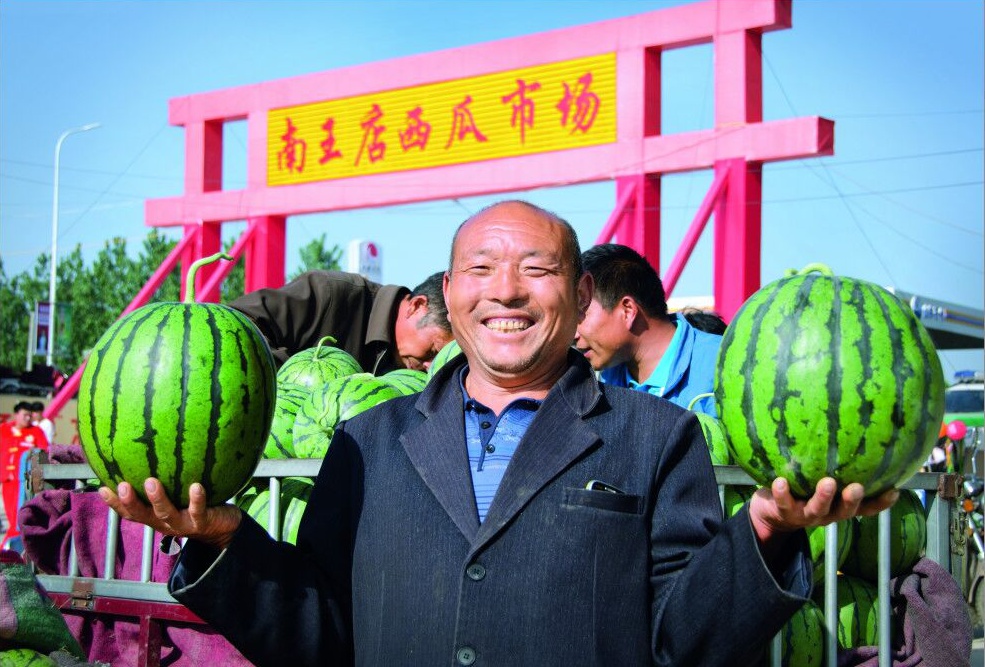 A joyful farmer holds two of his watermelons at the Third Annual Dingtao District Watermelon Festival in Heze city, Shandong province. [Photo courtesy of China Poverty Alleviation magazine]
An important transportation hub since ancient times, Dingtao district, Heze city, Shandong province, has been modernizing and gaining new vitality in recent years, including in its villages where characteristic agricultural pursuits have helped impoverished residents escape from poverty and increase their incomes.
Pursuing industries that take advantage of local conditions
Dingtao's residents have historically engaged in greenhouse-based agriculture on the large swaths of level land that exist in the district. In 2016, the administrative division subsidized the creation of 1,120 poverty alleviation-oriented greenhouses in 295 of its impoverished villages in order to promote prosperity by leveraging this strength.
One hundred twenty-two of these greenhouses were constructed in Wangzhuang village, Maji town, which made it possible for it to develop and expand its Chinese cabbage industry. People began referring to the community as "Baicai ("Chinese cabbage" or "bok choy") Wangzhuang" not long after as it became renowned for producing the crop.
A few years ago, 75-year-old Wangzhuang resident Wang Guangxin lost his ability to work due to aging, and he and his wife relied on the government-issued minimum subsistence allowance. They eventually became part of the first group of people to benefit from thevillage's poverty reduction greenhouses, however. The couple currently receives 2,000 yuan (US$309) a year for leasing their land to the cooperative that operates the facilities and 500 yuan (US$77) of annual dividends on top of their subsistence allowance, which has made it possible for them to escape from poverty.
"Our lives are much better now," Wang grinned when discussing his situation recently.
Nanwangdian township's watermelons have become well-known in recent years in a manner similar to Wangzhuang's Chinese cabbages and have received national acclaim. Hundreds of greenhouses with paved roads leading to their doors now stand in an orderly manner in the administrative area. Farmers can often be seen shuttling in and out of the structures as they load motorized cargo tricycles with boxes of the fruit.
Another married couple surnamed Wang operates one of these greenhouses. Mrs. Wang picks mature watermelons from thick vines during harvest season, and Mr. Wang packs them into boxes. There is a joyful atmosphere in the air during this time of year.
"This variety matures earlier than standard cultivars, which helps us get good prices," Mr. Wang explained with a big smile while engaging in his work one day. "Our watermelons sell for a minimum of 16 yuan (US$2.50) per kg. Buyers purchase them from us directly, and their trucks come straight to our doors. We can easily earn 40,000 to 50,000 yuan (US$6,178 to US$7,722) of profit per year from watermelon sales alone."
"Our watermelons are very tasty," Mrs. Wang stated while taking a break and serving slices of the fruit. "We also grow peppers during the second half of year. We have already signed purchase contracts, so sales are not a problem."
Very diligent and committed, the Wangs tend not to rest during the Chinese New Year holiday and hire several people to help them when they have more work than they can handle on their own at various points throughout the year.
Dingtao has encouraged its villages to develop efficient, large-scalecharacteristicagricultural undertakings that take advantage of local conditions and are environmentally friendly in a similar manner to what Nanwangdian and Wangzhuang have done. Motivated by the campaign, the district's farmers have leased more than 20,700 ha of their land to cooperatives and other organizations that run poverty alleviation-oriented greenhouses. A variety of products are produced on the realty,and multiple crops can be cultivated on the same land throughout the course of a year in some cases. Sixteen thousand ha's worth of green vegetables, more than 3,300 ha's worth of Chinese yams, over 1,300 ha's worth of watermelons, 1,000 ha's worth of various characteristic fruit, 840 ha's worth of roses, more than 1,700 ha's worth of ornamental tree saplings, and 380 ha's worth of edible mushrooms are grown every year. Sixteen of the farms have received the "standardized Shandong agricultural base" designation thus far.Theyproduce five characteristic crops – roses, Chinese yams, edible mushrooms, green vegetables and cool-season watermelons.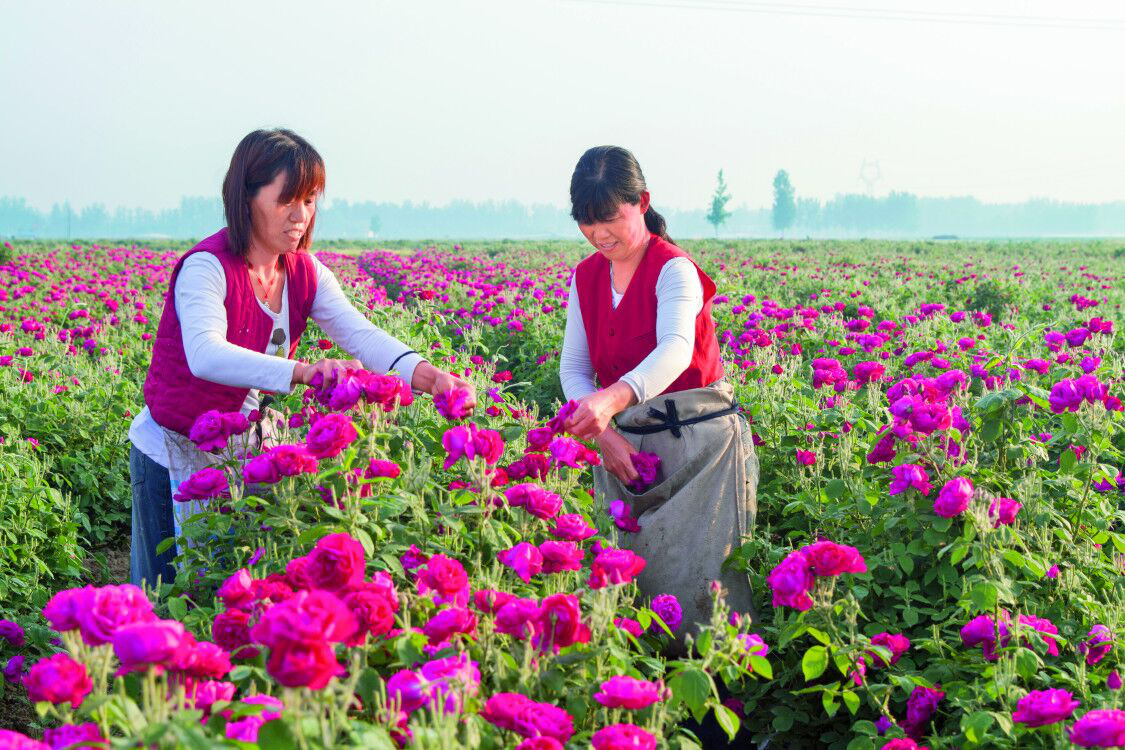 Two farmers smile while working on a rose farm in Huangdian town, Dingtao district, Heze city, Shandong province. [Photo courtesy of China Poverty Alleviation magazine]
Comprehensive production system motivates and benefits all stakeholders
Villages that are not currently poverty-stricken on balance sometimes find it difficult to help households that remain impoverished escape from poverty because they tend to receive less funding and launch fewer new projects than impoverished hamlets do. In 2016, Dingtao integrated 67 million yuan (US$10.35 million) of poverty eradication funds from all sources and invested 56 million yuan (US$8.65 million) of it into shares of 16 large-scale, well-established cooperatives in order to establish a poverty reduction base in each of 12 townships and constructa total of1,120 greenhouses at them to address the issue.
The cooperatives have helped approximately 58,000 impoverished residents in 21,000 of the district's households escape from poverty by contracting their land, providing jobs, and issuing a total of 5.6 million yuan's (US$864,852) worth of dividends every year for the next 15 years.
The land leasing arrangements that the 16 cooperatives engage in boost the proceeds of farmers who live near the bases and makes it possible for the organizations to engage in large-scale endeavors. Average net income has increased from less than 15,000 yuan (US$2,317) per ha to 225,000 yuan (US$34,749) to 450,000 yuan (US$69,497) per ha, vastly improving profit and competitiveness in the area.
The Mingjiaxing Agriculture Cooperative is one of the 16 that participate in Dingtao's initiative to help poverty-stricken people who live in hamlets that are not impoverished overall. In 2016, it received 5 million yuan (US$772,189) of poverty alleviation funding from Nancheng community's 21 villages, and 131 impoverished households in 11 villages signed contracts with the organization. The cooperative provides their working-age members with free technical guidance, sells them mushroom spores at prices that are 10 percent lower than what the general market offers, and pays five percent higher than what the market offers for the produce that they grow.
Mingjiaxing's mushroom grow houses generate an average of about 100,000 yuan (US$15,444) of sales per year. All of the households that are involved with the cooperative have escaped from poverty, and the organization has been expanding and becoming more profitable.
Wanglou village, Huangdian township, resident Zhu Fengchun lived in poverty until a few years ago, despite engaging in traditional agriculture in his hamlet and working odd jobs in nearby villages during slack season. The farmer eventually became involved with Huangdian's Yimin Vegetable Cooperative and now earns a stable monthly salary of around 2,000 yuan (US$309).
"I have been working with Yimin since it was established," Zhu explained. "My job makes it possible for me to earn stable income near my home."
Yimin president He Shuchao stated that the cooperative employs 80 to 100 farmers a day and that more than half of them were impoverished when they started working with the organization. He noted that they are taughtstandardized vegetable cultivation techniques and earn an average of more than 2,000 yuan (US$309) a month.
Yimin leases land from local villagers at a rate of 24,000 yuan (US$3,707) per ha per year and prioritizes impoverished landowners. The cooperative also distributes a minimum of six percent of its profit in the form of dividends, which benefits 570 impoverished households in 13 villages.
Science, technology, and human resources form solid agricultural foundation
Yimin's greenhouses produce dozens of varieties of cherry tomatoes. The cooperative also engages in agritourism and allows visitors to pick their own produce. At 14 yuan (US$2.16) per kg, prices are not cheap, but many people enjoy the experience, especially young children.
He Shuchao oversees Yimin's greenhouses and possesses many years of experience in the produce business. He has been involved with many aspects of the industry and has worked on both small-scale operations and large-scale endeavors that utilize intelligent greenhouses.
Yimin had the opportunity to expand when more funding became available in late 2017. The cooperative spent 5.6 million yuan (US$864,852) of poverty alleviation funds and more than 3 million yuan (US$463,313) that it raised on its own on modern, first-class equipment and a number of high-quality intelligent greenhouses, which has increased its annual cultivation capacity to more than 20 million plants. He Shuchao has also been introducing new varieties of tomatoes from all over, which has made the undertaking more colorful.
His daughter, He Wenwen,plays an important role in Yimin's marketing efforts. She began using livestreaming technology and group purchase discounts to promote the cooperative's produce when the COVID-19 pandemic emerged in order toproactively address the situation and maintain steady sales.
Shandong Shanggu Agricultural Group Ltd. has also benefited from e-business. The organization received 700,000 yuan (US$108,106) of e-commerce-oriented poverty eradication funding and used it to establish an e-business incubation base. The project makes it possible for two villages to issue a total of 70,000 yuan's (US$10,811) worth of dividends per year and 209 members of 65 impoverished households to increase their incomes. The base has promoted the development of the surrounding area, and the farmers who have become involved with Shanggu have been able to increase their incomes by an average of more than 27,000 yuan (US$4,170) per ha per year thus far.
Shanggu has also cultivated a long-term cooperative relationship with the Chinese Academy of Agricultural Sciences and established China's first academician workstation dedicated to high-level development of agricultural pursuits related to traditional Chinese medicine (TCM). The workstation aims to develop an ecological agricultural system that incorporates principles and theories associated with TCM and helps Huangdian establish new produce brands.
Shanggu employs more than 150 impoverished people at an average rate of more than 2,000 yuan (US$309) per month and has helped 23 village collectives increase their incomes by a total of more than 150,000 yuan (US$23,000), which makes it possible for them to issue 1,000 yuan (US$154) of dividends to 150 poverty-stricken households with members who are not able to engage in manual labor every year.
Wuzhuang village resident Wu Changjun has benefited from these undertakings. The farmer has had the opportunity to learn new cultivation techniques and currently leases two poverty reduction-oriented greenhouses from Shanggu, which has made it possible for him to escape from poverty and increase his annual income to about 100,000 yuan (US$15,444).
Shanggu is currently constructing intelligent greenhouses that will be connected to the Internet of Things, including 25 intensive, high-temperature facilities that will be devoted to growing plants used in TCM, as well as a research and popular science education demonstration base themed on intelligent greenhouses.
Business has been flourishing throughout Heze as its villages' characteristic undertakings expand and develop. A total of 4,626 poverty alleviation projects that benefit 597,200 members of 278,700 impoverished households, including 68 percent of the more than 15,000 Dingtao-based households that have escaped from poverty in recent years, have been implemented in the city since 2016.