Prosperous sports tourism journey embarked in Mashan county
p.china.org.cn by Liu Yizhou,March 05, 2021

Adjust font size:

Located in a remote mountainous area, Mashan county, Nanning city, Guangxi Zhuang Autonomous Region used to have a reputation for having poor transportation and connectivity and being backward and impoverished. In recent years, its government has channeled the power and wisdom of the administrative area in order to make full use of its strengths and engage in targeted poverty reduction, however, which has resulted in a successful transformation of the region.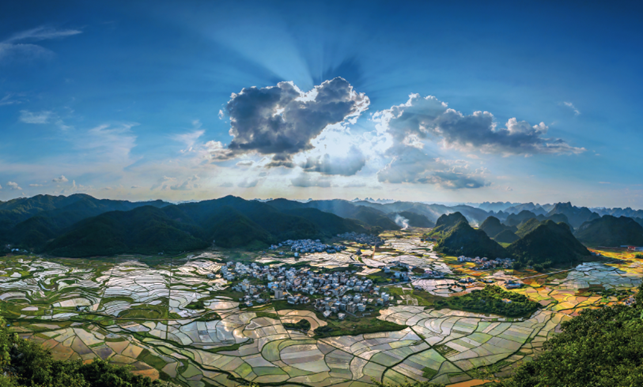 Mashan's picturesque Qiaolao mountains region in Dashi Mountains becomes a tourist destination in recent years, which has made it possible for the county's residents to grow more prosperous. [China Poverty Alleviation magazine / Zhao Zhian]
Harnessing Mashan county's lucid waters, lush mountains via "sports+" campaign
Poverty followed Mashan like a shadow before it embarked on a more prosperous path due to the effect of the Dashi Mountains – a typical karst landform that runs through the eastern part of the county – and the resulting water shortages, less-than-0.05 ha of arable land per capita, and general lack of resources that prevailed.
Mashan has spent many years managing the desertification that has plagued it and eventually implemented a comprehensive poverty eradication campaign as well. Known as "sports+," the project involves the county embracing its characteristic karst terrain, hosting various sporting activities and events, and pursuing related industries. The administrative area began promoting the integration of public welfare pursuits, rural tourism, local festivals, and international sports competitions in order to effectively accelerate the development of its economy and synchronizing agriculture, sports, hospitality, culture, and other areas with poverty reduction initiatives. These efforts have altered the role of the scenic Dashi Mountain range from being something that causes poverty and inconvenience to a resource that promotes prosperity, uniqueness and economic strength.
In 2017, the fourth section of the Union Cycliste Internationale (UCI) Tour of Guangxi WorldTour race began running through Mashan and concluding in its scenic Nongla area. Referred to as the "queen route" by UCI members, the final three km of the contest takes participants along a very challenging uphill path that has contributed to the race becoming a new calling card for the county.
Large-scale, high-level sporting events with high standards help Mashan's tourism industry grow in addition to endowing it with considerable direct economic benefits. The county's rural residents have had the opportunity to escape from poverty and gradually increase their incomes by providing services for the games, selling agricultural products, leasing their land, and directly participating in the industry.
Mashan's Sanjia village was a typical impoverished Dashi mountains-area hamlet until concerted efforts were made to utilize the mountains in its borders in order to transform it into a rock climbing destination. Twenty-two rock formations with a total of 533 climbing routes and various supporting facilities are currently devoted to the undertaking in the administrative area. Sanjia's inhabitants are very enthusiastic about the sports tourism industry that has taken root and actively engage in it by running bed and breakfasts with local characteristics and providing high-quality dining, accommodation and recreation services to visitors.
Sanjia resident Liang Fangling used to occupy herself with agriculture but lived below the poverty line until she began working at the Feilada Rock Climbing Experience Center. She has also been involved with other pursuits in recent years, such as managing a bed and breakfast, which makes it possible for her to earn a total of more than 40,000 yuan (US$6,191) per year.
"I make over 3,000 yuan (US$464) a month at Feilada," Liang mentioned when asked about her current pursuits. "My family also engages in agritourism, which makes it possible for us to generate additional income."
Nongla village, Guling township, has been restricting access to the mountains that run through its jurisdiction since the 1960s and has remained committed to afforestation and desertification management henceforth, which has made it possible for its forests to recuperate and for other vegetation to flourish in the area. In 2016, the village endeavored to convert from a rural tourism destination into a sports and recreation base and has been holding world class sports events and showcasing its unique style ever since. Nongla hosted the China-ASEAN International Marathon in November 2016 and 2017 in addition to the end of the UCI Tour of Guangxi WorldTour from 2017 to 2019 and has plans to hold more competitions in the future.
The successful transformation that has occurred in Mashan has attracted greater investment in the county, led to new ways for its rural residents to increase their incomes, and generated other economic benefits. More than 13.8 million yuan (US$2.16 million) has been invested in tourism attractions in the county's core area thus far. Many of the administrative area's inhabitants have become engaged in the management of its scenic areas and involved in its restaurant industry and have been selling agricultural products and participating in other undertakings as its tertiary sector has developed and expanded. Average annual disposable income in Nongla has increased from 3,500 yuan (US$542) per capita in 2008 to nearly 20,000 yuan (US$3,095) in 2019.
Mashan's 14 deeply impoverished counties embrace "four keys" to prosperity
All of the 14 villages in Mashan that suffered from extreme poverty in the past are located in mountain passes with poor conditions. The hardship and adversity that affects them did not stop the hamlets from developing various characteristic industries and engaging in poverty alleviation pursuits in recent years, however. These villages embraced "four keys" that were devised to enhancing the level of well-being in their borders, namely they made concerted efforts to address their shortcomings, located water sources and drilled wells, enhanced endogenous ability, and established poverty eradication-oriented factories, which has made it possible for the people living in them to escape from poverty and become more prosperous.
In January 2020 , Longyin village, Jinchai township, began distributing dividends to its residents.
"This is the first time our village has ever done this, so it is very special," Longyin inhabitant Meng Minle exclaimed when receiving a payment. "I believe that our lives will continue to get better and better!"
Longyin's residents grew corn on dry land for generations and generally had meager incomes before efforts were made to address the poverty that they suffered from. In recent years, the hamlet optimized its industrial structure, transferred and integrated more than 24 ha of barren arable land, established the Longyin Village Comprehensive Environmentally Friendly Crop Cultivation and Animal Husbandry Demonstration Park, introduced the Guangxi Grass Phoenix Company, developed its native chicken farming industry, and created a new brand known as Longyin Mountain Chicken, and 134 impoverished households invested 2,000 yuan (US$310) per capita in the projects. All of the adults in the village are now able to engage in farm work with the organizations that were created, work at them in other capacities, run their own farms, or become involved with other industries that promote poverty alleviation. Impoverished households have enthusiastically participated in the administrative area's organic chicken farming undertaking and are confident about their ability to become more prosperous.
Longyin has been experiencing constant change as a result of the poverty reduction industries that have taken root in the village and the continuous improvements that have been made to its infrastructure. Inhabitants of the 14 villages that were in extreme poverty in Mashan rely on ground water because no rivers flow on their surfaces, but there was insufficient supply until recently. The county located more water sources in these hamlets and invested 13.74 million yuan (US$2.13 million) in 32 deep wells in order to improve access to safe drinking water and address the problem thoroughly.
"I bought a washing machine for my family and expanded our cattle farm after wells that were dug in solved our village's water problems," Longyin resident and migrant laborer Meng Boliang noted happily when asked about the improvements that have been made to the infrastructure in the village. "I plan on buying more calves also. We can earn tens of thousands of yuan of additional income per year."
The desertification management and development efforts that have been made in Mashan over the years have resulted in remarkable poverty alleviation achievements. The county has transformed itself by harnessing the power of its beautiful rivers and mountains, which has made it possible for its residents to emerge from poverty and work towards better lives.