Remote village on Yunnan-Myanmar border achieves greater prosperity by engaging in sericulture industry
p.china.org.cn by Zhao Binyu,February 20, 2021

Adjust font size:

Countless hectares' worth of lush green mulberry trees grow under the hot sun in the China-Myanmar border region, some of which the ethnic Jingpo citizens who populate Manbeng village, Longba town, Longchuan county, Yunnan province, have cultivated over the last few years. Sixty-nine of the 236 people who live in the village were impoverished before they became engaged in the endeavor, or 21 of its 52 households.

Manbeng resident Dong Paoyue has been busy harvesting mulberry leaves to use as feed for young silkworms. The 49-year-old lived in a thatched cottage, grew rice and sugarcane, and lacked sufficient food and clothing for the majority of his life until he became involved with the sericulture industry. The farmer's income has doubled in the last three years, however, which has made it possible for him to become more prosperous, build a new home and buy a car.

Dong's ancestors engaged in hunting and slash-and-burn agriculture deep in the mountains and jungles before the People's Republic of China was founded in 1949 and eventually moved to the area that is now known as Manbeng during the end of the 20th century.

Dong mentioned that the people in his community continued to live in thatched homes even after they moved to Manbeng and that they were not able to build modern, tile-covered residences until special policies made it possible for them to do so in 2006. New brick houses were also constructed in 2014 after China launched its targeted poverty alleviation campaign, which helped the village's residents live better lives.

"The biggest change in the area is the development of a characteristic industry," Dong Paoyue stated toward the end of summer 2020. He elaborated on the endeavor and remarked that the government began encouraging Manbeng's residents to grow mulberry trees and rear silkworms because the rice and corn farming that they had previously engaged in barely sustained them and that the undertaking has significantly increased incomes in the village.

Longba Party Committee Secretary Dong Qiaoxiang explained that the government of Shanghai municipality's Qingpu district has helped Manbeng's residents cultivate 33.3 ha's worth of mulberry trees since 2017 and that the village has achieved successive bumper harvests ever since. He also noted that the village's impoverished families finally have a clear path out of poverty and toward prosperity.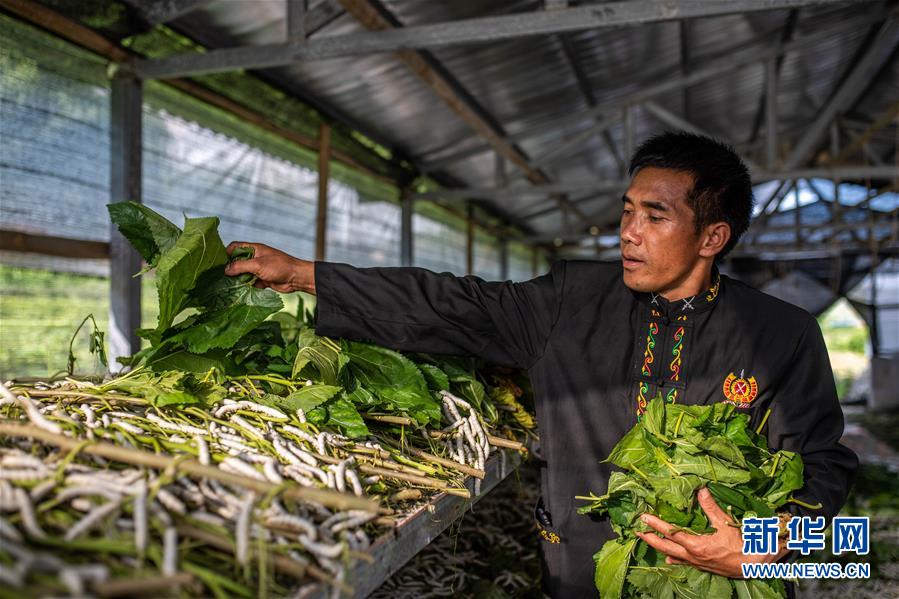 Dong Paoyue feeds mulberry leaves to silkworms in Manbeng village, Longba town, Longchuan county, Yunnan province. (Xinhua/Hu Chao)
"Not everyone wanted to raise silkworms at first because they were worried about wasting their time," Dong Qiaoxiang recalled.
Mangbeng enjoys a temperate climate, fertile land, and plentiful water resources, which makes it an ideal place to cultivate mulberries and farm silkworms, however. The official continued recounting the situation and remarked that Longba's government and Party committee dispatched officials and Party members to the village to explain policies that were formulated to support the sericulture industry, arranged for professionals to provide guidance and training, and took other measures to reassure the public and stimulate enthusiasm.
Dong Paoyue mentioned that one hectare of mulberry fields can be used to produce an average of 675 kg of silkworm cocoons during the first year, thus 24,840 yuan of revenue is generated per ha when cocoons are sold at the lowest normal price – 36.8 yuan (US$5.38) per kg – and stated that production nearly doubles during the second year when average revenue rises to 49,500 yuan (US$7,242) per ha. Dong's family cultivates more than 1.06 ha of mulberry trees at present and estimates that they will earn more than 50,000 yuan (US$7,315) of income this year.
Every family in Manbeng currently participates in the silkworm industry. Annual income rose to 7,826 yuan (US$1,145) per capita at the end of 2019; the village has successfully emerged from absolute poverty as a result of the efforts that have been made.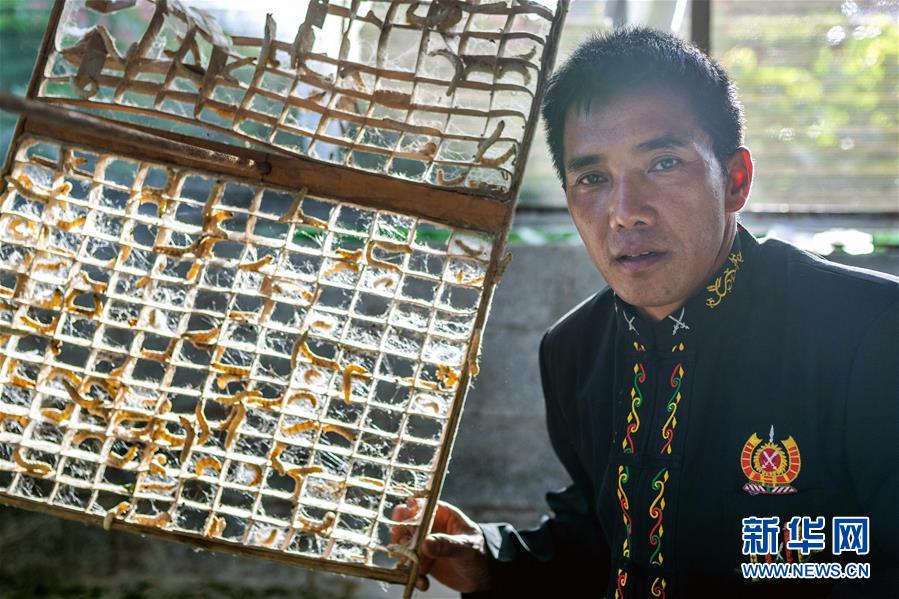 Dong Paoyue displays a wooden frame full of young silkworms that will soon form cocoons. (Xinhua/Hu Chao)
Staff spin thread out of silk and feed it into machines that roar as it is woven into quilts, pillows, articles of clothing, and other products in a streamlined manner at a Dehong Zhengxin Industrial Co. Ltd. facility located near Manbeng. Finished merchandise is sent to a warehouse and later sold all over the world.
"The factory is located near our village, which is very convenient," Dehong Zhengxin Industrial Co. employee Yang Duiling mentioned. The ethnic Jingpo citizen earns 3,400 yuan (US$497) a month working eight hours a day at the facility and also brings in an additional 3,000 yuan (US$439) a year leasing out some of her land. Yang and her family members are currently living happy lives.
"Right now our company is making every effort to enhance our processing capacity and achieve vertical integration by pursuing and engaging in silkworm cocoon production; silk reeling, weaving, and dyeing; and the fabrication of consumer products," Dehong Zhengxin Industrial Co. Chairperson Zheng Shanhong stated. "Our expansion will also create more jobs in the area."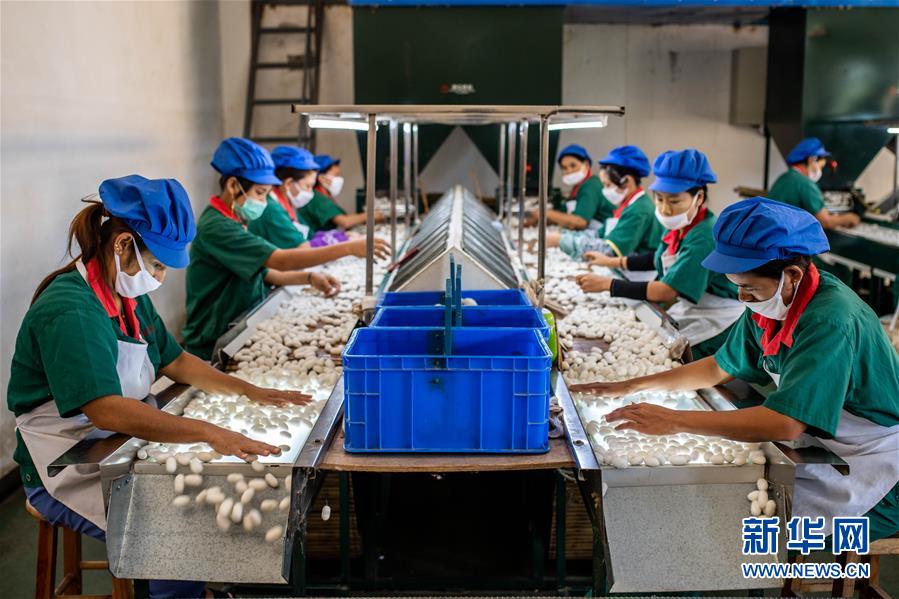 Staff select silkworm cocoons at a Dehong Zhengxin Industrial Co. Ltd. factory. (Xinhua/Hu Chao)
The far-reaching influence of the sericulture industry is continuing to unfold in Longchuan. Dong Qiaoxiang mentioned that mulberry farming and silkworm rearing requires eight months of labor per year and that it is important to take good care of the insects and ensure that conditions are clean and hygienic. The responsibility that is required has stimulated the intrinsic motivation of those who have been encouraged to participate and their desire to engage in hard work and development.
Manbeng is a microcosm of the efforts that have been made to harness sericulture for the purpose of helping impoverished residents of Longchuan – an administrative area that has suffered from concentrated swaths of contiguous poverty – increase their incomes and become part of China's emerging moderately prosperous society. Members of more than 5,000 households currently cultivate mulberry trees on 3,400 ha of land in the county, and its silk industry has achieved nearly 50 million yuan (US$7.32 million) of total output value.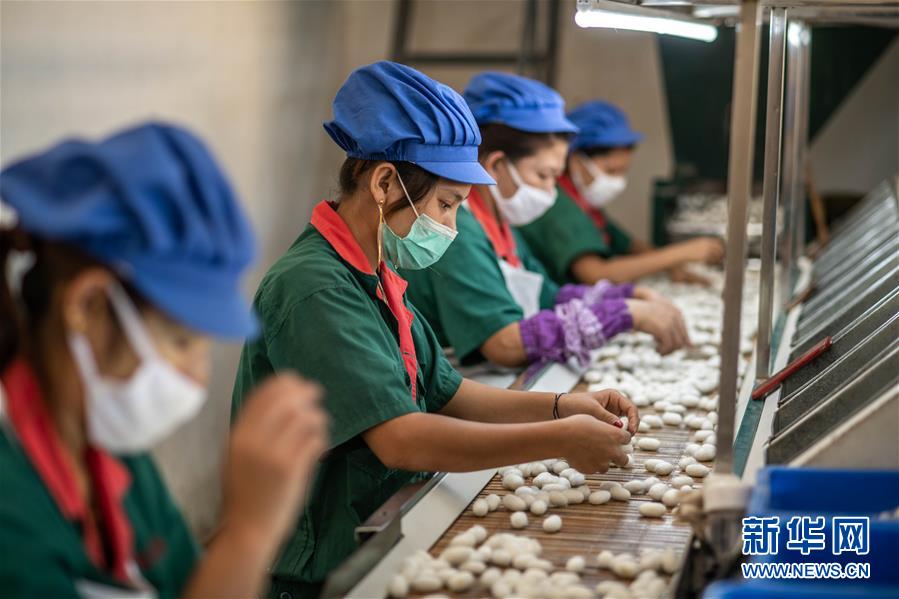 Dehong Zhengxin Industrial Co. employees sort silkworm cocoons. (Xinhua/Hu Chao)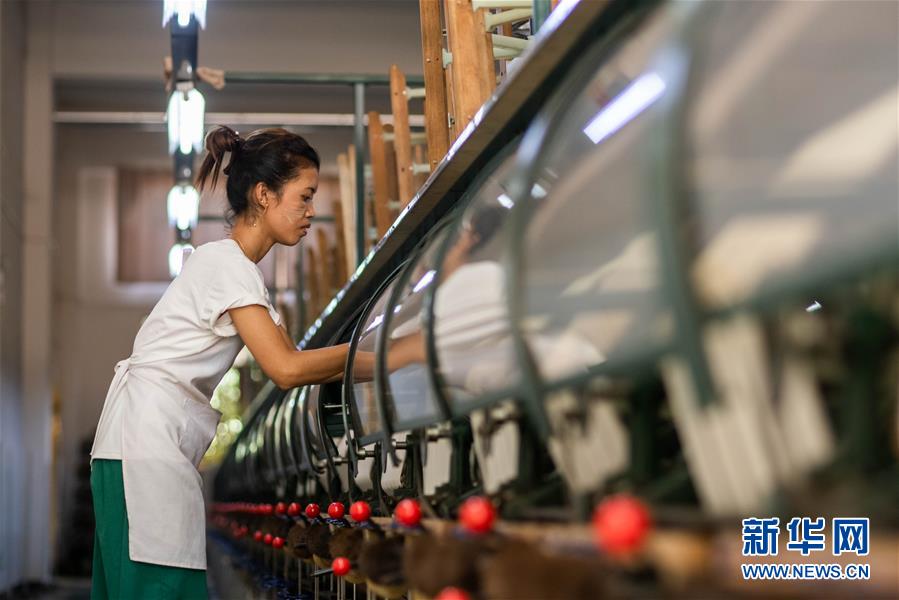 A Dehong Zhengxin Industrial Co. staff member works in one of its factories. (Xinhua/Hu Chao)