E-commerce empowers women in Ningxia and helps them transform their lives
p.china.org.cn by Zhao Binyu,February 18, 2021

Adjust font size: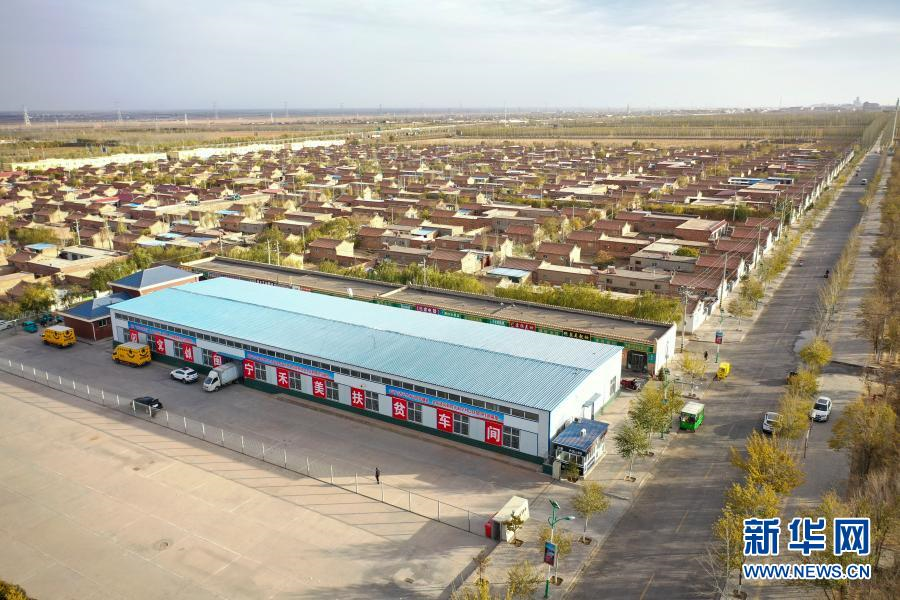 The Minning Hemei e-commerce poverty alleviation factoryin Minning town, Yongning county, Yinchuan city, Ningxia Hui Autonomous Region (Xinhua)

Consisting of seven counties and two districts that are under the administration of three cities incentral and southern Ningxia Hui Autonomous Region and were deeply impoverished until recently, Xihaigu was consideredto be "one of the least suitable areas for human habitation in the world" by the United Nations in the 1970s. A concerted poverty relief campaign that included special efforts to empower the women who live there and help them achieve greater prosperity made it possible for the region to ultimately emerge from poverty, however.
A report on potential poverty alleviation collaboration between developed parts of China and underdeveloped sections of the country that was released in 1996 led to a poverty reduction journey in which administrative areas in the eastern half of the nation assist those in the west. Fujian province and Ningxia began participating in the framework a few years later and formed close ties with each other. The comprehensive, multiform, and multi-tiered poverty alleviation campaign that the province and the autonomous region have engaged in over the last 21 years made it possible for more than 60,000 farmers from impoverished, mountainous parts of Xihaigu to relocate to a community in Yinchuan city that was transformed from a parched swath of the Gobi Desert into a modern eco-migration demonstration town known as Minning town and embark on a path of poverty eradication and prosperity.
The cooperation that has occurred between Ningxia and Fujian has led to new opportunities for women who live in rural parts of the autonomous region as well. In 2019, the Minning Hemei e-commerce poverty reduction workshop came online in Minning's Yuanlong village, and the company prioritized local women who were left-behind or impoverished when it began recruiting staff. Forty-nine women were hired in total, 42 of whom were poverty-stricken.
Minning Hemei began using livestreaming technology to market its products after the COVID-19 pandemic broke out, and employees Hai Yan, Ma Yan, Bai Xiyan, Ma Yunsu, Ma Danli, and Yang Junying were assigned to its new video marketing team. The members of the group lacked much formal education – most had only completed primary school –and did not have a lot of experience with livestreaming but were eager torise to the challenge that was presented to them.
The six women enthusiastically participated in the training that was provided, learned various techniquesfrom other livestreamers, carefully planned their broadcasting sessions, and began conducting effective sessions. Their assignment was a good opportunity for them and even helped them transform their lives.
The members of Minning Hemei's livestreaming team have been happily engaged in their work ever since it was delegated to them and have gradually experienced various changes. Formerly timid, Ma Yan is now responsible for the facility's reception work. Customers often comment that she is good-natured, speaks freely, and does not look impoverished. Hai Yan sometimes travels to Fujian with Minning Hemei President Xu Meijiafor business and currently earns nearly 3,000 yuan (US$464) per month, which is enough for her tobe able to buy most of the things that she and her children want without having to worry about whether she can afford it. Ma Danli was born in the 2000s and also used to be fairly reserved. The other members of her team have helped her become better at communicating with customers, however, and she has grown to be more confident. E-commerce has helped transform the women's lives and has made it possible for them to chase their dreams.
"I hope the expansion that Minning Hemei has been experiencing will make it possible for our livestreaming team to grow to 60 or even 600 members," Xu Meijia declared recently.
Bai Xiyan plans to enroll her daughter in a dance class soon so she can pursue her hobbies, while Hai Yan wants to continue to gain experience at Minning Hemei so she can "start [her] own business and become a powerful woman like President Xu."