Counties encompassing major rivers' headwaters emerge from poverty in Qinghai province
p.china.org.cn by Zhao Binyu,February 09, 2021

Adjust font size:

Spanning the northern section of the Qinghai-Tibet plateau, Qinghai province is home to the headwaters of the Yangtze, Yellow, and Lancang rivers but was also significantly poverty-stricken until early last year. The administrative area has been becoming more prosperous, however, and none of its counties are currently impoverished.

Located at an average height of 4,058 m, the Qinghai-Tibet plateau's Liupan Mountains region and Tibetan area stretch across four of China's provincial-level administrative divisions and were deeply impoverished. Poverty eradication was very difficult due to factors such as the tableland's delicate environment and complex terrain; residents fought a long battle against poverty in and around the valleys, hills, mountains, rivers, forests, and fields that run across the plateau.

200,000 impoverished residents relocate to more prosperous areas

"Mount Shagou is located deep in the mountains but does not suffer anymore," Banyan new village, Wushi town, Huzhu Tu Autonomous County, Haidong city, Qinghai province, resident Lyu Youxian sang at a local basketball court. "Officials go to battle with the public, and a new village has been built in Pingchuan..." he crooned as he continued with the folk song he composed about the great changes that the village has experienced.

The 129 households in Banyan originally lived in a mountainous area 2,800-m above sea level. Transportation was difficult, and access to drinking water, healthcare, and other public services was limited, which made it difficult for the village's poverty-stricken residents to become more prosperous. Seventy-four of Banyan's households were identified as impoverished; and the poverty rate stood at 57 percent.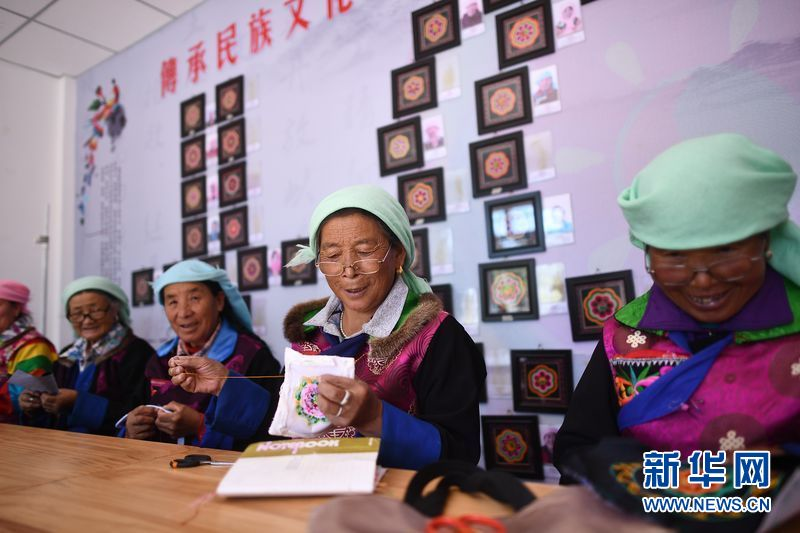 Banyan new village, Huzhu Tu autonomous county, Haidong city, Qinghai province, residents embroider at a local workshop. (Xinhua/Zhang Hongxiang)
Five years ago, a poverty alleviation relocation campaign made it possible for all of Banyan's households to move to a new village equipped with running water, electricity, paved roads, natural gas, and other infrastructure at a lower elevation. A traditional Tu ethic group-style embroidery workshop was also established near the entrance of the village for poverty reduction purposes.
"A tourism-oriented poverty eradication project launched by the local government made it possible for my son to engage in agritainment and start his own business after my family moved down from the mountains to our new home," Lyu stated after he finished singing. "The women in my family can also work at the embroidery workshop in their spare time. Great changes have been made!"
Banyan's First Secretary Yuan Guangping noted that poverty alleviation teams and various enterprises have focused on developing industries in the village and creating new ways for its resident to increase their incomes in recent years. They now enjoy a diversified economic structure that involves industries such as crop and livestock farming, traditional ethnic handicrafts and rural tourism.
"Banyan's residents' mental outlooks and levels of intrinsic motivation have changed considerably," Yuan remarked and explained that people have become more proactive about working and developing various industries in order to emerge from poverty.
Banyan's transformation epitomizes the poverty reduction and relocation efforts that have been made across the Qinghai-Tibet plateau. A total of 52,000 farmer and herder families have moved from impoverished parts of Qinghai province to more prosperous areas, which has made it possible for approximately 200,000 people to escape from poverty.
Protection and conservation efforts help maintain the natural environment
The government appointed Shenjiawan village, Quankou town, Menyuan Hui Autonomous County, Haibei Tibetan Autonomous Prefecture, Qinghai province, resident Bai Zhanfang an environmental manager several years ago. She earns more than 15,000 yuan (US$2,096) a year patrolling the forests in the area, picking up litter and completing related tasks.
"The favorable policies that the government have implemented made it possible for me to earn stable income in the village that I am from," Bai summarized. "My family was able to escape from poverty three years ago."
More than 120,000 environmental protection jobs have been created in Qinghai, nearly 50,000 of which were designed for members of impoverished households.
Development is limited or restricted in more than 90 percent of Qinghai due to the need to preserve the tributary system that runs through the province. The government has, therefore, gradually developed win-win plans to reduce poverty while protecting the environment.
"I raised cattle on my own in the past," Lageri village, Ningxiu township, Zeku county, Huangnan Tibetan Autonomous Prefecture, Qinghai province, resident Ji Heduo mentioned. "I was busy, the work was difficult, and my annual profit was low."
Ji also stated that he eventually became a member of the village's animal husbandry cooperative when it was established and that his annual income has increased every year since. Last year, his family-of-five received more than 70,000 yuan (US$9,779) in dividends, which is several times as much as they brought in before they became members of the cooperative.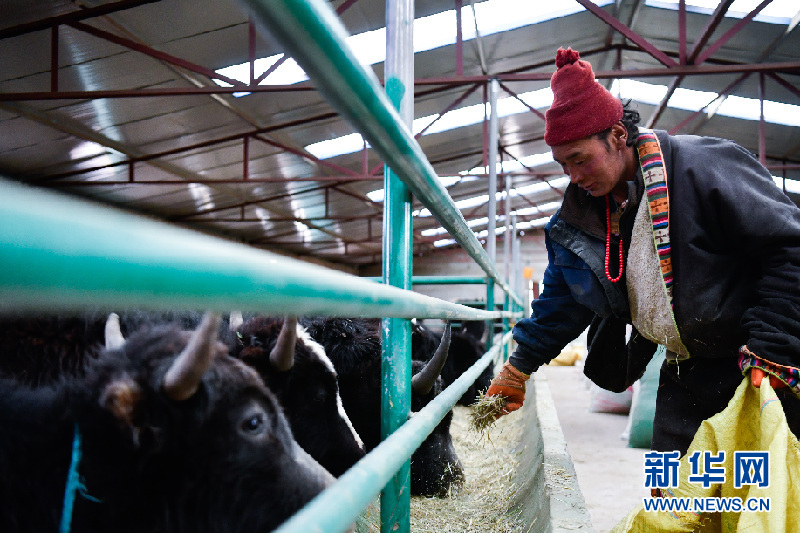 A member of the animal husbandry cooperative in Lageri village, Ningxiu township, Zeku county, Huangnan Tibetan Autonomous Prefecture, Qinghai province, feeds cattle in one of its cowsheds. (Xinhua/Zhang Long)
Animal husbandry is the only industry that exists in Lageri. The singular industrial structure, extensive management burdens, and steadily increasing livestock inventory that existed and the severe degradation of grassland areas that occurred in the village in the past made it difficult for its residents to increase their incomes. An environmentally friendly animal husbandry cooperative was later established in order to address these kinds of issues. Efficient scientific animal farming practices were implemented in order to transform traditional animal husbandry endeavors into modern undertakings and decrease the livestock inventory in the village while simultaneously increasing incomes.
The innovative approaches that have been taken to updating Qinghai's industries have helped improve the environment, made rural tourism possible, and facilitated greater prosperity in the province. More than 200 rural tourism projects have been implemented in Qinghai thus far, which has helped more than 50,000 people increase their incomes and escape from poverty.
Comprehensive industry-oriented poverty reduction
Kuan Taiji is a skilled embroiderer who lives in Tongren county, Huangnan Tibetan Autonomous Prefecture. Industry-oriented poverty reduction policies have made it possible for her to receive additional training and become more prosperous in recent years.
"I make more money with my embroidery than I did when I was farming," Kuan noted. She works at an embroidery workshop that employs 60 people, 50 of whom are impoverished.
In recent years, the Tongren government has implemented a model involving "culture + poverty alleviation" and developed industries that harness the characteristic artforms that exist in the area. More than 900 people who used to be impoverished are currently employed at four provincial-level cultural industry bases focused on thangka paintings, clay sculpture, other forms of sculpture, and embroidery, respectively, that were established for poverty reduction purposes as well as a total of more than 20 cultural tourism workshops that were constructed at the sites.
Industry-oriented poverty reduction pursuits have resulted in the development of rural tourism workshops, highland barley processing plants, ethnic handicraft studios, and other facilities based on characteristic artforms and industries and other advantageous resources in Qinghai province. Three hundred ten of these kinds of undertakings existed as of spring 2020, which made it possible for 14,000 people to increase their incomes in their local areas.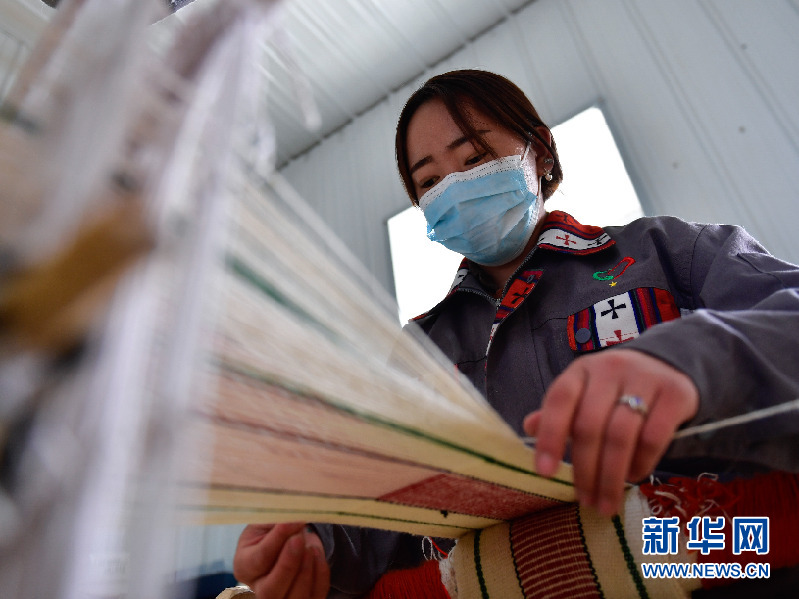 A Gangcha county, Haibei Tibetan Autonomous Prefecture, Qinghai province, resident processes Tibetan wool that will be used to make fabric at a local workshop that was established for poverty reduction purposes. (Xinhua/Zhang Long)
Qinghai Province Poverty Alleviation and Development Bureau Director Ma Fengsheng explained that poverty eradication-oriented industrial parks have been established in all of the 39 counties, districts, and cities in the province that used to be impoverished, all of the 1,622 villages that were poverty-stricken have received development funding, photovoltaic power stations were made available to every village that was impoverished in order to promote prosperity, 2,358 villages that were not poverty-stricken received funding for their collective economies, and that funds were granted to support the employment of 481,900 people who were impoverished but able to work.
Qinghai vigorously pursued targeted poverty relief. Forty-two counties, cities, districts, and other administrative areas in the province had been removed from poverty lists and 539,000 of its residents had escaped from poverty as of April 21 last year. Absolute poverty has been eliminated in a comprehensive manner, and regional poverty reduction has been achieved.
Ma explained that Qinghai has been focusing on infrastructure construction, industry-oriented poverty reduction, poverty reduction oversight for the purpose of gaining a better understanding of various strengths and weaknesses, consolidation of key achievements, improvement of poverty eradication quality, and the integration of poverty reduction and rural revitalization now that absolute poverty has been eliminated.