Luxuriant Fuzhou Forest helps Dingxi prosper
p.china.org.cn by Wang Huihui,February 07, 2021

Adjust font size:

In recent years, Fuzhou city, Fujian province, and Dingxi city, Gansu province, have participated in a cooperative framework that involves administrative areas in east China assisting those in the west. The collaboration they have engaged in has resulted in more than 1,333 ha of land being afforested on a swath of northwest China's Loess Plateau that has come to be known as the Fuzhou Forest.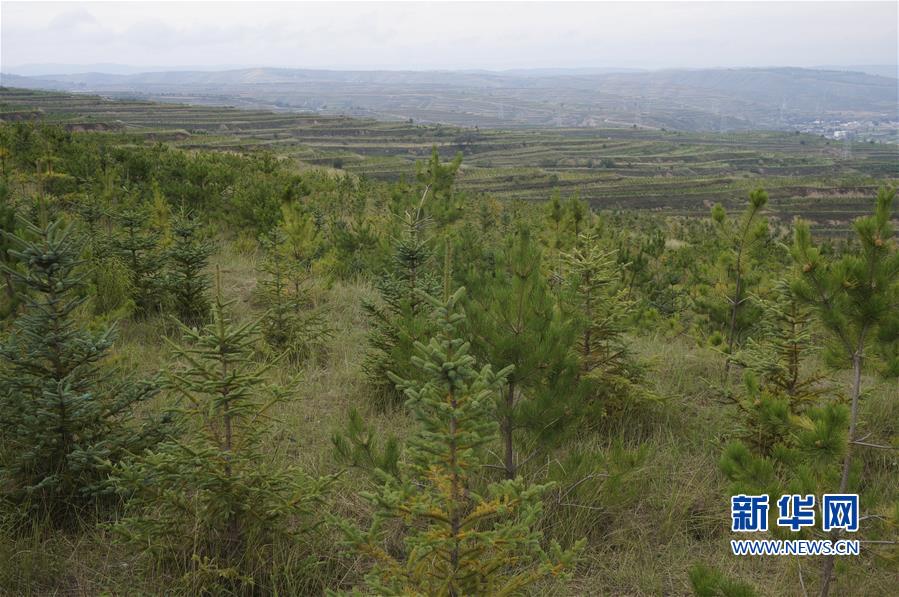 Fuzhou Forest in Zhongchuan village, Fengxiang town, Anding district, Dingxi city (Xinhua/Deng Qianqian)

The generations of people who have lived in the mountainous, prefecture-level city of Dingxi never would have dreamed that their dry and barren homeland that was bereft even of bird nests would become a fertile and scenic tourist attraction that helps impoverished residents increase their incomes and become more prosperous and that urban dwellers visit for leisure and sightseeing purposes.
Located in the Liupanshan mountains region, Dingxi has long suffered from serious soil erosion and water shortages – problems that affected 85 percent of its land until recently. The fragile environment in the city was one of the main causes of the extreme poverty that used to exist in its borders.
In 2016, the Central Committee of the Communist Party of China and the State Council tasked Fuzhou with helping Dingxi improve its natural environment in order to reduce the poverty that was present in the city due to the former's background addressing the problems that the latter endured. Located at the forefront of China's national environmental conservation pilot zone, Fuzhou has ample experience with afforestation and a high forest coverage rate, while Dingxi was in urgent need of environmental improvement.
In 2017, Fuzhou and Dingxi began collaborating on a comprehensive soil erosion management and afforestation poverty alleviation campaign on the stretch of the Nanshan mountains that runs through Dingxi's ecologically vulnerable Anding district.
The Fuzhou government dispatched more than 10 afforestation experts to Dingxi and tasked them with providing technical guidance and supervision and ensuring that proper forest plantation and maintenance occurred.
"I came to Dingxi for the first time in March of 2017," a Fuzhou official who is temporarily serving as deputy director of Dingxi's afforestation committee named Zheng Sixing noted recently." The Nanshan mountains were largely covered with bare loess even though it was early spring. The area was desolate as far as the eye could see."
Zheng felt proud when he returned to Anding in April 2020 and saw the fruitful results of the afforestation projects that had been implemented. The district's mountains were now covered with mixed coniferous and broadleaf forests that were full of vitality. Countless rows of spruce, Scots pine, and other trees stood in the breeze like soldiers ready to be reviewed.
Fuzhou Forest has also helped Dingxi's residents escape from poverty and become more prosperous in addition to controlling the erosion that plagued the district. Zheng mentioned that the afforestation project employed more than 890 people who were impoverished at the time and stated that they made an average of 3,078 extra yuan (US$470) per year. Six villagers who were part of households that had been registered as impoverished were chosen to work as forest rangers and are paid an average of 8,000 yuan (US$1,143) per year.
Formerly impoverished Lijiacha village, Fengxiang town, Anding district, resident Li Feng received a payment of 48,000 yuan (US$6,857) when his family's 2.67 ha of land was afforested. The 56-year-old also became one of the district's forest rangers and earns a lot more money than he used to.
Fuzhou has invested 70.55 million yuan (US$10.08 million) in Dingxi and implemented 1,333 ha's worth of afforestation projects thus far. The poverty alleviation cooperation that Dingxi and Fuzhou have been engaging in has promoted soil and water conservation, stimulated the development of the under-forest economy, and improved both livelihoods and the environment in the prefecture-level city.