Chasing dreams in Wuying – a poverty reduction story in Miao village that straddles two provinces
p.china.org.cn by Zhao Binyu,February 05, 2021

Adjust font size:

"The Session (the fifth plenary session of the 19th CPC Central Committee) sought to develop new measures, to consolidate poverty reduction achievements. Rural revitalization is going smoothly, and people are living happier lives." This line is an excerpt of the lyrics to a folk song composed by women who attend night school in Wuying Miao Village. The song expresses their aspirations for better futures.

Once considered the "poorest of the poor," Wuying emerged from poverty in November 2020 and has been ushering in fresh vitality recently. Many new wooden buildings now stand in its borders, hundreds of households have become more prosperous, paved roads and modern bridges have improved transportation, officials are passionate about their work, and residents have become energized about their futures.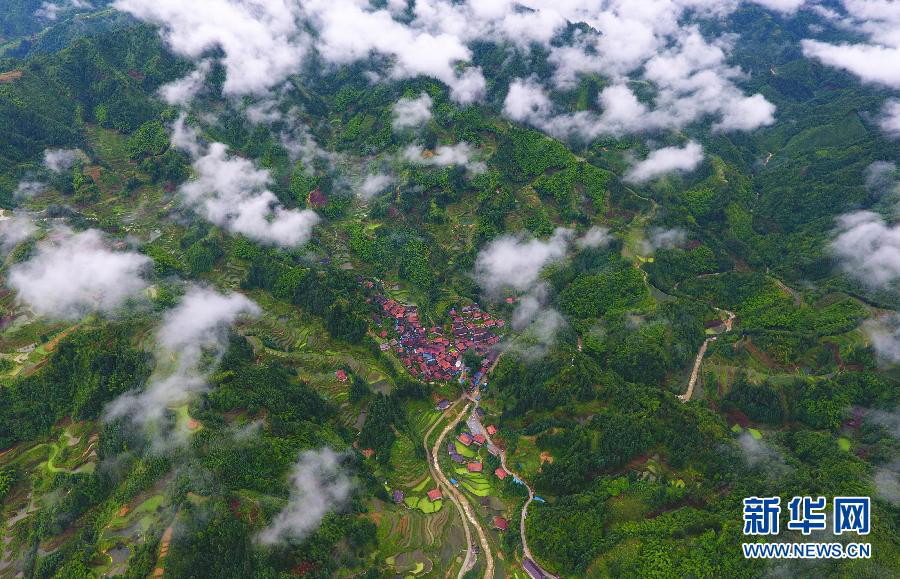 Wuying Miao village (Xinhua/Huang Xiaobang)
Targeted poverty alleviation policies help Wuying's residents realize their dreams
Wuying is a remote community located deep in the mountains that straddles two provincial-level administrative divisions and is inhabited by more than 700 residents in 145 households, 104 of which are part of Dangjiu village, Gandong township, Rongshui Miao Autonomous County, Guangxi Zhuang Autonomous Region and 41 of which are part of Nancen village, Cuili Yao and Zhuang township, Jiangxian county, Guizhou province.
Wuying was poverty-stricken and had a backward image until recently due to a lack of land resources, unfavorable natural conditions and poor transportation situation. In 2015, 92 of the community's households were identified as impoverished.
Having graduated from junior high school, 44-year-old Liang Xiuping has the most formal education of Wuying residents of his generation. His wife, Pan Meiqiu, was never able to go to school like many women of her age who are from the community.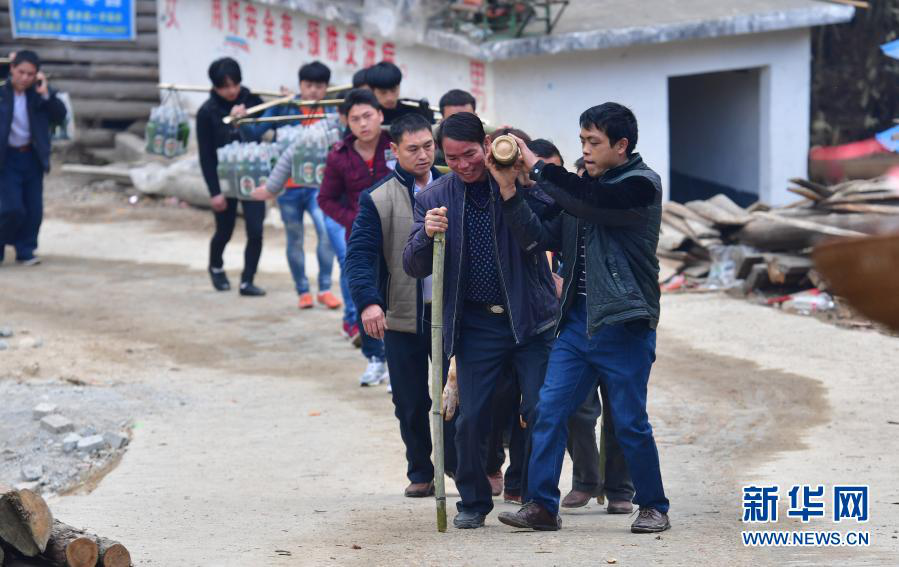 Liang Xiuping (second from right) carries gifts and drinks to a wedding banquet in Wuying with some of the community's other residents. (Xinhua/Huang Xiaobang)
"Wuying was too closed [in the past]," Liang Xiuping recalled recently. "People lacked culture and didn't understand the importance of education."
The father of one had to walk for three hours to get to the primary school that he attended in Gandong when he was growing up. Classmates from his village gradually dropped out until he was the only student from Wuying to attend sixth grade.
In 1993, Liang Xiuping became the first student from Wuying to enroll in junior high school and had to go to Gandong by himself. He wanted to continue on to senior high school and university when he graduated two years later, but his father needed to feed and clothe their family of seven and could not cover the costs associated with his son's schooling or borrow enough money to do so.
"I'll tear down our house and sell the wood in order to pay for my tuition," Liang Xiuping told his father at that time.
The young man eventually began working outside of Wuying after a month of struggling with the situation, however.
"I didn't think about going to school anymore after that," Liang Xiuping mentioned.
In 1997, the laborer returned to Wuying, got married and had children. He felt determined to stay in the village and not work elsewhere anymore.
"My father tried his best!" Liang Xiuping noted. "Everyone was very poor at that time, and I was not able to borrow money from anyone."
Wuying's only resident who had graduated from junior high school at the time was elected head of the community's Miao population when he was 21. The role is traditionally occupied by an elder with lofty moral standing, but Liang Xiuping quickly grew into a highly respected leader.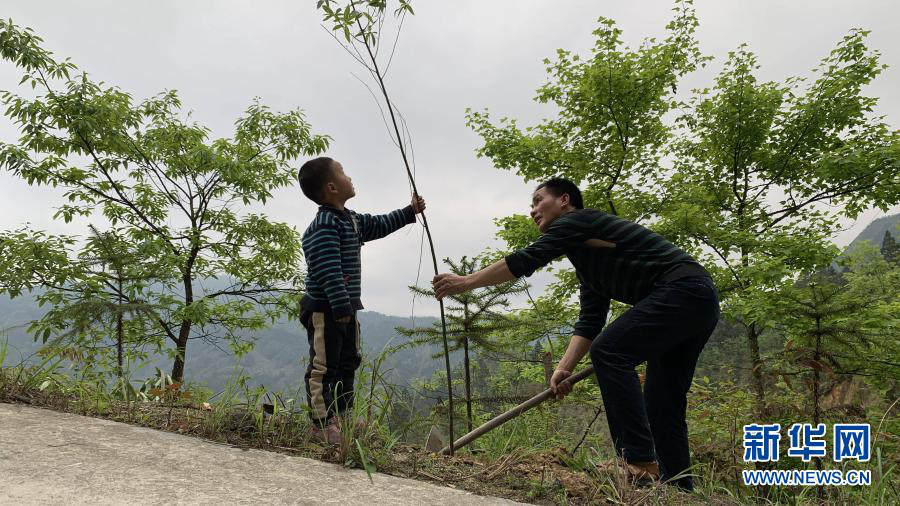 Wu Xinren (right) and his son, Wu Liangyou, plant trees along a road in Wuying. (Xinhua/Huang Xiaobang)
In the mid-to-late 1990s, many people who were born in Wuying began to work outside of the village. Liang Xiuping continued to work on his farm in the hamlet, however, and was unable to find a path out of poverty. His son, Liang Zhen, was growing up at that time and began attending primary school like his father did.
"My boy must go farther than I was able to!" a hopeful Liang Xiuping declared in 2009 after the first student from Wuying went to university, Wu Huizhong.
Policies devised to improve access to education were ultimately implemented, such as programs designed to help members of ethnic minority groups, universal compulsory education, and targeted educational funding, which made Liang Xiuping feel more optimistic about the situation. Three poverty alleviation-oriented highways have been built in the area since 2015 as well – one that goes to Guangxi, one that goes to Guizhou, and one industrial road – which augmented the unimproved mountain roads overgrown with weeds that have existed for generations in Wuying and greatly improved the transportation conditions in the community.
In the summer of 2019, Liang Zhen received a university admission notice. The Liangs finally realized their dream of someone in their family being able to obtain higher education after three generations of aspiration.
Wu Liangyou (left) and a friend play ethnic Miao reed-pipe wind instruments, known as Lushengs, in Wuying. (Xinhua/Huang Xiaobang)
Liang Xiuping eventually became deputy director of Dangjiu's village committee. He fell seriously ill twice in recent years but remained committed to poverty alleviation work. The efforts that Guangxi and Guizhou have made have led to major changes in Wuying, and 92 households were able to escape from poverty last year.
A number of educational activities are now held in Wuying on a regular basis as well, such as night school classes for women, military training for students, and Lusheng lessons at its schools. The Lusheng is a reed-pipe wind instrument that plays an important role in ethnic Miao heritage and is an integral part of life in Wuying. Music written for the instrument tends to be melodic and contemplative and the culture surrounding it incorporates minority customs and traditions from Guangxi and Guizhou.
"Cultivated residents are a key part of Wuying's future," Liang Xiuping noted. "It is important that young people go to university and become well-educated so that they can help take responsibility for the community's development."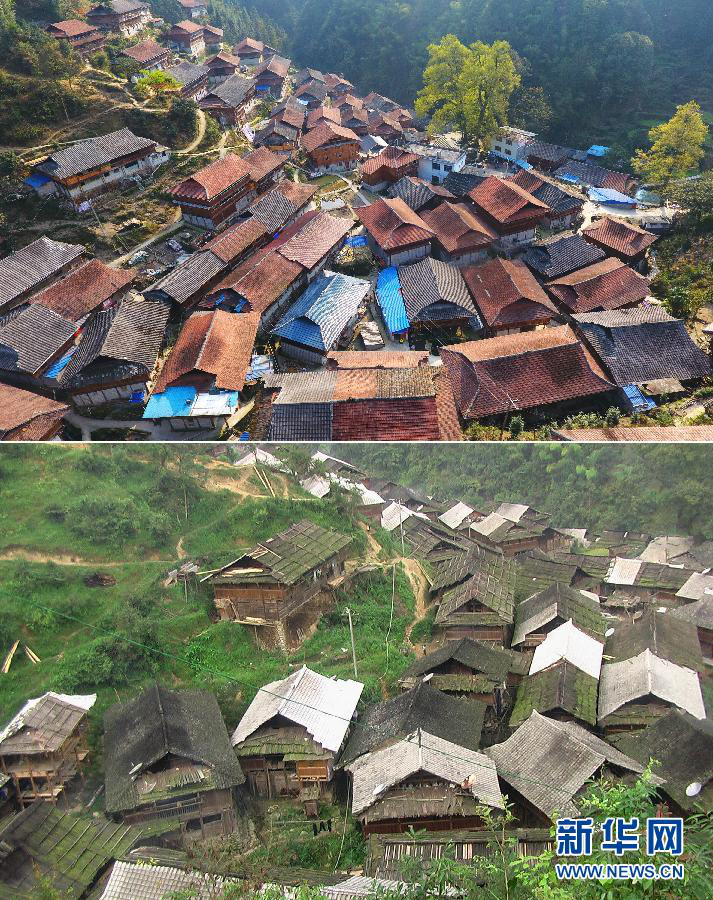 Top: A view of Wuying in 2019 (Xinhua/Huang Xiaobang)
Bottom: A view of Wuying in 2008 (Xinhua)
A fast-paced life involving six vehicles
Capable 41-year-old Wuying resident Liang Xiuqian immediately became interested in motor vehicles when his dad took him to a township fair when he was growing up and dreamed of owning one one day. His father built him a car out of wood when they came home, and it became the most popular source of amusement among the children in their community.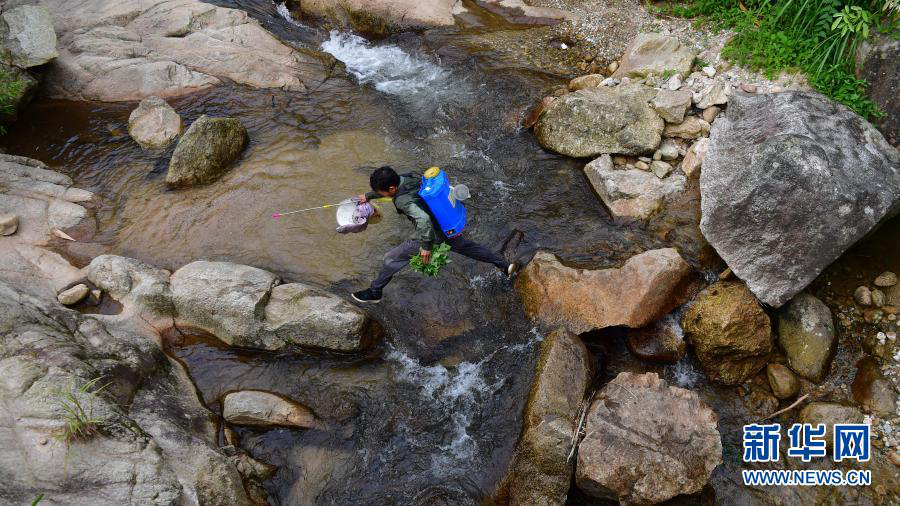 Liang Xiuqian, manager of Wuying's fruit cooperative, crosses a river on his way to go weeding. (Xinhua/Huang Xiaobang)
In 1995, Liang Xiuqian finished his first year of junior high school, but his family could not afford to pay the costs associated with additional education. He eventually took a bus to the central county area in order to obtain employment and became part of the first group of young people who left Wuying for work. The young man had some money left over after he covered his living expenses every month but had to send all of it home – buying a car was still out of reach for him.
Liang Xiuqian's family began growing hybrid rice more than 10 years after he started working, which made it possible for him to keep his remaining earnings after he paid his bills and experience a greater sense of freedom.
Towards the end of 2009, the hardworking laborer purchased a motorcycle and drove it along a new gravel road in Wuying with his wife and daughter. It was the first motor vehicle in the community, which caused the whole village to simmer with admiration.
"Many people thought I was out of my mind," Liang Xiuqian explained recently, "but I took my dreams seriously and tried my best to realize them."
The industrious man also opened his first shop in Wuying at this time. The following year, Liang Xiuqian bought a used van and established a wood processing factory as well. He used the vehicle to transport materials and supplies to the community in order to assist with housing renovation and drinking water projects that were underway at that time as the Miao village received a facelift. The avid motorist has continued to buy vehicles and purchased his sixth – a 70,000-yuan (US$10,794) car – two years ago.
In 2017, a fruit cooperative was established in Wuying, and Liang Xiuqian became the manager. The altruistic leader has spent much of the last three years getting local impoverished families involved in the cultivation of passion fruit, sweet potatoes, sorghum, and other crops. Never one to rest on his laurels, he also started a homestay business with a man named Wu Xinren who also returned to Wuying after working outside the village. Liang Xiuqian has devoted himself to developing, expanding, and strengthening various industries in his village and helping its residents become more prosperous.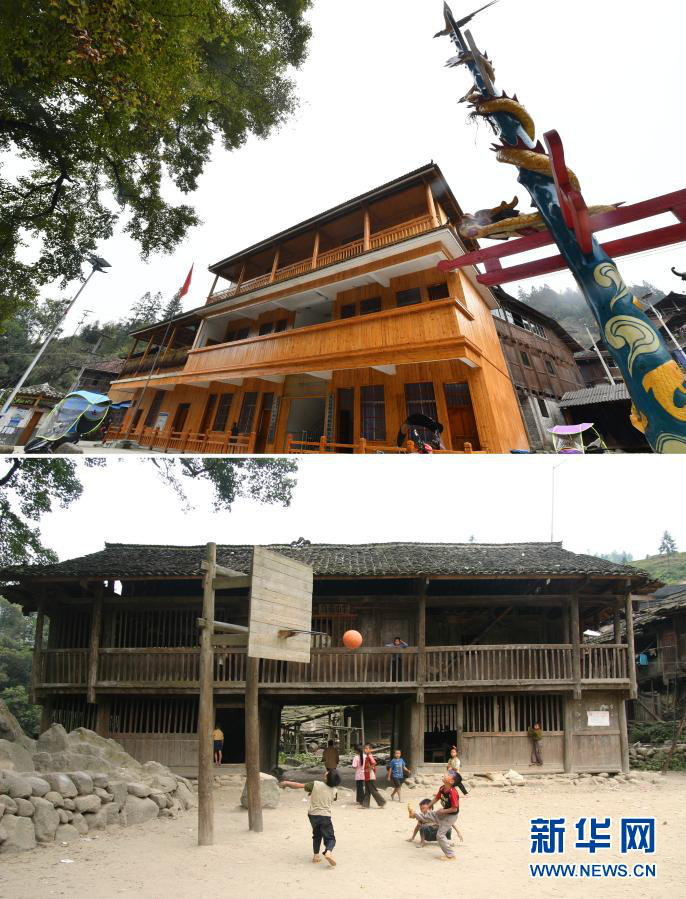 Top: A newly renovated school in Wuying's educational area in 2020 (Xinhua/Huang Xiaobang)
Bottom: Children play basketball in Wuying's educational area in 2006. (Long Tao) (Xinhua)
Special programs help Wuying women achieve their dreams
"Wuying" means "beautiful brides" in the Miao language. Just a few years ago, even locals viewed the village as a mysterious "tribe" that was closed, backward and impoverished, however.
In the past, girls born in Wuying had to work on their family's farms instead of going to school because the community's parents favored boys.
"Life was very difficult for me and my mom!" a local woman named Liang Zuying sighed with tears in eyes when she reflected on her childhood recently.
The eldest daughter in her family, the 44-year-old began working from day to night at age seven. She envied the boys her age who had the opportunity to go to school and get educated and would sometimes listen to lessons in secret outside of classroom windows while carrying her brother on her back.
Liang Zuying wanted to go to school like her brother when he became old enough to attend but had to continue to engage in endless farm work day after day. She did not have the chance to get educated at this time – a common problem among women of her generation – but hoped to be able to do so one day, though she never brought the issue up with her parents.
Liang Zuying got married and had children when she became an adult, and younger women from Wuying gained guaranteed access to education and became more connected to the outside world. She and her peers continued to have a strong desire to do so as well and had been waiting for their opportunity like seeds anticipating rain showers and sunlight in the soil.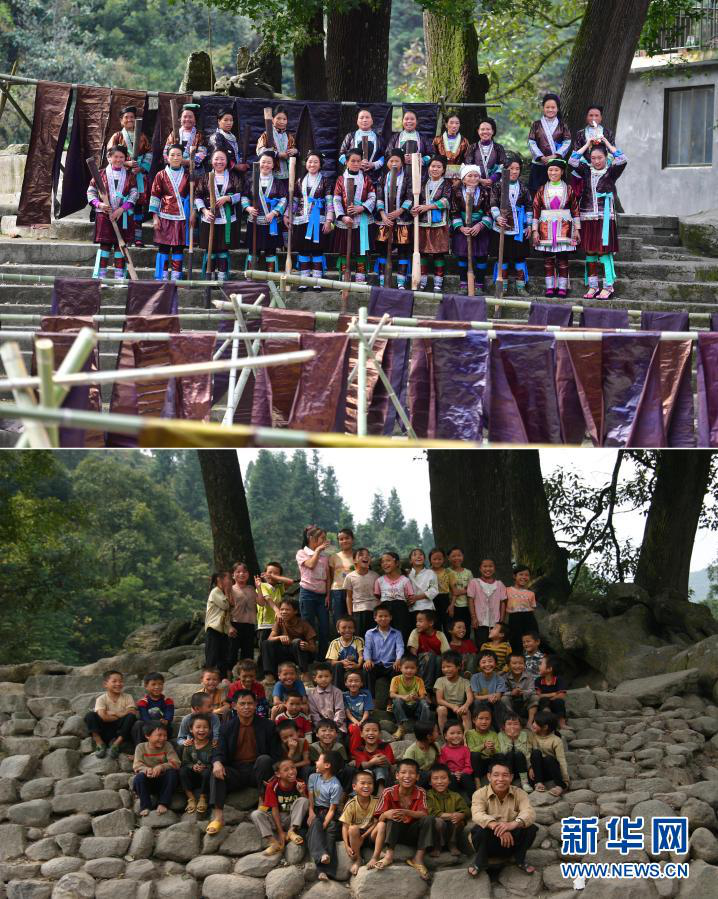 Top: "Bilingual Mandarin-Miao Language Class" students in Wuying on October 25, 2020 (Xinhua/Huang Xiaobang)
Bottom: Teachers and students in Wuying on September 19, 2006 (Long Tao) (Xinhua)
In March 2020, the local government launched the "Teaching My Mother to Speak Mandarin" and "Bilingual Mandarin-Miao Language Class" night school programs, and Liang Zuying and her mom began attending together.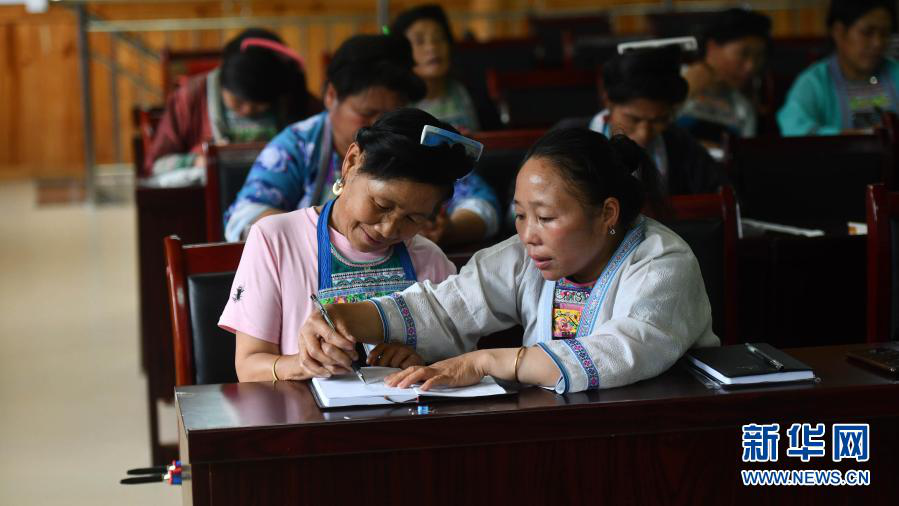 Liang Zuying (right) and her mother study at Wuying's "Bilingual Mandarin-Miao Language Class." (Xinhua/Huang Xiaobang)
"The [night school students] have held their dreams in their hearts for decades," noted a university student from Wuying who teaches some of the community's night school classes named Pan Muzhi. "They are eager to attend, even if they are tired after working all day, and wear new clothes like they are attending a festival."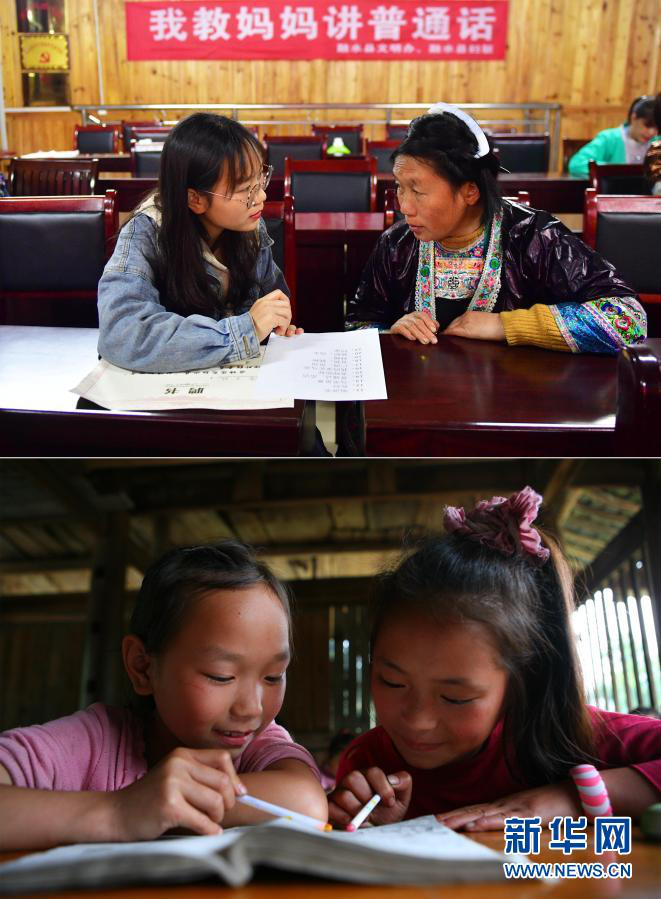 Top: University student Pan Muzhi (left) teaches her mother Mandarin. (Xinhua/Huang Xiaobang)
Bottom: Second grade student Pan Muzhi (left) studies with a classmate. (Long Tao) (Xinhua)
"I head out to work early in the morning every day and try to get home as quickly as I can at night," Liang Zuying mentioned. "Then I bathe, have dinner, and wait for class to begin."
The night school student's husband, Bu Shengchang, bought her some new clothes and does all of the family's housework at night in order to support her educational endeavors. Liang Zuying is the most diligent student in her class and was elected class monitor.
Liang Xiuping (right), deputy director of the Dangjiu village committee, takes a look at "Bilingual Mandarin-Miao Language Class" materials. (Xinhua/Huang Xiaobang)
More than 150 night school class sessions have been held in Wuying in the last six months. The women who attend them also grow sorghum, tend fruit trees, and raise carp during the day and have formed deep friendships with each other in the course of the time that they have spent living and learning together. Their efforts have helped the village emerge from poverty and become more prosperous.
On November 25, 2020, Wuying's Lusheng performance group participated in a competition that was organized by Rongshui as part of a celebration that was held on the anniversary of its founding. It marked the first time that the ensemble performed outside of the Miao village. Liang Zuying and her mother, who rarely goes very far from Wuying, took part in the event and traveled to the autonomous county together a day in advance.
"I was illiterate and could not communicate easily in the past," Liang Zuying explained. "I would make a detour when I encountered outsiders and certainly would not go to the county seat. Nowadays, I travel a lot farther than I used to and am able to make new friends."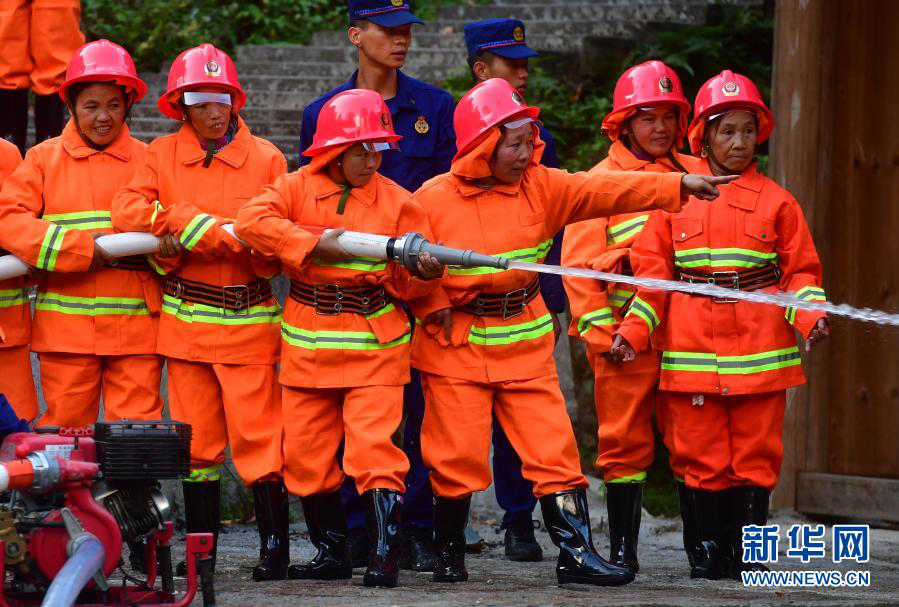 Liang Zuying (third from right) and the rest of the Wuying Volunteer Female Fire Department conduct a drill under the guidance of members of the Rongshui Miao Autonomous County Fire Department. (Xinhua/Huang Xiaobang)
Liang Zuying's eyes teared up when she found out that Wuying's Lusheng performance group came in fifth place at the competition's awards dinner. The next day, she was sure to hurry home with her mom in order to resume her routine and hear the sound of her night school classmates reading that she was accustomed to experiencing in the evening.
The vast array of stars in the sky and the irradiant lights emanating from the hundreds of homes in Wuying light up the beautiful, ancient village at night while the Wuying and Wuga rivers flow through Guangxi and Guizhou, respectively, into the community, around Lusheng Island and under Fengyu Bridge. The Miao village has achieved greater peace and prosperity than at any other time in its history and continues to develop as time goes on.