Mushroom grower with disabilities teaches cultivation techniques to reduce poverty in Jilin province
p.china.org.cn by Zhao Binyu,February 03, 2021

Adjust font size: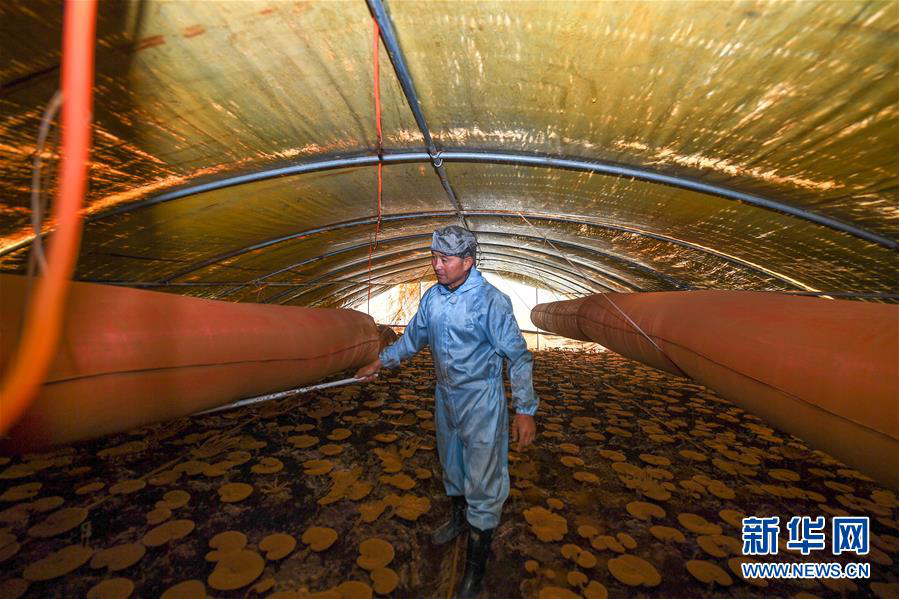 Gao Xiuhu arranges Ganoderma spore collection bags in Dabeishan village, Longquan town, Jingyu county, Baishan city, Jilin province. (Xinhua/Zhang Nan)
Cool gusts of wind blow through the foothills of the Changbai mountains as one makes one's way to Dabeishan village, Longquan town, Jingyu county, Baishan city, Jilin province in the autumn. Rows of grow sheds full of Ganoderma lucidum mushrooms fill one's field of vision and the sound of air blowers reverberates through the air when entering the hamlet as local growers gather spores, dry them, grind them into powder, and package them in order to achieve greater prosperity.
Dabeishan's residents commend a local master mushroom grower named Gao Xiuhu for helping them become more prosperous by showing them how to participate in his industry despite the fact that he has sustained injuries that have impaired the use of his left leg and refer to him as a "poverty eradication hero."
"I'm not a hero," Gao mentioned recently. "I'm a farmer."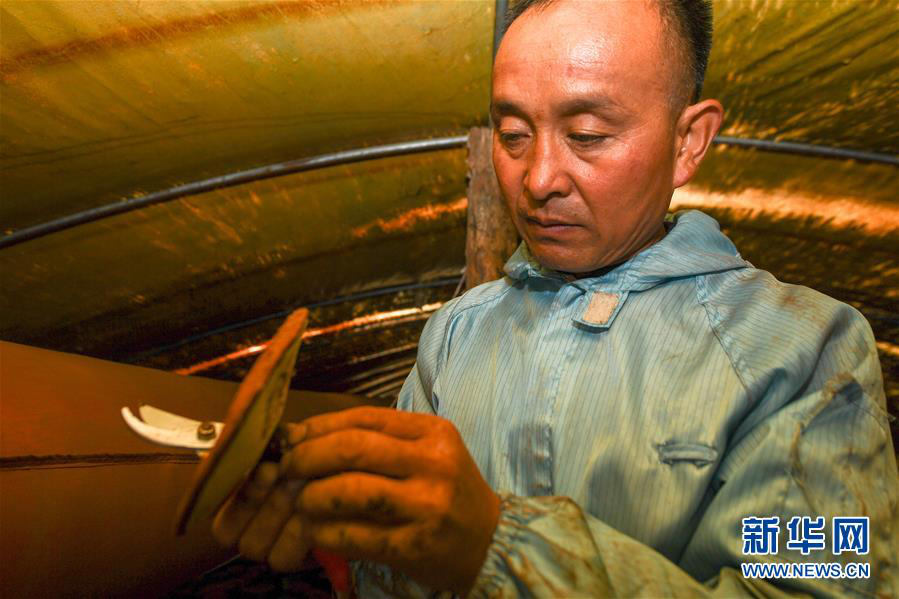 Gao picks Ganoderma lucidum mushrooms in Dabeishan. (Xinhua/Zhang Nan)
Gao had an unimaginably difficult life in the past. He lost full use of his left leg after being involved in two car accidents more than ten years ago, and his treatment included a surgery that left him 210,000 yuan (US$31,206) in debt. The Dabeishan native also lacked income during his extended recovery period, which caused him to fall into poverty.
Government officials working in Gao's village attempted to grant him a subsistence allowance when he was at the peak of his difficulties. But the injured man turned down the assistance, noting that they were impoverished but had to "escape from poverty via [their] own efforts."
"People should have ambition even if they are impoverished," Gao explained. "Disabilities shouldn't define one's life." The mushroom grower explained that he was determined to start a business and increase his income on his own.
Dabeishan's cold climate is not conducive to the cultivation of most crops. Gao happened to learn that the village would be a good place to grow Ganoderma lucidum mushrooms by chance, however, and began leasing land in 2012 in order to pursue the undertaking after receiving financial support from the Baishan Disabled Persons' Federation and the Jingyu County Association for Science and Technology.
"The conditions that are present in Dabeishan are suitable for the cultivation of Ganoderma lucidum mushrooms," Gao stated, "and participating in the industry is a good way to become more prosperous."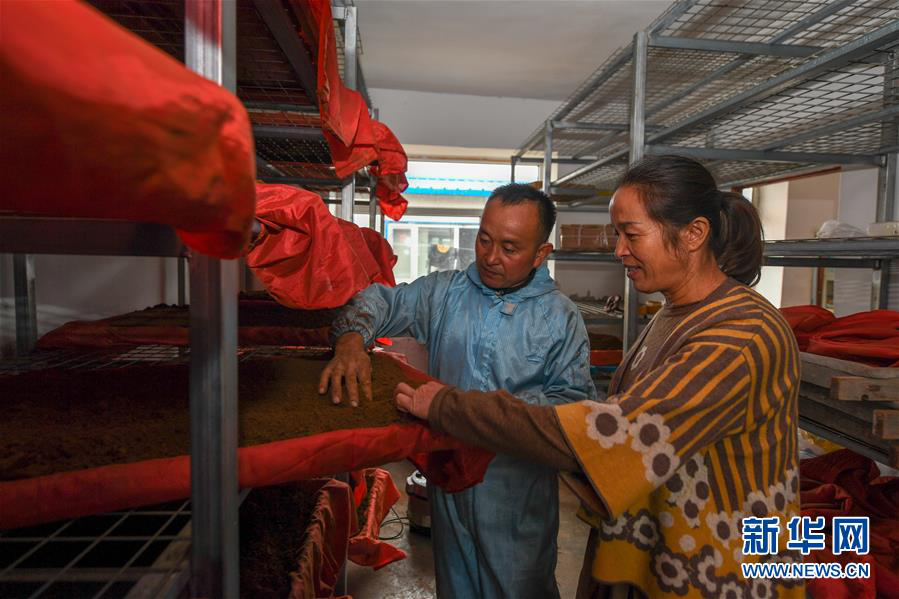 Gao (left) and his wife examine Ganoderma lucidum spore powder in Dabeishan. (Xinhua/Zhang Nan)
Gao also benefited from a poverty alleviation campaign that Jingyu launched during this period and some of the policies and measures designed to support the development of special industries in its borders. With the wind at his back, the grower earned more than 20,000 yuan (US$2,972) of profit from the Ganoderma lucidum mushrooms that he cultivated in 2012, which made him more confident about the endeavor. Gao decided to expand his operation, and he emerged from poverty within a few years.
There is much greater demand for organic Ganoderma lucidum mushrooms than those that are grown in a conventional manner, and they sell for much higher prices. Gao experimented with placing withered leaves on the ground to simulate the environment that this type of mushroom grows in the wild and increased the quality and output of his spore powder, which resulted in him earning an additional 6,000 yuan (US$892) of profit per grow shed per year.
Gao gradually began pursuing more fungus cultivation-related endeavors. He founded a Ganoderma lucidum growers' cooperative in 2013 that many of Dabeishan's residents became members of and logged near 4 million yuan (US$594,400) of sales in 2020 alone. The master grower has also employed people who have participated in poverty alleviation relocation programs, established a poverty reduction-oriented mushroom cultivation base for people with disabilities, and founded a company that sells edible mushrooms.
"I have mastered the ability to grow many types of fungus, and I teach other people how to cultivate them for free," Gao noted.
A 47-year-old Dabeishan resident who had also been maimed in a car accident named Chen Junfu is one of the people who has benefited from the assistance that Gao provides. He became much more prosperous within a few years of starting a mushroom cultivation operation after receiving guidance from the master grower and currently employs 20 people during peak season.
Many success stories similar to Chen's can be found in Dabeishan. Some examples include Han Wenzhang, a resident who has a daughter with intellectual disabilities Han started his own operation after learning how to grow mushrooms from Gao, which greatly relieved the financial pressure that his family suffered from. Zhang Xin is another example; the 35-year-old Dabeishan native who had been working in an urban area returned to the village and became a well-known Auricularia expert after learning from Gao how to cultivate this type of fungus.
Gao has been spreading the spores of prosperity all over Jilin. The master mushroom grower has conducted training sessions involving about 1,000 people throughout the province.
"I call my workshop the Spore Program," Gao mentioned. "It helps impoverished individuals get out of poverty and increase their incomes."