Ethnic Dong citizens find a path out of poverty by creating traditional embroidery
p.china.org.cn by Zhao Binyu,January 25, 2021

Adjust font size: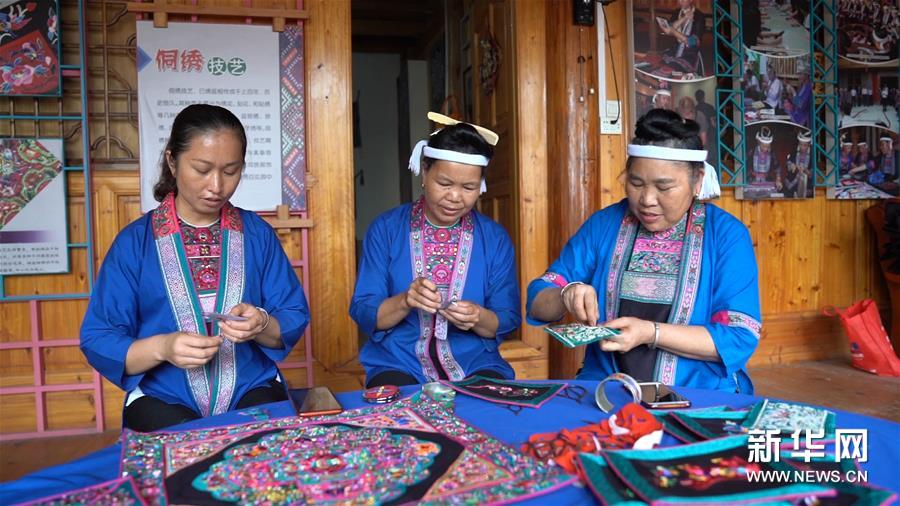 Yang Tian (right), inheritor of traditional ethnic Dong embroidery artisanship, teaches the craft to members of the minority group. (Xinhua/Guo Yifan)
An inheritor of traditional ethnic Dong embroidery techniques, Yang Tian, a resident of Tongle village, Tongle township, Sanjiang Dong autonomous county, Guangxi Zhuang autonomous region, decided to renovate her wooden, Dong-style home into a museum devoted to the craft several years ago. Textile machinery, dyeing vats, and other equipment used to make fabric can be found on the first floor; Yang teaches the pursuit to other members of the minority group and displays completed works in a large living room on the second floor; and her personal workshop is located on the third floor.
Yang learned to embroider from her mother as a child like many other Dong girls. Her 94-year-old mother-in-law named Tan Naishiqing is also an inheritor of traditional Dong embroidery techniques and later helped her become even more skilled. Yang's creations have garnered many awards, and she has become a representative inheritor of Guangxi's intangible Dong embroidery cultural heritage.
"My mom began teaching me to embroider when I was seven or eight, and my mother-in-law taught me more advanced techniques after I got married," Yang recounted recently. "I have embroidered for 50 years now, but I never tire of it."
Traditional Dong embroidery has a long history. Inspired by their agricultural traditions, skillful Dong women embroider patterns of plants and flowers and birds and other animals on dyed fabric with colorful silk thread to express their love and reverence for nature.
It usually takes more than half a year to make a complete Dong costume by hand from the fabric production to the embroidering stages. The meticulous and arduous undertaking did not result in much income for Yang in the past, however; she mentioned that a full Dong costume only sold for approximately 100 yuan (US$15) ten years ago.
"Things were very difficult in my household at that time," Yang stated. "I embroidered from morning till night. Sometimes I even continued until one or two o'clock in the morning. I tried to make as many outfits as possible so I could pay for my daughter's tuition fees.
Yang's embroidery gradually gained recognition, she started to experience increasing demand for her creations, and people began to visit from all over China. A few years ago, the Sanjiang native became interested in helping perpetuate the unique craft and ultimately decided to renovate her home into a museum in order to showcase Dong embroidery and the culture surrounding it. Yang and her family borrowed money to finance the undertaking and worked on the project for more than two years.
Many tourists and experts came to visit when the museum opened, and Yang began teaching people how to make Dong-style embroidery, thus her vision of helping to propagate the craft was gradually realized.
"I wasn't able to pay the embroiderers that I trained in cash in the beginning, so I gave them camellia oil," Yang explained. "We have been receiving more orders in recent years, and the government also began providing support, so everyone who participates is now able to profit." She noted that a full set of Dong costumes currently sell for up to 7,000 to 8,000 yuan (US$1,038 to US$1,186) and that some of the creations they have made, such as earrings and handbags, are popular with customers in Hong Kong and many other areas.
Yang noted that Tongle township has been making great efforts to promote Dong embroidery and explained that an operation model involving "an enterprise + production bases + members of impoverished households" has been implemented. She also noted that master ethnic Dong embroiderers have taught the craft to over 300 Tongle natives, including members of more than 50 impoverished households, and that their works are sold in China and other countries, which helps them increase their incomes.