Guizhou's Shiqian county pursues efficient agriculture and tourism, emerges from poverty
p.china.org.cn by Zhao Binyu,January 18, 2021

Adjust font size:

Home to the Han dynasty-era (206 BC–220 AD) minor kingdom of Yelang, Shiqian county, Tongren city, Guizhou province was also one of the most impoverished parts of the Wuling mountains area until recently. The administrative area was disorganized and unsanitary, its agricultural industry was weak and underdeveloped, and many of its residents were impoverished.

Local officials and members of the public engaged in arduous, unremitting poverty alleviation efforts over the last five years in an attempt to turn the situation around. Their undertakings have been successful – Shiqian emerged from poverty and has become more prosperous. More than 100 of the county's villages and 100,000 of its residents are no longer impoverished; Shiqian's poverty rate has dropped to zero. Efficient agricultural pursuits, rural beautification, and improving incomes have made it possible for the county to become part of China's emerging comprehensively prosperous society.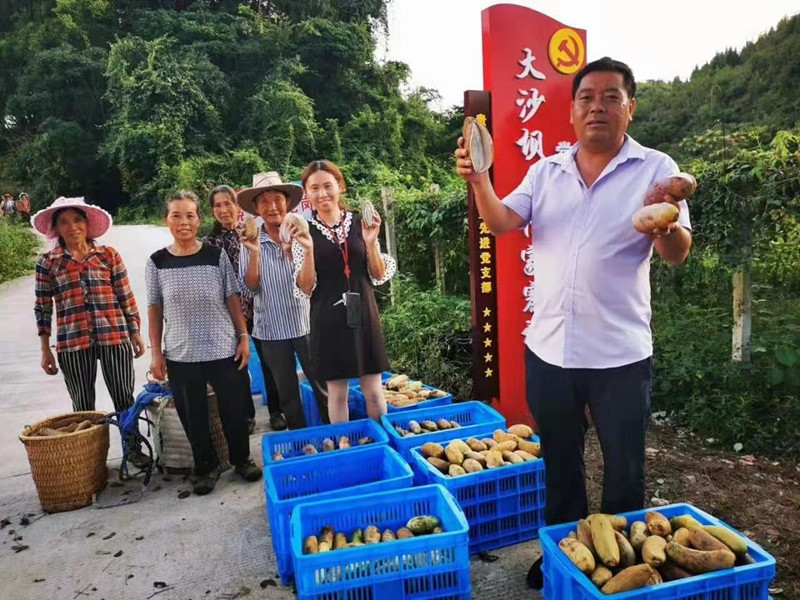 Pursuing efficient agriculture and agritourism
Situated on a rocky mountain about 800 meters above sea level, Renjiazhai village, Dashaba township, Shiqian county is full of rugged terrain. A type of edible fruit that is known as August melon due to the month that it is generally harvested in grows on dozens of hectares of hilly land above the village's main residential area.
Renjiazhai Party Branch Secretary Li Wenfeng spearheaded efforts to develop the local August melon industry, and the village's residents eventually established the largest production base focused on the crop in eastern Guizhou after several years of hard work.
"The 30 ha's worth of August melon plants that we grew in Renjiazhai yielded 150,000 kg of fresh fruit this year and represent 4 million yuan (US$610,400) of output value based on the market price of 40 yuan (US$6.10) per kg," Li noted in November 2020.
August melon is far more profitable on an output per hectare basis than corn and rice. Renjiazhai has begun participating in more parts of its value chain and now engages in secondary industry as well. A processing facility that covers nearly one-third of a hectare of land and produces products such as tea, jam, soaps, lipsticks, and fruit wine was constructed in the fall of 2020.
"Our village collective could not afford to pay for the construction of the factories, so local residents and neighboring villages were encouraged to invest in the undertaking," mentioned Peng Jun, head of the Renjiazhai Villagers Committee. "Agricultural machinery experts were invited to design and create processing equipment because August melon processing machinery didn't exist."
"Shiqian has established what we refer to as a '1+3' agricultural structure over the past five years," Shiqian Party Secretary Pi Guihuai explained. "Tea is the village's largest agricultural undertaking. Residents also grow fruit and vegetables, cultivate trees, and raise chickens, pigs, cows, and other animals in an environmentally friendly manner. Efficient, large-scale pursuits involving local specialty products make it possible for the county's residents to emerge from poverty, and their effects are gradually being felt."
Rural beautification generates income
If one heads west through Loushang village, Guorong township and into the neighboring villages of Daishan and Gesong, which are also administered by Guorong, one will see a large grove of Phoebe fortunei trees fluttering in the wind. A nursery base that is primarily focused on growing the species and an agricultural park that incorporates agritourism fill hundreds of hectares of land across the three villages. The area fills up with tourists on road trips during holidays and peak travel seasons.
Loushang was economically depressed as recently as the spring of 2017. Large swaths of land were abandoned in the village, and almost all of the young people from the hamlet were working elsewhere. An official working in the village named Cao Jiacai was unhappy about the situation but felt unsure of how to begin the work of helping the often sick, elderly, or disabled people who were left behind.
Hunan Changliu Group to help develop the nursery industry in Loushang in the winter of 2017, and the village also began to pursue tourism. These efforts made it possible for the administrative area to transform itself, and its image quietly improved. Fourteen million Phoebe fortunei trees and 65 other high-end species, such as crape myrtle and Chinese rose, were growing on 213 ha of land in its borders as of October 2020, and Loushang became much cleaner and more sanitary.
"Local village residents used to have unhygienic habits, such as dumping litter and sewage on the ground," stated Gong Chaoqing, Guorong township's Party secretary. "They have realized that people won't stay at their guesthouses or eat the agricultural products that they produce if sanitation conditions are not good. The market has forced them to be more conscious of their habits."
In 2019, Shiqian's tourism industry achieved 8.852 billion yuan (US$1.35 billion) of total output value, a 19.11 percent increase year over year, and the county's forest coverage rate came to 69.74 percent.
"The integrated development of agriculture and tourism makes it possible for people to earn extra income while they engage in farm work and helps them be more cognizant of the importance of environmental protection," remarked Deputy Shiqian Magistrate Yang Xia.
Changes in local tea industry double growers' incomes
"Last year, I made about 3,000 yuan (US$458) from the tea that I harvested in the spring," Daping village grower Wu Nian explained in November 2020. "A new processing facility came online in our village this year though, which makes it possible for us to harvest and sell the crop in the spring, summer and fall. I now earn a total of more than 6,000 yuan (US$916) of income from the undertaking."
Located within the Foding Mountain National Nature Reserve, Daping is the southernmost village in Shiqian and had one of the highest poverty rates of any village in the county. Its farmers grow tea on more than 80 ha of land at present, and the industry has become the village's largest.
It used to be difficult for Daping's residents to achieve a reasonable degree of prosperity from their tea, despite the fact that they grew high-quality varieties on large swaths of land.
"Growers were willing to sell their tea for the 140 yuan (US$21) that processing companies paid for every kilogram of leaves that were picked in the spring," Daping Party Secretary Hu Dengbi stated. "They offered a low 20 yuan (US$3.05) per kg for leaves harvested in the summer and the autumn, however, which is less than what our farmers could sell it for."
Daping built a medium-sized tea processing factory at the end of 2019 and invited a leading enterprise known as Guizhou Jiatianxia Tea Co. Ltd. to operate it. The facility officially came online at the beginning of 2020.
"The factory has purchased 22,500 kg of tea leaves from local growers for a total of more than 650,000 yuan (US$99,190) and produced 5,200 kg of finished products as of mid-October," Daping First Secretary Li Benyuan noted.
Shiqian has gradually expanded production of its tea, mineral water, daylilies, August melon, yellow peaches, plums, and other specialty products in recent years and currently distributes these items throughout China. The industrial development that has occurred in the county has formed a solid poverty reduction foundation and has helped people become more prosperous. Annual per capita income has increased from 8,197 yuan (US$1,252) in 2017 to 10,032 yuan (US$1,532) in 2019 among the administrative area's rural residents. Shiqian was removed from China's national list of impoverished counties in April 2019, and all of the 109,000 individuals and 173 villages that had been impoverished have emerged from poverty.