Perseverance and ingenuity – 3 outstanding citizens fight against poverty in Hubei
p.china.org.cn by Zhao Binyu,January 14, 2021

Adjust font size:

China has achieved remarkable poverty reduction achievements in recent decades as a result of the unrelenting efforts of countless individuals. More than 50 million impoverished residents of rural areas escaped from absolute poverty during the 13th Five-Year Plan period (2016-2020) alone. Chen Zifang, an entrepreneur born without arms, Liu Chengsong, an engaging man who often has a basket slung over his shoulders like a backpack, and Xu Qunqun, a woman who started off as a singer and later became a rancher, have participated in the nation's war on poverty, helped themselves and others become more prosperous, and become well-known for their efforts. Their experiences eradicating poverty and creating new lives epitomize the spirit of poverty reduction.

The vast stretches of mountains that run through western Hubei province have seemingly contributed to the conservative character of the people who live there. But Chen, Liu, and Xu in Enshi Tujia and Miao autonomous prefecture have come up with innovative ways of doing their business, contributing greatly to the fight against poverty in the Wuling mountains region in the area.

Chen Zifang: A man born without arms pursues e-commerce in order to help himself and others escape from poverty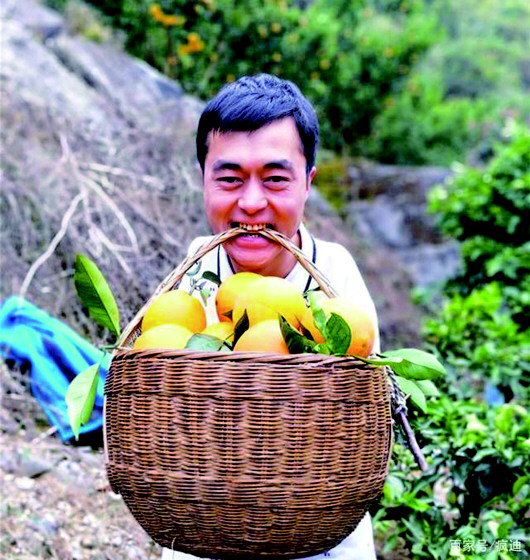 Chen Zifang displays a basket of oranges.
Remarkably, Chen Zifang has found a way to contribute to society on top of supporting himself and his family, despite being born without arms. His inspiring resilience in the face of adversity and ability to successfully overcome his physical limitations have resulted in him developing an impressive reputation over the years.
Chen was born in Xujiawan village, Shuibuya town, Badong county, Enshi Tujia and Miao autonomous prefecture in 1989. His father died from cerebral apoplexy when he was only nine months old and was survived by his mother, Lu Dongyue, and his 12-year-old brother, in addition to himself. Lu worked on the family's one-third ha of farmland from early in the morning until late at night in order to make ends meet and did her best to raise her two sons.
The Xujiawan native was aware of the effort that his mother made to support their family when he was a child, and her tenacity inspired him as he embarked on the long and painful process of learning to take care of himself. Chen could not stand up as his peers could, so he began practicing how to do so whenever his family was not around when he turned four years old. One day, he excitedly told his mother that he could stand on his own. Lu looked at her son and saw that his proclamation was true. Chen stood for a moment but eventually fell over because it was difficult for him to maintain his balance without arms. His mother wanted to help him, but he refused her assistance – the youngster gritted his teeth and insisted on getting up on his own again.
Chen practiced writing, putting on his clothes, using chopsticks, cutting grass with a sickle, and performing other tasks with his feet as he got older. The process of learning was not easy, and the young man suffered many injuries along the way, but he eventually mastered these skills and many others.
Education is highly regarded in Badong. Its residents believe that scholarship makes it possible for people to leave the mountainous areas and change their fates. Lu was deeply influenced by these convictions and resolved to ensure that her son got as good of an education as possible.
Chen began attending Sanchaxi Shimen Primary School in 1998 when he was nine years old. The school initially refused to accept him, however, because its staff thought that his disability would interfere with his studies and make it difficult for him to live his life. The prospective student was rejected eight times, but the administration relented when he demonstrated that he could eat and drink, dress and undress himself, write, and perform other tasks with his feet.
Chen felt increasingly uncomfortable about the fact that he required assistance from his classmates when he went to the bathroom as he got older and dropped out of school during the second half of 2005, shortly after he started his second year of middle school. He found a way to solve the problem a little more than a year later and, having regained his confidence, began to think about what he could do to sustain himself.
Chen began raising 13 pigs in 2008. A downturn in the market resulted in him losing more than 3,000 yuan (US$452), however, which was a source of distress for the impoverished family. Lu dissuaded her son from continuing with the endeavor at this time because she thought it was too risky and too difficult.
In 2009, a kind-hearted neighbor gave Chen a ewe. The budding farmer took good care of it and bred it until he developed a flock that gradually multiplied. Chen had an inventory of 35 head of sheep by September 2015 and sold 30 of them for more than 10,000 yuan (US$1,508) that October.
Chen started to ponder how he could make his life more meaningful now that he was beginning to earn more money than he used to. He became exposed to QQ, WeChat, Weibo, and other Chinese social media platforms after his elder brother bought him a smartphone in early 2012, which resulted in him thinking about how he could use the internet to increase his income and help other people in the area become more prosperous. Chen ultimately decided to sell sheep and specialty products produced in the region online.
Chen launched his e-business in a market town not too far from his home in March 2016 and moved to an even more convenient location in the second half of the year. He quickly taught himself how to use computers, shoot and edit promotional videos, and perform other vital tasks with his feet in order to market his products and develop his business.
Chen's family ultimately emerged from poverty in 2018. His store logged more than 2.8 million yuan (US$423,080) of sales in 2019 and brought in more than 200,000 yuan (US$30,160) of gross profit.
Chen began using livestreaming platforms to promote the products that he sells on April 28, 2020, which added a new dimension to his marketing efforts. That day, the e-retailer presented oranges that had previously been unsalable as a result of the COVID-19 outbreak to viewers with the help of Enshi State Power Company employee Wang Ling. Chen sat on the ground, grasped a knife between his toes, skillfully peeled an orange, and tasted it on camera in order to promote the fruit. His efforts resulted in him selling six tons of oranges in just three hours.
The COVID-19 pandemic caused Chen's store to experience a significant decline in sales; he only achieved 80,000 yuan (US$12,064) of gross profit in the first nine months of last year. The entrepreneur has remained optimistic about the future, however, because he believes that his focus and diligence make it possible for him to overcome any problems that emerge. Chen has also sought cooperation with an online poverty alleviation platform in order to reach more customers.
"My mother sacrificed her health in order to support our family," the e-businessman noted recently. "I want to work hard and keep earning money so that she can move out of the mountains in the future."
Chen's spirit of self-reliance and contributions to poverty alleviation have inspired many people and resulted in him receiving Hubei's May 4th Youth Medal, the Model Hubei Province Worker designation, and the National Model Worker award.
Liu Chengsong: Captivating guide in his '50s builds savings by participating in agriculture and tourism industries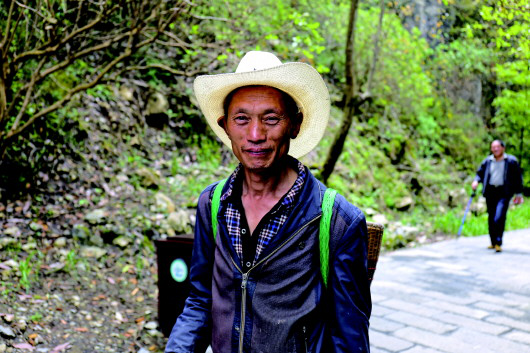 Liu Chengsong walks through the Enshi Grand Crayon scenic area with a basket slung over his shoulders like a backpack.
Tour guide Liu Chengsong is currently in his 50s and has been working at the Enshi Grand Crayon AAAAA national scenic area for the last several years. The short, lean man can often be seen with a basket that he uses to carry tourists' belongings and sometimes their children slung over his shoulders like a backpack. Liu only has a primary school education but possesses a unique charm that has made him very popular with tourists. They tend to enjoy the humorous, down-to-earth verses that he has composed about the scenic area and often purchase walking sticks and other souvenirs produced in the local area from him.
Liu is from a small village located under high cliffs in the hinterland of Enshi Grand Canyon that was very impoverished until recently. An old saying summarizes the perils associated with the area and notes that one should "never allow one's daughter to marry a man who lives in Daoguanshui village because the hamlet and its water system are very poor."
The Daoguanshui native recently mentioned that he had to wake up at 5:00 am in order to embark on the two-hour walk to school in the nearest market town 30 years ago but that his current commute to the town where the Enshi Grand Canyon management office is located only takes him 10 minutes by car. He also stated that he began taking a bag of fertilizer home from the town on his back when he was about 14 or 15 years old. Liu noted that drinking water was not easily accessible in Daoguanshui in the past either and that the village's residents had to retrieve it from a spring 2 km away every morning by foot.
Liu grew various crops and herded cattle before tourism facilities were constructed at Enshi Grand Canyon. His family lacked daily necessities and the ability to pay for the medical treatment that his parents required or obtain credit. He was forced to become a migrant laborer when he turned 17 and ended up working as a coal transporter in Shaoguan city, Guangdong province for ten years. Liu returned home in 2015 after his elderly father's health problems became more serious and did everything that he could to take care of his family.
Liu engaged in farm work before dawn during this era in his life and performed various odd jobs the rest of the day. His efforts only resulted in 3,000 to 4,000 yuan (US$452 to US$603) of income per year, however, which was not enough to cover his father's medical expenses.
The devoted son began to think about what he could do to sustain his family and pursued some new endeavors. He began cultivating gallnut trees, but they did not do well, so he tried growing walnut trees for a while. The Daoguanshui native finally found an ideal job at Enshi Grand Canyon scenic park after it was completed and opened to the public.
Liu wrote doggerels about the various parts of the scenic area in his free time during the first two months that he worked there. His verses are not elegant, but they are very sincere, and visitors enjoy them. The guide and his poems have become popular with tourists and online, and the people who visit Enshi Grand Crayon often look for him.
Liu's life has changed dramatically over the last few years. The tour guide once lived on the government's minimum subsistence allowance but has now saved hundreds of thousands of yuan (tens of thousands of U.S. dollars) through his own efforts and built a large house with seven rooms for his family.
Daoguanshui's residents have benefited from the rapid development of the tourism industry in the area and have generally become much more prosperous. Liu continues to find new ways to make money and proudly stated that his finances are doing "better than average in this area" recently.
Several years ago, Liu was asked about his current plans and answered: "I will grow 10,000 Chinese rhubarb plants, and I should be able to sell the medicinal herb for about 100,000 yuan (US$15,080) over the next three years. I should also be able to save a total of about 150,000 yuan (US$22,620) [for working at Enshi Grand Canyon park] during this period. I plan to use the 250,000 yuan (US$37,700) to turn my property into a farm stay destination."
Liu never developed his property into a farm stay because he considers such an undertaking to be too risky to pursue on his own. The enterprising, middle-aged man explained that the medicinal herbs he has been growing are doing about as well as he thought a farm stay would, however. He noted that he currently grows the plants on 1.33 ha of land and that they have become an important part of his operation.
"I am quick-witted and know how to make money," Liu explained recently. "I am inspired by my parents. They worked on their farm until they were in their 80s and 90s."
Xu Qunqun: A signed singer transforms into a rancher helping people escape from poverty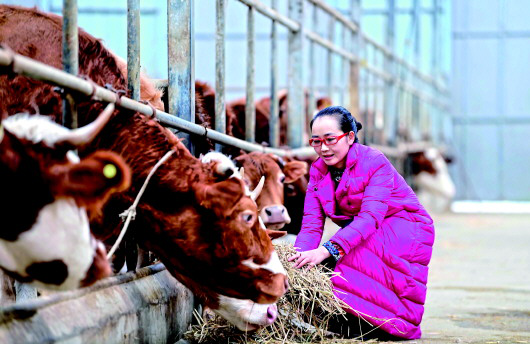 Xu Qunqun feeds cattle at her farm in Chaoyang village, Yanzi township, Hefeng county, Enshi Tujia and Miao autonomous prefecture.
One immediately notices a modern, fully enclosed cattle ranch and crop farm when one travels to Jigu ridge in Chaoyang village, Yanzi township, Hefeng county, Enshi Tujia and Miao autonomous prefecture. The enterprise is located more than 1,600 m above sea level and was founded by Xu Qunqun, a beautiful woman with a sonorous voice who was born in the 1980s.
Xu moved to Singapore after she graduated from Hubei's Wuhan Conservatory of Music in 2007 and had been living and working there until a few years ago. She ultimately made her first fortune in the island country after signing a one-million-yuan-a-month (US$151,600) contract for her singing.
On May 12, 2013, Xu received a phone call from her mother while she was working on some costumes for upcoming performances in Guangzhou, the capital city of Guangdong province. Her mom informed her daughter that she was currently living with 50 head of cattle in a cave, did not have access to running water or electricity, had been eating potatoes that she cooked over a fire pit every day, and was scared of the wild animals that sometimes ran through the area and requested that Xu return home and help her.
Xu immediately booked a plane ticket and arrived at Jigu ridge 10 hours later. She saw her mom feeding her cows grass and giving them water while holding a kerosene lamp when she entered the huge cave. The singer ran towards her mother, hugged her, and told her that she was back.
Xu began helping her mother raise her cattle and enjoyed the work, which led to her attending a national cattle farming conference shortly after she returned. The versatile woman learned that the mild climate and abundant grass and forests in Jigu ridge make it an ideal place to breed cattle, and she eventually decided to use all her savings to establish a large cattle ranch. Xu's friends thought that it would be too risky to invest in an industry that she did not have much experience in and advised her not to do so, but she was determined to proceed with her plan and forged ahead.
"My hometown was just as impoverished as it was when I left," Xu mentioned recently when reflecting on what it was like to be back. "The roads were still muddy and unimproved, and people resided in the same wooden houses that they had always lived in. Chaoyang's inhabitants worked hard but remained poverty-stricken because they did not have access to someone who could show them how to pursue new undertakings. As a member of the Communist Party of China, I have the responsibility and obligation to help them find ways to get out of poverty through their own efforts."
Xu soon conducted a survey of the beef market and felt very optimistic about the results. In May 2014, she invested 35 million yuan (US$5.278 million) – the sum total of her life savings and the financing that she raised – in the establishment of a crop cultivation and animal husbandry company.
Xu developed an operation model, purchased equipment, hired experts, had factories built, and completed other tasks by herself during the early days of her operation. Her fellow villagers were not optimistic about her undertaking at first, but they were eventually inspired by her diligence and persistence. Farmers living in Yanzi, Dongjia, and other villages in the area began to give her their corn fodder to use as feed during harvest season.
Xu's enterprise gradually expanded during the next several years after she implemented a modern circular agriculture model that involved the establishment of a cattle breeding base, two crop farming bases, and three factories that ferment alcohol, process meat, and produce organic fertilizer, respectively. The company has achieved more than 100 million yuan (US$15.08 million) of annual output value, and over 200,000 kg of the corn wine that it has produced is currently being stored in the cave that it started out in.
"I believe that circular agriculture is necessary," Xu mentioned. "This method of farming makes it possible to enhance efficiency by utilizing all of the outputs that are produced in the best possible manner, to improve the quality of the products that are created, and to protect the environment and for enterprises to become larger and more competitive."
Xu implemented a poverty reduction model involving "an enterprise + cooperatives + bases + farmers," which has made it possible for 3,253 households in 11 villages to increase their incomes, including 335 that were impoverished until recently. The rancher provides free cattle and other agricultural inputs to the farmers that she works with and signs purchase orders with them, and awards shares in her cooperative to people who transfer their land to her, which results in the interests of everyone who is involved being closely aligned. Xu is also very aware of the importance of modern agriculture and has gone to great lengths to arrange for experts to provide technical guidance, and her operation has received the National Poverty Alleviation Demonstration Base Award as a result of its exemplary performance.
"The people in this area haven't been able to raise high-quality cattle for generations because they were not aware of how to do so until recently," Xu explained.
The altruistic entrepreneur has been awarded various titles in recognition of her efforts since 2015, such as Model Jingchu [Hubei] Resident, National Upstanding Young Adult, National Animal Husbandry Pioneering Individual, Excellent Chinese Citizen, National March 8th Red Banner Bearer, National Top 10 Agricultural Entrepreneurship Model, and National Rural Youth Leader.
"I never thought I would become a rancher," Xu stated emotionally while reflecting on her experiences and her sense of responsibility for the community that she is from. "I used to be frightened of furry rabbits – not to mention cattle – and I didn't like the idea of being dirty or having to step in cow dung."