Winning the final battle against poverty in China
p.china.org.cn by Zhao Binyu,January 12, 2021

Adjust font size:

The year 2020 marks the final year of China's campaign to eliminate absolute poverty in its borders. Its 52 counties that remained impoverished last year are located in seven of its provinces and autonomous regions, namely Sichuan province, Guizhou province, Gansu province, Yunnan province, Guangxi Zhuang autonomous region, Ningxia Hui autonomous region, and Xinjiang Uygur autonomous region. The nation accelerated efforts to address poverty in these administrative areas involving 1,113 villages. Poverty alleviation officials and members of the public had exhibited great passion for the endeavor and been determined to work together to overcome difficulties that have stood in the way of the undertaking, creating a poverty eradication miracle, and achieving the complete elimination of extreme poverty in China.

Accelerated efforts

Xiji was the only remaining impoverished county in Ningxia last year. It has suffered from water shortages over the years. The problem had been the primary obstacle obstructing its path to prosperity and been most acute in Hongyao township.

"I used to have to get water from a spring four or five km from my home every morning," Liu Zhijun, a 65-year-old resident of an impoverished village that is administered by Hongyao, mentioned emotionally on a recent afternoon. "People lined buckets up a length of more than 20 m. Sometimes there wouldn't be any water left when your turn came if you arrived too late."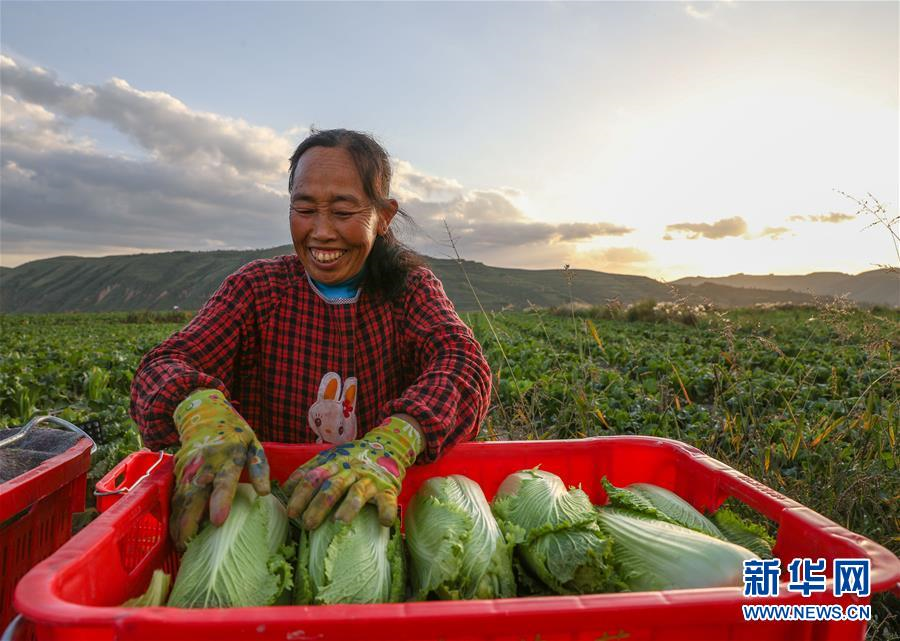 A farmer harvests cabbage at a farm owned by the Hongxiang vegetable cultivation cooperative in Gaoyuan village, Xiji county. (Xinhua/Yang Zhisen)
Xiji eventually prioritized the implementation of targeted water supply projects in its borders in order to improve the situation and promote prosperity, and has been locating new water sources and constructing new pumping stations and reservoirs. Its government also made efforts to address losses, omissions, and shortcomings in the poverty alleviation work to strengthen weak links in the undertaking. The county is committed to ensuring that none of its residents have to worry about food and clothing and that they all have access to compulsory education, basic medical services, and safe housing and has helped 452 dropouts re-enroll in school and has renovated 1,530 dilapidated homes in rural areas.
Ninety percent of the counties and 95 percent of the citizens that had been deeply impoverished in China were no longer impoverished by the end of 2019. The nation still faced huge difficulties with regard to its goal of eliminating absolute poverty in its borders, however, despite the remarkable achievements that had been made. Poor natural conditions, complex causes of impoverishment, and high costs associated with addressing the problem make it difficult to help the 52 remaining poor counties become more prosperous, and the ongoing COVID-19 pandemic and flooding that the country experienced make the task even more onerous.
A variety of policies were issued by both the central government and local governments in order to overcome these problems and eradicate poverty on schedule. The central government allocated 18.4 billion yuan (US$2.70 billion) of funding to these 52 counties in addition to special poverty alleviation allocation from the central budget in the beginning of the year. The provincial- and county-level officials were assigned to oversee poverty reduction efforts in poverty-stricken counties and villages, respectively, in order to help ensure effective outcomes. A total of 2,008 non-governmental entities in the country's central and eastern regions invested 314 million yuan (US$46.06 million) in 1,113 remaining impoverished villages in order to help them out of poverty. Monitoring, early warning, and assistance systems were also established and improved in order to help prevent people from falling back into poverty. Expeditious intervention efforts have yielded results through accelerating industrial development and stabilizing employment opportunities.
"Our goal of eradicating absolute poverty throughout China by the end of 2020 will never change, nor will current standards," State Council Leading Group Office of Poverty Alleviation and Development Director Liu Yongfu emphasized in 2020. "All of the counties that are impoverished must be lifted out of poverty."
Addressing shortcomings and persevering until goals are achieved
Last May, resident of Atulie'er village, Zhi'ermo town, Zhaojue county, Liangshan Yi autonomous prefecture in Sichuan province Mousedati and his wife stepped down a new, 2,556-step steel staircase for the first time. Atulie'er had finally shed its five-generation-long status as a "cliffside village" that relied on a dangerous ladder system.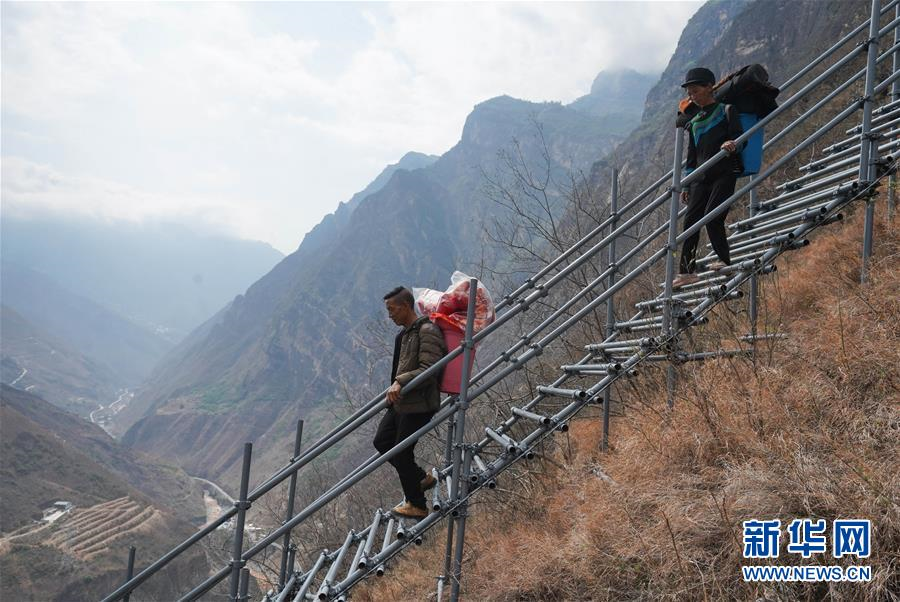 A couple walk down a steel staircase mounted to the side of a cliff in Atulie'er village, Zhi'ermo town, Zhaojue county, Liangshan Yi autonomous prefecture, Sichuan province. (Xinhua/Jiang Hongjing)
Climbing rattan ladders, ascending steel staircases, riding in elevators...approximately 50,000 of Zhaojue's residents have moved from the depths of the Liangshan mountains to new resettlement sites in the last five years.
The relocation programs that nearly 10 million of China's residents have participated in and the jobs that have been created in and around the resettlement sites that they have moved to have thwarted the intergenerational transmission of poverty that used to affect the people who are part of this group in addition to making it possible for them to secure sufficient food and clothing and access compulsory education, basic medical services and safe housing.
The stability that resettlement sites promote helps make it possible for the people who live in them to gradually become more prosperous. Zhaojue is currently focusing on helping its relocated residents adapt to their new living conditions.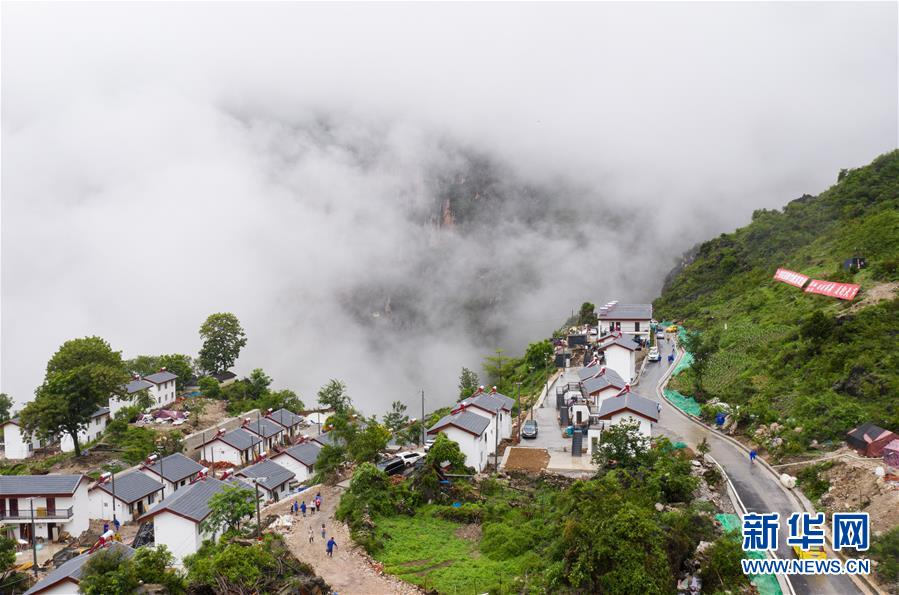 A newly built road in Abuluoha village, Wuyi town, Butuo county, Sichuan province (Xinhua/Jiang Hongjing)
Surrounded by mountains on three sides and cliffs on the fourth deep in the Jinsha river canyon, Abuluoha village of Wuyi town in Butuo county was the last village in China that was not connected to the outside world by road until recently.
A 3.8-km highway extended the local road system to the hamlet in 2019. Construction involved the use of Mi-26 heavy transport helicopters – the largest and most-powerful mass-produced helicopters in the world – in order to transfer heavy equipment to the remote village and cost an average of 10 million yuan (US$1.47 million) per kilometer.
Every village located in an impoverished part of China had access to hardened roads as of late 2019. Three hundred nine bridges have also been constructed in isolated, mountainous areas in the western half of the country in order to improve transportation for the impoverished people who live in them.
Ensuring that no ethnic group is left behind on the journey out of poverty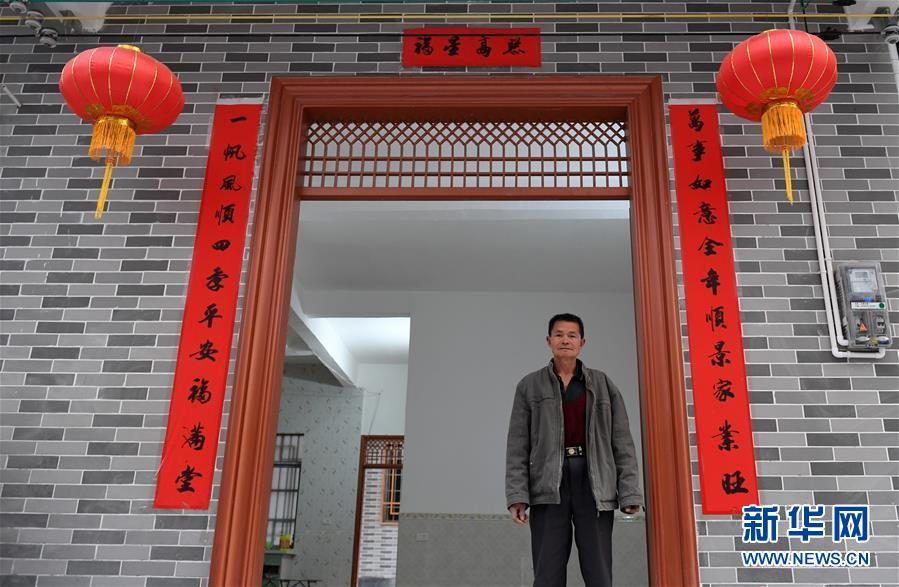 A resident of a relocation site in Mianhua village, Luocheng Mulam autonomous county, Guangxi Zhuang autonomous region stands in the entrance of his new home. (Xinhua/Lu Anbo)
"My farmhouse has been virtually full every weekend for the past two months," noted Wu Junyi, a farm stay operator at Mianhua village, Siba town, Luocheng county, Guangxi Zhuang autonomous region, in September. Just a few years ago, however, Mianhua was isolated from the outside world, and Wu could not speak fluent Mandarin.
Luocheng is the only autonomous ethnic Mulam county in China, and many of its villages were isolated and suffered from poverty until recently. Infrastructure improvement and educational programs designed to help members of the workforce enhance their abilities are fundamental parts of long-term poverty reduction and were eventually implemented in the county in order to help address the situation. Relocation programs, housing renovation efforts, drinking water improvement projects, and road construction undertakings have helped enhance conditions in the administrative area, and villages such as Mianhua have transformed into tourist destinations.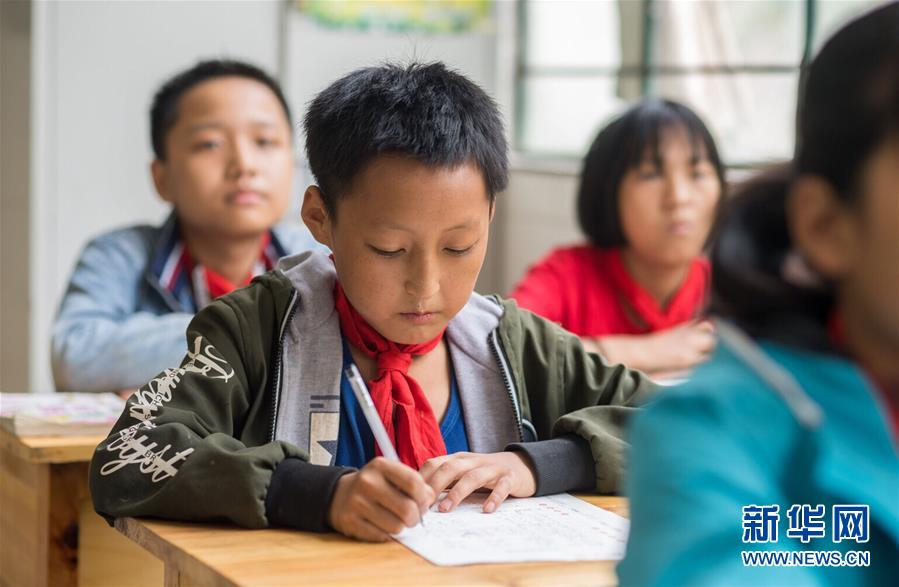 Ethnic Nu student Li Xuecong studies at Pihewan Primary School in Fugong county, Nujiang Lisu autonomous prefecture, Yunnan province. (Xinhua/Hu Chao)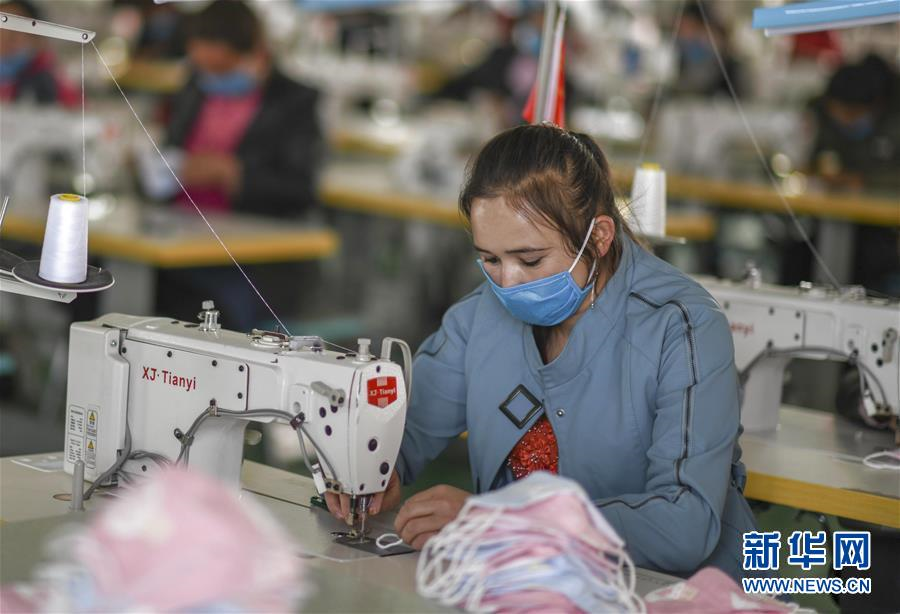 Huishangyiju Clothing Co. employees make face masks in Pishan county, Hotan prefecture, Xinjiang Uygur autonomous region. (Xinhua/Zhao Ge)
An important aspect of China's poverty alleviation campaign involves helping ethnic groups with a smaller population enhance their abilities. Many residents of Xinjiang's ten impoverished counties fell into poverty because they lack useful skills. Feng Xiaohui, head of a company based in Pishan county, Hotan prefecture, has arranged for his workshop managers to train members of the impoverished households and exemplifies some of the efforts that enterprises have made in the autonomous region.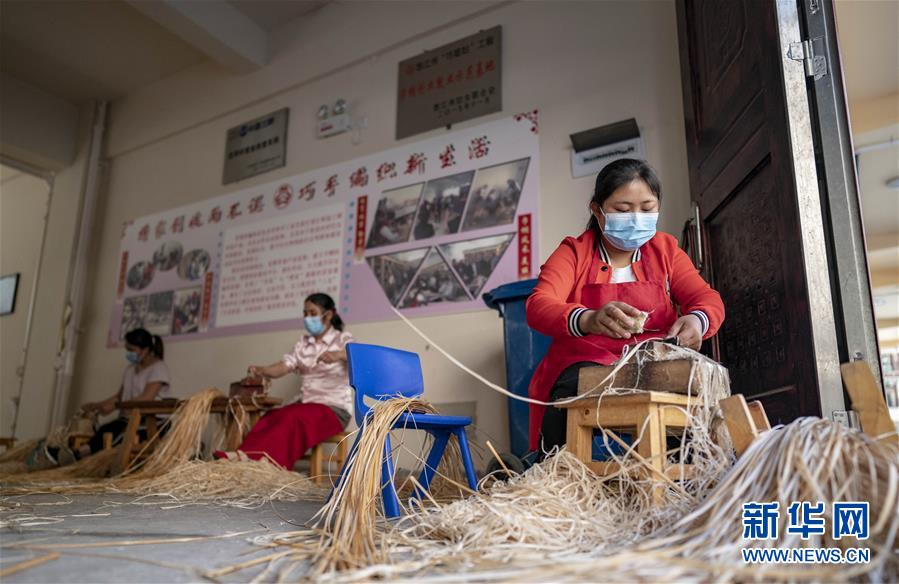 Impoverished laborers produce handcrafts at a workshop that was established for poverty alleviation purposes in Tuoping village, Pihe township, Fugong county, Nujiang Lisu autonomous prefecture, Yunnan province. (Xinhua/Jiang Wenyao)
Yunnan launched a special program last year designed to help people who are part of the Lisu and Nu ethnic groups escape from poverty that included analysis, reporting, and feedback on a monthly basis.
Zhaojue's efforts to help impoverished residents who meet certain criteria and mostly happen to be part of various ethnic minority groups relocate to special resettlement sites and alter outdated customs and habits increased their confidence in their ability to emerge from poverty.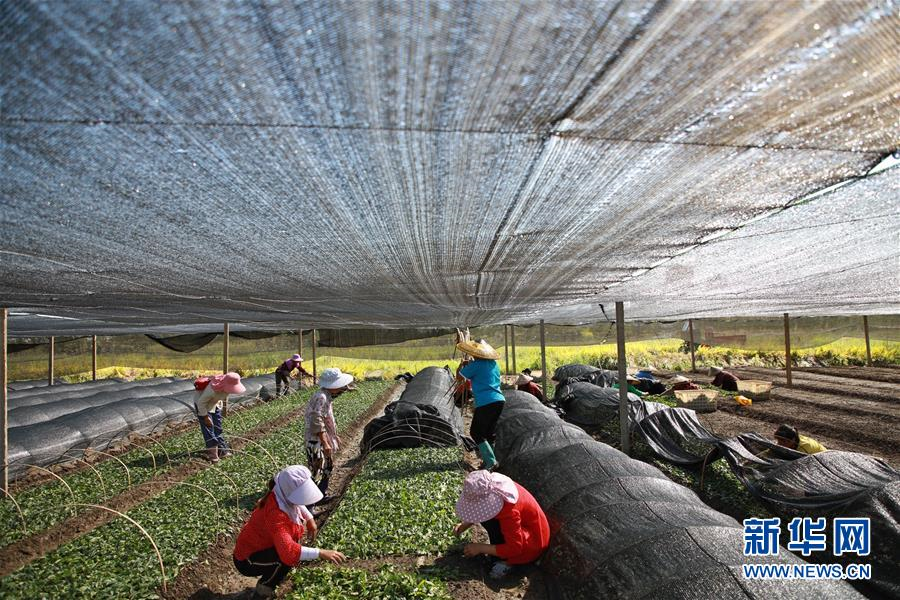 Residents of a relocation site in Yuqing county, Zunyi city, Guizhou province work at a tea cultivation base in the area. (Xinhua/Liu Xu)
Guizhou continued its campaign to address poverty in the nine counties remaining deeply impoverished in its borders and dispatched provincial-level officials to oversee the undertaking last year.
More than 2.9 million officials have been appointed to work in China's poverty-stricken villages thus far. They served in every impoverished hamlet in the country and helped ensure that the nation won its battle against poverty.
Preserving poverty alleviation achievements, preventing reversion to poverty
Located deep in a mountainous region, Zhangtie village, Qiaotou town used to be one of the most impoverished villages in Lixian county, Longnan municipality, Gansu province. The continuous, heavy rainfall that hit the area in August 2020 caused landslides that affected 28.67 ha's worth of medicinal herbs and completely ruined more than 6.66 ha's worth of harvests in the village. The frequent natural disasters that occur and weak industrial foundation and poor geographical conditions that exist in the hamlet contributed to its poverty rate rising to as high as 68.5 percent and made poverty reduction achievements difficult to consolidate and build upon in addition to its obscure location.
Fortunately, according to Zhangtie First Secretary Yang Kuo, the full agricultural indemnity coverage has almost been achieved among local impoverished households and that coverage is increasing for households that are at risk of falling into poverty. Yang mentioned that efforts to monitor the latter group and prevent them from lapsing into poverty have been increasing as well.
Boosting employment is an effective way to help people escape from poverty. Ninety-two percent of China's residents who have left poverty behind in recent years have done soon by participating in the development of various industries, and more than two-thirds of those who have gotten out of poverty have worked with new business entities.
Factories have been established in order to create jobs, impoverished people have been encouraged to return home for work or seek jobs in other areas depending on their situations, public welfare positions have been formed, and other measures have been taken in order to counteract the impact that the COVID-19 pandemic has had on employment in China's poverty-stricken locales and to help ensure that impoverished people can continue to work and do not fall back into poverty.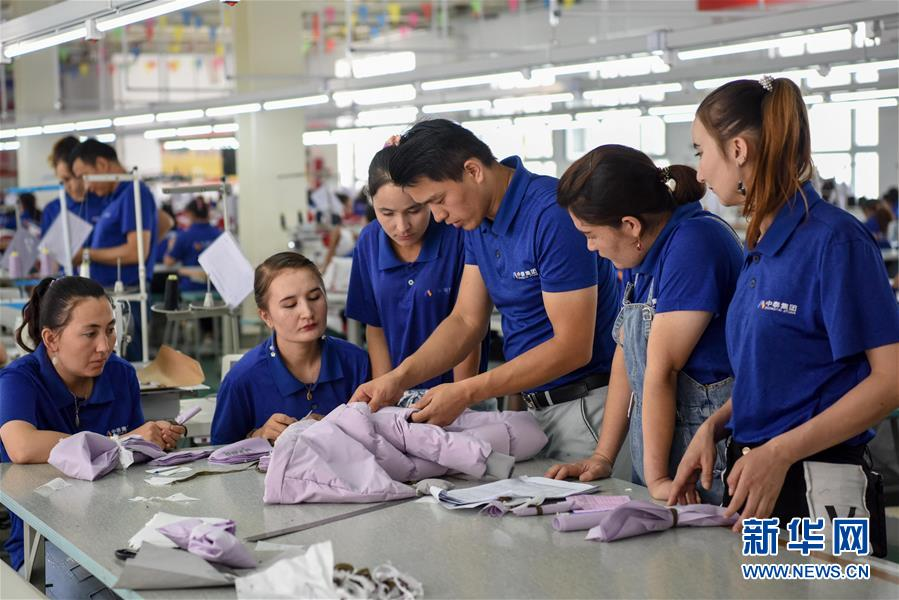 A manager (third from right) examines products at a garment company in Xinjiang's Hotan city. (Xinhua/Ding Lei)
Big data systems have used to monitor people who are at risk of falling into poverty in Xinjiang and to provide early, color-coded warnings via a real-time system. Targeted job training has also been provided in the autonomous region, and public welfare posts have been created in order to help ensure that people meet their basic needs.
Special measures have been implemented in Guizhou. Government bodies worked with counterpart cities and provinces in order to coordinate and stabilize employment opportunities outside the province. Fifteen provincial offices have helped create a total of 432,000 jobs in Guizhou, enabling people to find employment near their homes.
Chartered flights and buses were arranged in order to transport Ningxia natives to enterprises that they work at outside the autonomous region amid the coronavirus pandemic.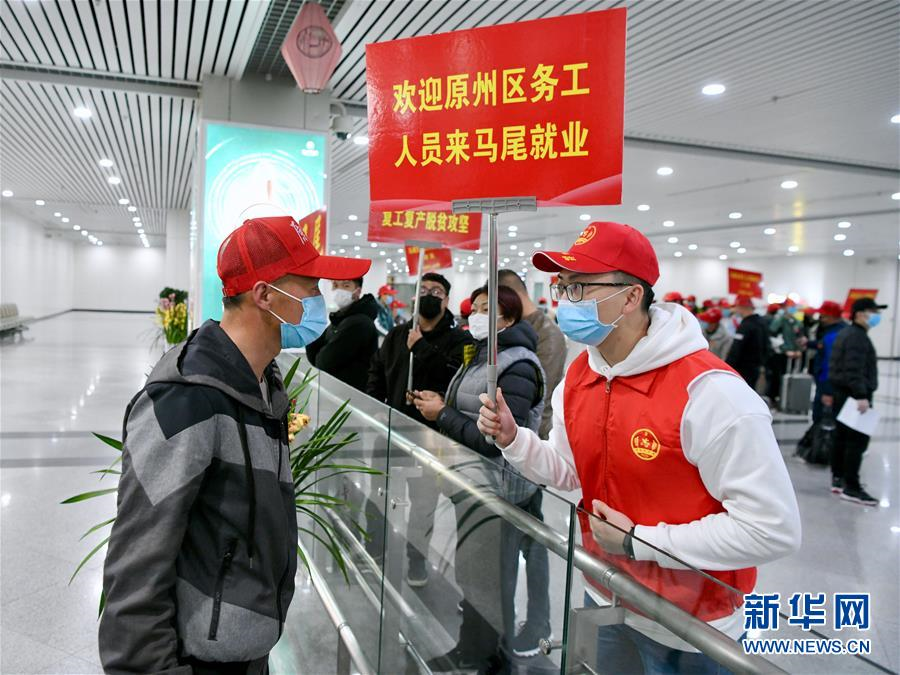 A volunteer receives laborers from Yuanzhou district, Guyuan city, Ningxia Hui autonomous region at the Fuzhou Changle International Airport. (Xinhua/Jiang Kehong)
Approximately 2.87 million people from the 52 impoverished counties were working as migrant laborers as of Aug. 31, 2020 or 112.94 percent of the previous year's total.
China launched its first poverty reduction consumption month last September in order to promote goods that were produced in impoverished areas throughout all sectors of society. Within 10 days the sales of such products totaled 129.92 billion yuan (US$19.06 billion), facilitating the further development of industries that help people get out of poverty.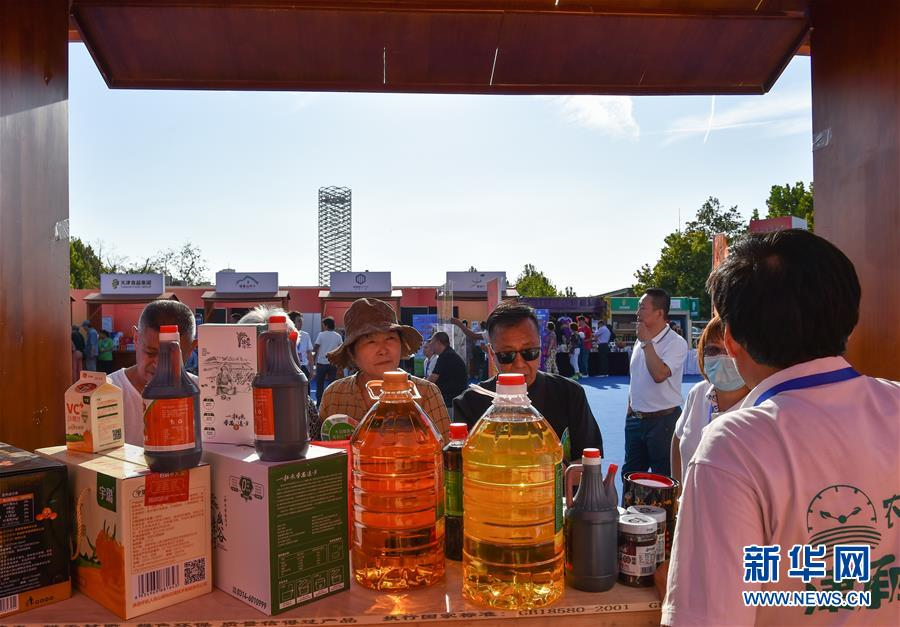 Attendees of a fair held in Tianjin's Hexi District Cultural Center Square ask an exhibitor about his goods on Sept. 4, 2020. The event was part of a month-long campaign designed to boost the consumption of products produced in impoverished areas that was launched the same day. (Sun Fanyue/Xinhua)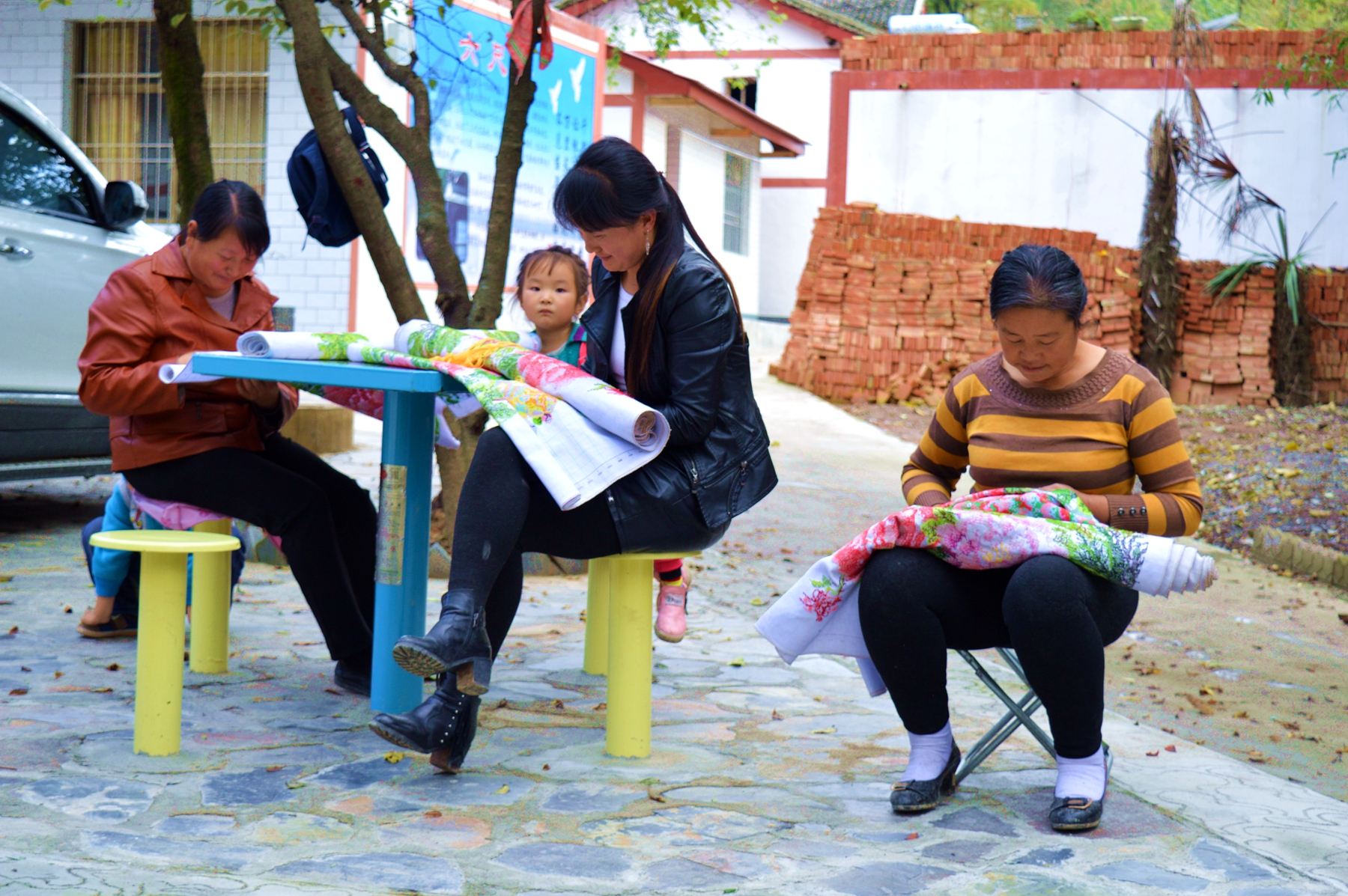 A brand-new Yangwan village after renovation in Sitai town, Kangxian county, Gansu province.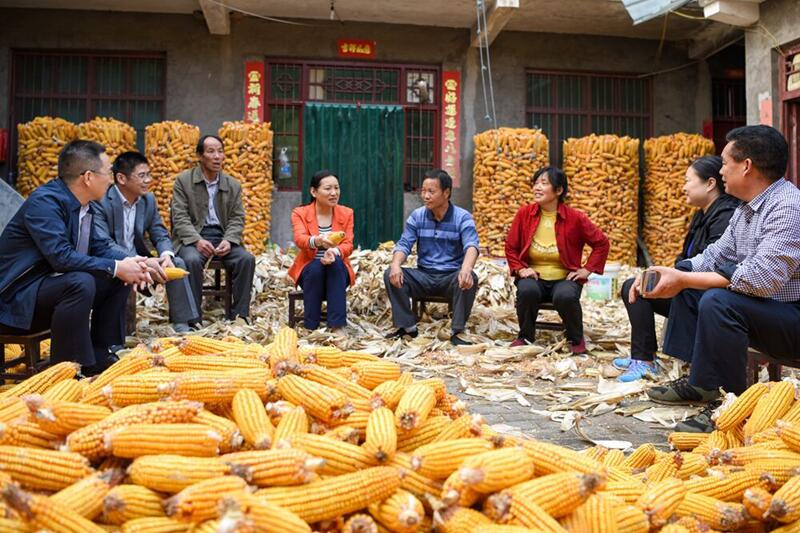 Village officials visit impoverished households in Jiyuan, Henan province.