Youyu: A place with indomitable spirit and determination
p.china.org.cn by Liu Yizhou,January 11, 2021

Adjust font size:

Located in the northwestern part of Shanxi province in north China, Yumenguan was once a major thoroughfare on the ancient Silk Road. The land in the area is not very fertile, however. There are only 80 frost-free days per year, and the sandstorms that sweep through the region from the Gobi desert can damage people's homes, knock over trees, and stifle crop growth. Natives of nearby Youyu county, Shuozhou city, Shanxi province have often had to seek work elsewhere in order to survive. Prolonged periods of warfare devastated its forests in the past, which contributed to its difficulties and left nothing to mitigate the sandstorms that it suffers from.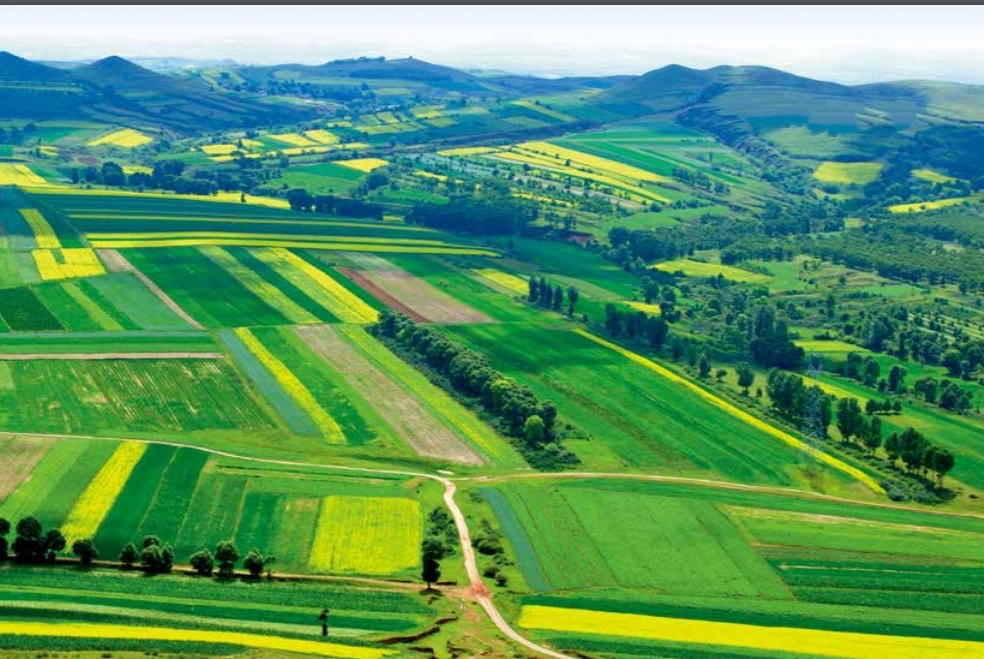 Environmental revolution
In June of 1949, Zhang Huairong became Youyu's first secretary after the People's Republic of China was founded. He became known for serving his community with hope and passion and helped the county change its situation. One day, Zhang and County Magistrate Jiang Yongji climbed the highest mountain in Youyu in order to get a better sense of the geographical features in the area and the types of industries that could be developed. The officials were surprised to discover some crops growing behind a row of trees on the peak. They found the farmer who planted them and realized the importance of planting trees to protect crops from sandstorms.
On Oct. 23 1949, Zhang held a 3,000-person conference for the purpose of discussing afforestation, and specific areas were chosen to focus on. The battle against the sandstorms that affect the area had begun. Three years later, a new 0.85-ha forested area could be found in the county. It became an oasis of hope for its residents.
Twenty secretaries have served in Youyu so far. A spade has always leaned against the wall of the office they work in as a symbol of local spirit no matter who has held the position. The county's citizens are willing to make sacrifices in order to improve the area and make it greener. Mao Shuikuan, former secretary of Weiyuan village, led efforts to afforest the areas around residents' farms and died while rescuing crops on a rainy night when he was 31. Liu Zheng used to work as a ranger in Qiaojiabao village and passed away while helping trees that had been heavily damaged after heavy rainfall in 2000. Many more tragic stories of dedication and devotion exist in Youyu.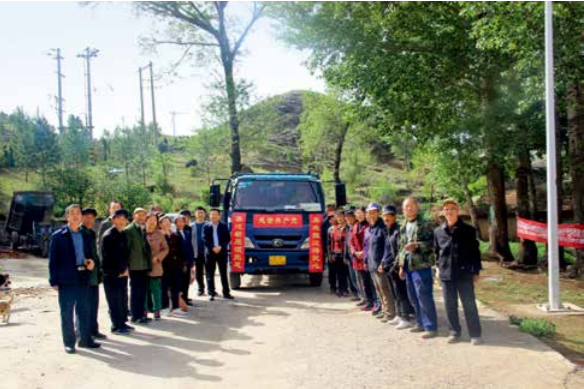 People are taking photo with a newly-bought truck

Leaving poverty behind
In 2015, a nationwide battle against poverty began in China, and the people of Youyu were on the front lines. The county had become much greener than it was nearly 70 years ago, but the problem still existed as a result of its environment, geography, and outmoded agriculture. A survey that was performed in 2014 identified 16,337 people in 8,035 households as impoverished. Youyu was declared the only key national poverty alleviation and development county in Shuozhou city, Shanxi and had an arduous path ahead. Its residents are very resilient, however. In 2017, the county became one of three in Shanxi to leave their former impoverished statuses behind during the first round of current poverty alleviation efforts.
Hao Jianguo suffers from foot and leg diseases, and his three children went to university in recent years, which was costly and often left him on his own. Hao's household was identified as impoverished in 2014. Officials in his village eventually helped him establish a farm-to-table restaurant in his home. It opened for business in May 2018 and serves chicken, vegetables, and other food that Hao farms himself. The restaurant brought in more than 10,000 yuan (US$1,434) of profit in 2018.
Zhao Runlian is a 64-year-old woman who broke her knees in an accident in 2012. She became unable to perform manual labor, and her husband became the only breadwinner in their home. The couple's household was eventually identified as poverty-stricken in 2014. In 2015, Zhao's village suggested that she and her husband build and run a small flour mill. They took the advice that they received and put a lot of effort into doing so. The couple's products have sold well. They even have buyers in places like Datong city in northern Shanxi and Inner Mongolia autonomous region. The undertaking brings in more than 70,000 yuan (US$10,038) of profit for the couple per year.
Changes and development to industry yields positive benefits
Many enterprises have emerged that have promoted prosperity in the area. Zhongda Technology Company is an innovative company that integrates agriculture, trade and science. It is capable of manufacturing 5,000 tons ofα-linolenic omega-3 fatty acid oil every year. A beverage company known as Saishang Oasis processes more than 8,000 tons of sea buckthorns into juice annually and brings in 89 million yuan (US$12.76 million) of revenue. The chives that the Tuyuan company grows sell well in the United States, Germany, and other countries.
Tourism has also become a pillar industry in Youyu. Agritainment, sports tourism, cultural exploration, and other forms have become popular; and hospitality, dining, shopping, and entertainment all play a role. Many of the county's rural citizens have begun to participate in the sector and have given up on less profitable undertakings.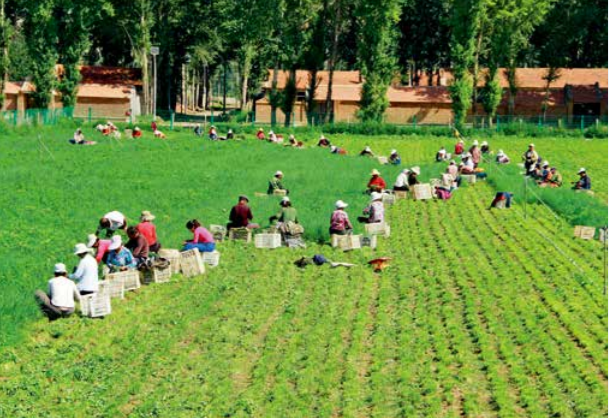 People working in the farm

Pursuing dreams
Youyu escaped from poverty in 2017 but still has a way to go before it can achieve a moderate degree of comprehensive prosperity. The county's GDP came to 6.719 billion yuan (US$963.5 million) in 2017, and its residents had 7,161 yuan (US$1,027) of disposal income per capita in the same year, which was the lowest in Shuozhou. Youyu's industrial structure has not been optimized, and its agricultural pursuits should become more competitive. There is also a low level of urbanization in the county, and the urban areas that it does have are not equipped with advanced facilities. Urban-rural integration has been difficult, and social services, such as education and health care, need improvement.
Youyu's residents feel that developing their agricultural brands and promoting environmentally friendly animal husbandry is the foundation of other pursuits. They have devised a growth strategy that involves "industrial convergence, promotion of tourism via agriculture, and enhancement of agriculture via tourism." Youyu has begun establishing an ecocultural tourism development zone and encouraged its rural citizens to participate in the industry and start their own businesses. A lot of effort has been put into integrating the cultural and historical attractions in the county with its rich natural environment in order to fully harness the tourism potential in the region. Youyu's towns and villages have also been developing in a manner that is consistent with local characteristics. Cottages have been renovated and turned into homestay venues, an old granary has become a hub for artists and painters, and various other modernization endeavors have been embarked upon.
Everyone in Youyu is aware of the fact that protecting and enhancing the environment in the area is an essential part of rural revitalization. Afforestation and other measures to support and upgrade the biosphere in the region are continued to promote sustainable growth. The development plan that has been implemented has made Youyu's citizens more hopeful and optimistic and has motivated them. Its villages are taking steps to improve their living environments, and discussion sessions are held regularly so that their residents can get information and share their stories and experiences with each other. They are confident about their ability to face challenges head on and create a good future for themselves. Youyu natives have an indomitable spirit in their bones and have been fighting poverty and sandstorms for centuries.