Educational TV program promotes prosperity in Hainan
p.china.org.cn by Jin Ling,January 08, 2021

Adjust font size:

In 2019, an impoverished resident of Lingmen village, Qiongzhong Li and Miao autonomous county, Hainan province named Wang Chengye helped his family develop a plan to get out of poverty. They decided that Wang's brother would keep bees, Wang's wife would raise sheep, and Wang would look for new business opportunities. He later suggested that his family devote their 0.67 ha of unused land to farming fish, silkworms, and mulberry trees, and they agreed.

Wang is regarded as a leader in his family because he loves to learn, is very familiar with poverty alleviation policies, and has many good ideas. The Lingmen resident has learned a lot from a weekly TV program known as "Hainan's Televised Poverty Alleviation Night School," which airs every Monday. A total of 160 episodes have been broadcasted since its debut Dec. 18, 2016. Hainan TV Station's Comprehensive Channel airs the show, and it averages about 2 million viewers per episode.

A resident of a mountainous village known as Duoxian named Lin Shengxin is also a fan of the TV program. She learned how to use nets to keep insects from spoiling her crops from watching it. "We are not used to using pesticides," Lin explained. "The nets keep pests away and also protect crops from storms."

"Hainan's Televised Poverty Alleviation Night School" covers poverty reduction policies, economics and market conditions, job opportunities, success stories, and other information in addition to agricultural ideas and techniques.

A resident of Le'an village named Liu Haizhu fell into poverty when her husband died in 2016. She suffers from cervical spondylosis and was left to take care of their son and daughter by herself. Liu began watching "Hainan's Televised Poverty Alleviation Night School" and learned that the Hainan Rural Credit Union makes unsecured microloans available to women.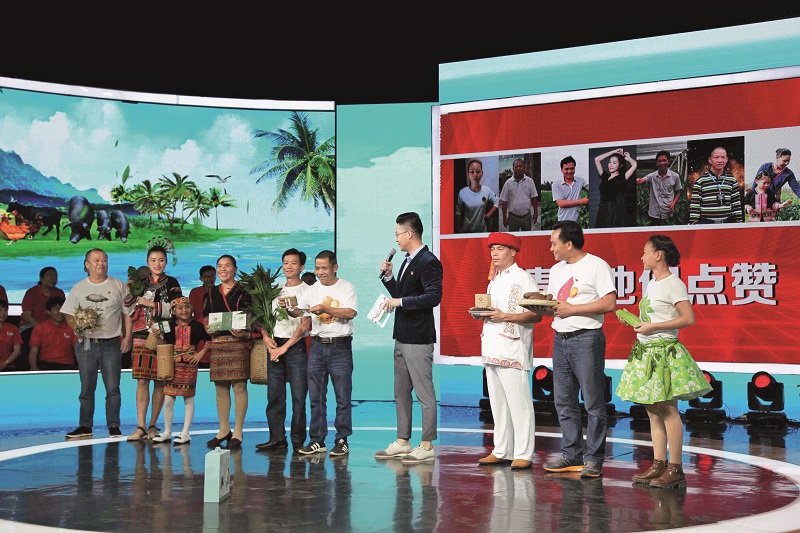 Impoverished villagers show agricultural products at the stage of "Hainan's Televised Poverty Alleviation Night School" . (Photo courtesy
of China Poverty Alleviation magazine)
The widow decided to apply for a 5,000-yuan (US$710), interest-free loan. It was approved shortly after, and she used the money to open a small shop in Le'an. Liu currently brings in 2,000 yuan (US$285) of net income every month from the undertaking. The shopkeeper hopes to expand her store, carry more products, and build up more savings. She also plans on helping her son pay for his university expenses.
Mo Min, deputy manager of Hainan Rural Credit Union's microfinance department, explained that its issuance rate rose from 200 to 300 microloans per week after the Night School aired information about the cooperative and its microcredit programs.
Helpful hotline provides additional information
"Hainan's Televised Poverty Alleviation Night School" viewers can also call 961017 from 8:00 to 9:00 p.m. every Monday to get additional information. An operator answers the hotline, and staff from 20 provincial-level government departments get back to callers within seven working days. Logs indicate that 33,890 calls have been answered in the last three years and that 99.61 percent of people's questions have been answered.
One Monday night a native of Tongshu village named Fu Chunlan began to quarrel with her family when they were watching "Hainan's Televised Poverty Alleviation Night School."
"The deadline for applying to get dilapidated housing renovated passed over a month ago. We probably cannot apply now."
"Why didn't you find out earlier? It's a pity that we missed it!"
Fu Chunlan and three of her family members were living in an old house that was less than 60 sq m at the time. They longed to make improvements to their residence but were not able to do so on their 2,000 yuan of annual income.
Fu called the hotline and asked if it was possible for the government to make an exception for her family. She was in luck and was told that staff from the local construction bureau would visit her home in three days. Some employees arrived as scheduled, came up with an estimate, and approved the family's application. The residence was renovated a few short months later before the end of the year.
Poverty alleviation staff offer complementary classes
A total of 2,721 poverty reduction information centers have also been established throughout the province. They complement the "Hainan's Televised Poverty Alleviation Night School" program, conduct regular evening classes, and provide other services. More than 5,000 poverty alleviation staff members have taught poverty eradication information to 128,000 impoverished villagers and assisted them in other ways.
Some village officials have given out soap, towels, toilet paper dispensers, and other items to promote "Hainan's Televised Poverty Alleviation Night School" and the province's poverty reduction information centers.
A man named Wang Chuntang has worked as a poverty alleviation official in Duoxian village for half a year now. Every Monday, he drives two of its impoverished residents to the village hall so that they can attend the poverty alleviation classes that it offers.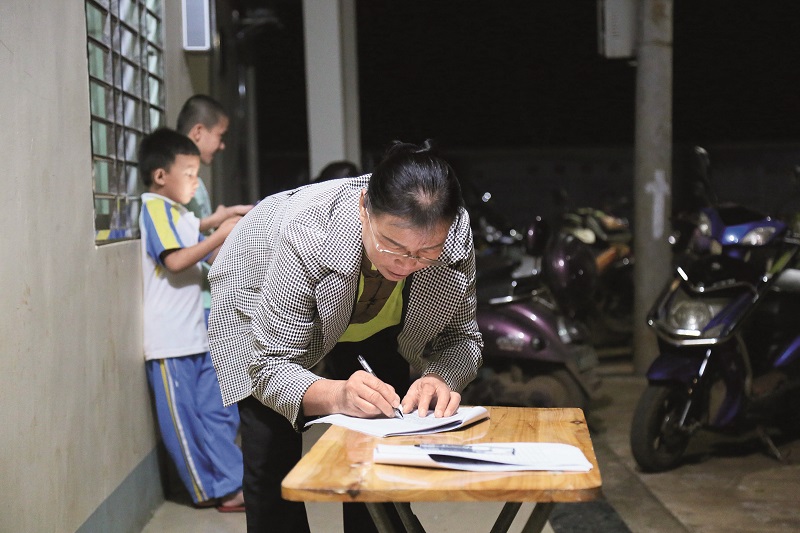 An impoverished resident in Duoxian village signs in to attend poverty alleviation classes. (Photo courtesy of China Poverty Alleviation
magazine)
"The students had doubts about the classes at first, but now they often remind me to pick them up on Sundays," Wang said with a smile. The official had not lived in a rural area before he began this work assignment and has learned a lot from his job and the evening classes. "Before, I had heard that working in a village is difficult," Wang summarized. "I now understand the importance of patience and precision."
The poverty alleviation staff who have been involved with "Hainan Poverty Alleviation Televised Evening Classes" tend to love agriculture, villages, and villagers and enjoy their work.
Enhancing accessibility and going the extra mile
Poverty alleviation staff endeavor to make "Hainan's Televised Poverty Alleviation Night School" and the classes that are associated with it as accessible as possible. For example, some residents of Le'an requested that its officials deliver a summary of episodes in their local dialect, and they have done so.
A poverty alleviation team leader in Xinhua village has made similar efforts. He found that although the hosts of "Hainan's Televised Poverty Alleviation Night School" do a good job explaining various policies and ideas, many of Xinhua's residents could not understand them or remember them very well as a result of their poor Mandarin and the low levels of education that they possess. Chen decided to compile a handbook of policies and information that the show has covered and distributed it to people who wanted it. The village's residents trust and respect the team leader as a result of his sincerity and attentiveness and regard him as a close friend that they can refer to.
Shandao is a spread-out village in a mountainous part of Hainan. Its officials rented six three-wheeled vehicles so that impoverished residents who live far away from its village center can attend its poverty reduction classes.
A poverty alleviation team leader in Yunlong township was inspired when he saw an episode of "Hainan Poverty Alleviation Televised Evening Classes" about a mushroom plantation in Ding'an township. He rented a bus so that he could take some impoverished residents of Yunlong's villages to see it in person and learn more about mushroom farming.
Yunlong has also launched special contests and an award-winning quiz that covers the material that the Night School teaches in order to recognize active learners and quality service providers. These events have helped villagers that were once relatively passive become more motivated and proactive.
"We hope that everyone can participate in the free evening classes who needs them," expressed Li Jun, deputy secretary of the Hainan Communist Party Committee and leader of poverty alleviation work in the province. "It's a good opportunity."