Development of mountain sports lifts remote areas out of poverty in China
ChinAfrica by Li Xiaoyu,January 06, 2021

Adjust font size: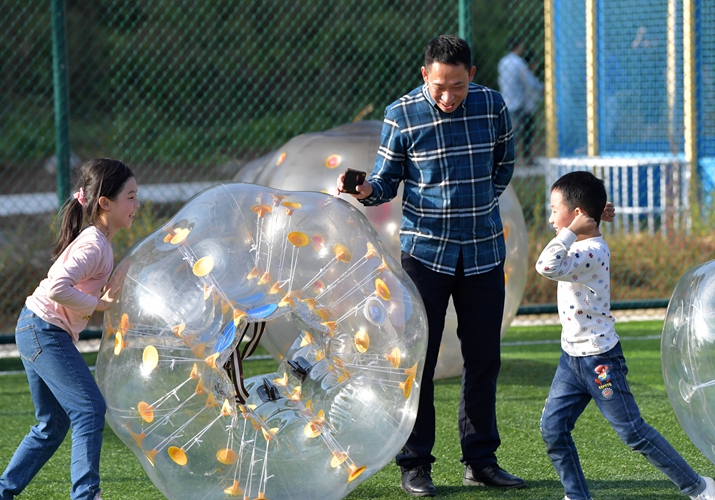 Different game areas in the multi-functional sports field in Luokeng (XINHUA)
Sport can play a crucial role in local economic development, as demonstrated by the Tour de France. Popular with cycling enthusiasts worldwide, the annual bicycle race is far from a mere sporting event, as its touristic appeal gives a cosmopolitan face to the staging cities along its route.
In China, the village of Luokeng, located in the Zhanggong District of the city of Ganzhou, Jiangxi Province in east China, experienced a similar fate. Every year, many mountain sports enthusiasts enjoy its state-of-the-art mountain bike trails, and Luokeng has now become a venue for mountain bike competition. But until just six years ago, the site was completely isolated from the outside world.
From isolation to prosperity
In a region as hilly and mountainous as Luokeng, agricultural and industrial development is nearly impossible. As a result, until 2014, 104 villagers from 37 households lived below the poverty line, including Li Xitai's family. Li often had to get up early in the morning and walk for more than three hours on the village's only winding and dusty track to deliver his oranges to the nearest market. With little money to support his family, he and many other villagers had no choice but to leave Luokeng to work in the city.
Although the land in Luokang is not conducive to agricultural or industrial development, the local lush forest and mountain trails make the place an ideal mountain biking place. Since 2015, the government has invested 90 million yuan ($13.8 million) in infrastructure construction to enhance regional resources to develop outdoor sports, including mountain biking.
The village is now well connected by road. The Jiangxi Province Mountain Bike Training Center has even established a base there to benefit from the first-class mountain bike trails. "Luokeng's greatest asset is its ability to host national and even international competitions," said Fan Xiaoji, deputy chief of Zhanggong District. Many mountain sports fans from all over the country flock to Luokeng to train on these slopes. The number could run into hundreds every day.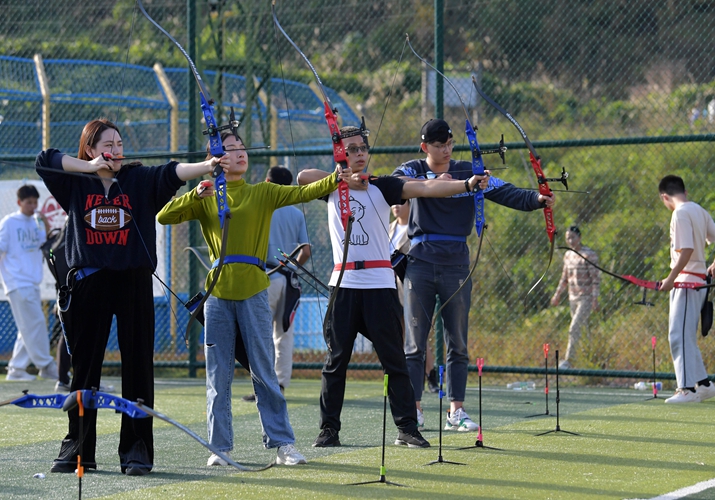 Sportspersons in Luokeng archery range (XINHUA)
Besides, Luokeng is also betting on the development of facilities adapted to other types of sports, such as a 9-km trail winding through the mountains, which is good for hiking; an 8.5-km closed-loop marathon track; a multi-purpose sports field and open-air facilities that include a go-kart track, an archery area, a trampoline park, etc. The objective is to increase the site's attractiveness to tourists and offer them a wider choice of sporting activities.
This has proven to be a golden opportunity to develop rural tourism. In 2015, Li Xitai promptly returned to his native village to open the first local mountain restaurant there. "During peak hours, we can accommodate up to 200 guests simultaneously. Our business is doing very well. We have a high turnover," he said with a smile. In addition to the restaurant, he also runs an inn with 20 guest rooms.
The arrival of tourists is a godsend for Hou Liqing, a local fruit grower who owns a 140-mu orchard. In the past, due to a lack of market outlets, he had to go from door to door to sell his fruits, whereas today, all of the fruits are sold long before they are ripe.
As a result of these changes, all the villagers have been out of poverty since 2017.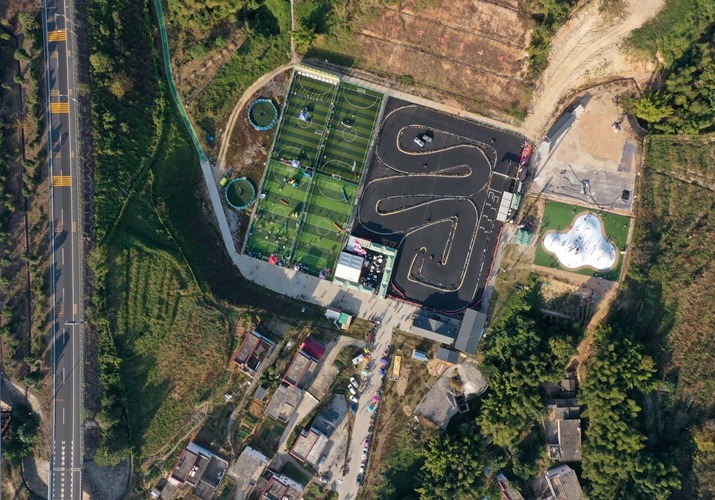 Aerial view of Luokeng Village, Jiangxi Province in east China (XINHUA)
A promising sector
At the national level, approximately 100 pilot sites were selected to develop outdoor sports in 2017 by the General Administration of Sport of China. Since then, the number of "sports communes" has been rising steadily. "With the 2022 Winter Olympic and Paralympic Games approaching, a growing number of cities have made plans to develop winter sports," said Yan Yuejin, head of the E-house Research Institute's think-tank center.
The development of Luokeng is closely linked to the development of the sports industry, which has witnessed a boom in recent years. The value of the industry has grown from 1.4 trillion yuan ($214.5 billion) in 2014 to 2.7 trillion yuan ($413.6 billion) in 2018, accounting for 1.1 percent of the nation's GDP.
However, the industry has a long way to go to realize the full potential. Per-capita sports expenditure in China is only around one-tenth of the level of developed countries. While the interest of Chinese people in new types of sports such as marathon and winter sports is clearly on the rise, it is still far from enough to be put on par with the Western countries.
Moreover, the development strategy of sports communes is not applicable everywhere. Specific resources are needed to attract tourists from all over the world, such as appropriate facilities or tournament hosting capacity. At the very least, access from the surrounding areas is essential to ensure the viability of investment projects. According to Cai Weimin, Dean of the Real Estate Research Institute of Fudan University in Shanghai, this is the reason why some projects fail. "Sports communities have been built in some remote and even inaccessible areas due to a strategic mistake at the outset."
From this perspective, Luokeng has fulfilled all the prerequisites of the sustainable development of a sports community: The site is ideally located, only 15 km from the city center, and is well suited to host national and international competitions thanks to its picturesque environment and unique hilly terrain. This sport-oriented approach has brought great dynamism to the village now fully involved in the program.