Crayfish industry represents new path out of poverty in Chongqing's Tongnan district
p.china.org.cn by Wang Jinli,January 05, 2021

Adjust font size: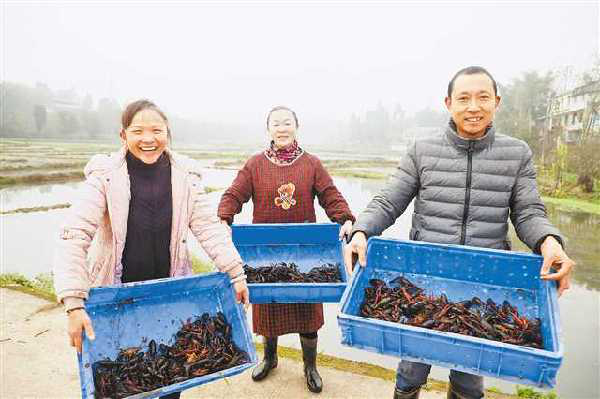 Villagers display crayfish at a rice and crayfish farm. (Photo courtesy of the Tongnan district Party committee's Publicity Department)

The crayfish industry has rapidly expanded in Chongqing municipality's Tongnan district in just three years. Farmers currently engage in the undertaking on more than 3,333 ha of land in the administrative area and produce over 8,000 tons of the crustacean per year for 500 million yuan (US$73.4 million) of annual output value. Participating in the industry has become a new method for the district's rural families to escape from poverty and become more prosperous.
On April 26, 2020, the first Chongqing Tongnan Organic Crayfish Festival kicked off in Tianyin village, Tangba town, Tongnan district. The district inaugurated an integrated development of crayfish farming and agritourism, and organized a synchronous online and offline marketing campaign to promote characteristic agricultural and sideline products produced in 50 of its impoverished villages in order to boost consumption and help reduce poverty.
Symbiotic rice-crayfish farming yields two harvests
In 2006, a farmer living in Tongnan's Shouqiao town became well-known for raising crayfish in more than 6.6 ha of paddy fields that he leased. Poor management and a relatively unsophisticated approach resulted in several years of weak output and low profits, however, and he eventually began to engage in other pursuits. Other farmers also raised crayfish in the area, but their small-scale operations and scattered distribution made it difficult to develop the industry for the next few years.
In 2016, three university graduates returned home in Tongnan and established Chongqing Rice Agricultural Development Co. Ltd. They implemented a symbiotic rice-crayfish farming system that effectively addressed the problems that the district's crayfish industry had suffered from and made it possible for one field to yield two harvests. Many of the farmers in the district quickly embraced the model as a result of the low overhead that is involved and the high profits that can be achieved.
Symbiotic rice-crayfish culture takes advantage of the spatial and temporal differences between the growth of the two organisms. Crayfish are first raised inirrigation ditches of paddy fields, and when water levels in the fields are gradually raised as seedlings grow, the crayfish march in and eat the microorganisms that live in thefields, and their manure fertilizes the rice seedlings. The entire process is devoid of pesticides and chemical fertilizer.
Chongqing Rice Agricultural Development Co. cofounder Teng Wenqiang noted that the company currently produces 6,000 kg of rice and more than 2,250 kg of crayfish per hectare and achieves 150,000 yuan (US$22,020) of average output valueand up to 300,000 yuan (US$44,040) of maximum output value.
Farmers benefit from early crayfish harvests
"Tongnan crayfish can be sold up to a month earlier than those from most other areas as a result of the unique geographical conditions in our district," an official working for the Tongnan government mentioned. "They sell out as soon as they enter the market due to their high quality and relative lack of competition."
More than 200 households farmed crayfish in Tongnan in 2019. Many rural families have become motivated to participate in the industry as a result of the prosperity that can be achieved, including those who are currently living in poverty. Several years ago, Chen Jiaxiu, a resident of Jueshan village in Tangba town, became impoverished due to mounting education expenses and an illness. She got out of poverty by farming pigs and decided to try raising crayfish in 2018. Chen initially pursued the endeavor on 0.2 ha of land, achieved a bumper harvest, and earned more than 24,000 yuan (US$3,523) of net income. She later expanded her operation and began farming crayfish on over 8.6 ha of land with some of her friends.
The Tongnan government has been encouraging the establishment of crayfish collectives so that rural households – especially those that are impoverished – can increase their incomes in a stable and continuous manner.
"I am very busy when harvest season arrives and earn more than 2,000 yuan (US$294) a month, including the overtime pay that I receive," impoverished crayfish cooperative member Tang Fangjing stated. The 55-year-old Diaolou community, Shouqiao town resident earns about 500 yuan (US$73) of additional income during these periods on top of the 1,500 yuan (US$220) a month that he usually makes.
An official working with the Tongnan government explained that the district will engage in shareholder reform, encourage rural residents to lease out their land, and explore other poverty reduction models so that people who want to participate in the industry can become members of cooperatives, receive dividends, and earn salaries by working at crayfish farms in order to become more prosperous.
Agritourism becomes a major new industry
Demand for Tongnan crayfish outstrips supply every year, but the brand is sold in a relatively limited area and is not well-known. It still has a long way to go if it is to become prominent at the national level.
A person in charge working for the Tongnan government noted that the administration has invested more than 20 million yuan (US$2.94 million) in the development of the crayfish industry in recent years.Village roads, canals, and other types of infrastructure have been improved, crayfish farming has been included in fishery insurance plans, and teams of experts have been established that provide guidance in 22 towns and sub-districts.
This year, the Tongnan government began providing 1,500 yuan (US$220) per ha of subsidies to newly established rice and crayfish farmsin order to support the expansion of the industry. The integrated development of agriculture and tourism that its crayfish festival promotes helps extend the industry chain and make it more robust as well. Crayfish are expected to be farmed on10,000 ha of land in the district by 2025 for estimated annual output value of 2 billion yuan (US$293.6 million).
Tangba's farmers have been encouraged by the success of Tongnan's first crayfish festival.Many visitors to the festival enjoyed catching and eating crayfish and picking mulberries at neighboring farms. The festival boosted the development of the local homestay and restaurant industries.
"We believe that our efforts will soon lead to the realization of a rural revitalization vision involving crayfish farming and agritourism and that the undertakings will become major industries," a person in charge at the Tongnan government concluded.