Military veterans devote themselves to fighting poverty in Guizhou
p.china.org.cn by Zhao Binyu,December 29, 2020

Adjust font size: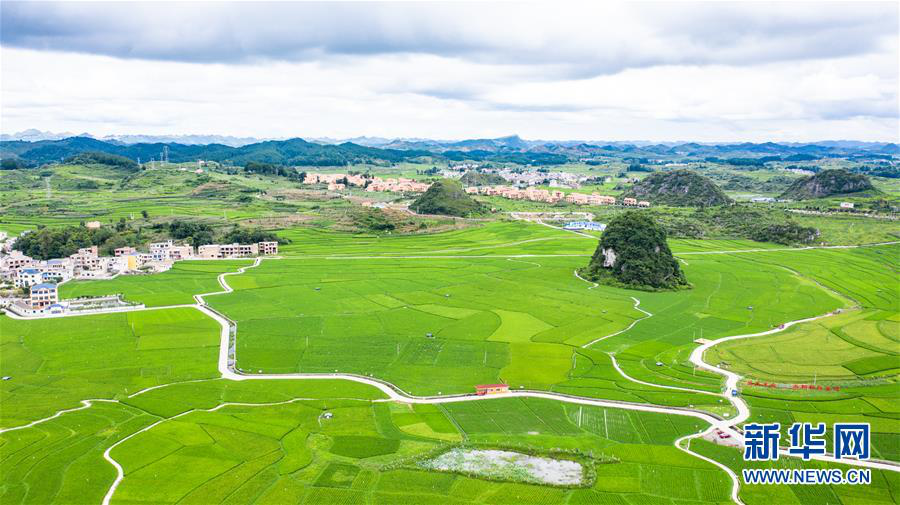 Scenery in Pingyuan village, Baiyun town, Anshun city, Guizhou province (Xinhua/Taoliang)
Military veterans become poverty fighters
Harvest season is a busy time of year in Jiuhuang village, Baiyan town, Puding county, Anshun city, Guizhou province. Local farmers cut mature chives and take them to a processing center for cleaning and packaging, and refrigerator trucks deliver finished products to Shanghai, Guangdong, Zhejiang and other parts of China.
Jiuhuang Party Secretary Yang Shouliang has been busy overseeing the chive harvest in the village. He mentions that approximately 45,000 kg of the crop is produced per ha and that it sells for four yuan (US$0.59) per kg, thus 180,000 yuan (US$26,334) of income is achieved per ha. The local processing company later sells packaged chives for 12 yuan (US$1.76) per kg.
Jiuhuang was impoverished just a few years ago. Most of its residents grew corn for a living, and its households earned an average of less than 10,000 yuan (US$1,445) a year. The village has the benefit of being home to the Nationally Protected Geographic Indication Baiqi chives brand, but production was scattered and small-scale. One thousand six hundred forty-five of Jiuhuang's 6,373 residents were impoverished; the poverty rate was 25.8 percent.
"We will harness and develop the Baiqi chive brand so that everyone can get out of poverty, increase their incomes, and become part of the emerging moderately prosperous society," Yang Shouliang promised Jiuhuang's residents when he became its Party branch secretary in 2016. "Poverty is a battle that we must win!" The official previously spent four years in the military and began selling vegetables from Yunnan, Guangxi, and Hunan after he left the army. His years of experience in business made him realize that the village could get out of poverty by harnessing and expanding its chive production.
Yang Shouliang's first goal as Party secretary of Jiuhuang was to improve the transportation in the area so that fresh chives could be easily shipped to buyers. He traveled to various government offices and applied for funding for roadway projects, and a better road system was finally constructed.
Some villagers were not interested in growing chives, which was another problem that needed to be solved. Yang mobilized 74 veterans in the village and formed groups that explained government policies to the public, coordinated various funding, helped transfer land from residents to business entities in exchange for payments, and established village-level companies to stimulate public enthusiasm.
Yang also formed a team of 32 sales representatives in order to find more buyers. They spent time exploring the market and have established long-term sales agreements with many farmers' markets and large supermarkets in Guangdong and Shanghai.
The more than 400 ha of chive fields in Jiuhuang have been an important part of the village's emergence from poverty. The formerly impoverished administrative area has transformed itself after three years of hard work, and Yang Shouliang was honored with the "National Model Veteran" distinction. Annual per capita disposable income came to almost 16,000 yuan (US$2,315) a year in 2019.
"More than 80 ha's worth of vegetables are currently being grown in our village, and over ten tons of produce are delivered to market every day," Yang Bing, Party secretary of Yisuo village, Guanling Buyi and Miao autonomous county, Anshun city, recently stated while picking eggplants with local farmers.
"We are able to sell various vegetables in succession," Yang Bing noted. "This makes it possible for members of impoverished households to earn money throughout the year. Chinese eggplant is particularly useful because it can be harvested from May to the end of the year." The veteran began growing vegetables and engaging in other forms of work after he retired from the army in 2001 and started promoting eggplant, cucumber, gluten-free bean, and ginger farming endeavors when he became the Party secretary of Yisuo village.
Yisuo has emerged from poverty as a result of the efforts. Its annual per capita disposable income has risen from 4,600 yuan (US$665) in 2014 to about 10,000 yuan (US$1,445) in 2019.
Guizhou has issued several policies designed to support military veterans' work and has made good use of them in its campaign to end poverty in its borders. A total of 9,116 model veterans have been selected as village Party secretaries and are on the front lines in the battle against poverty.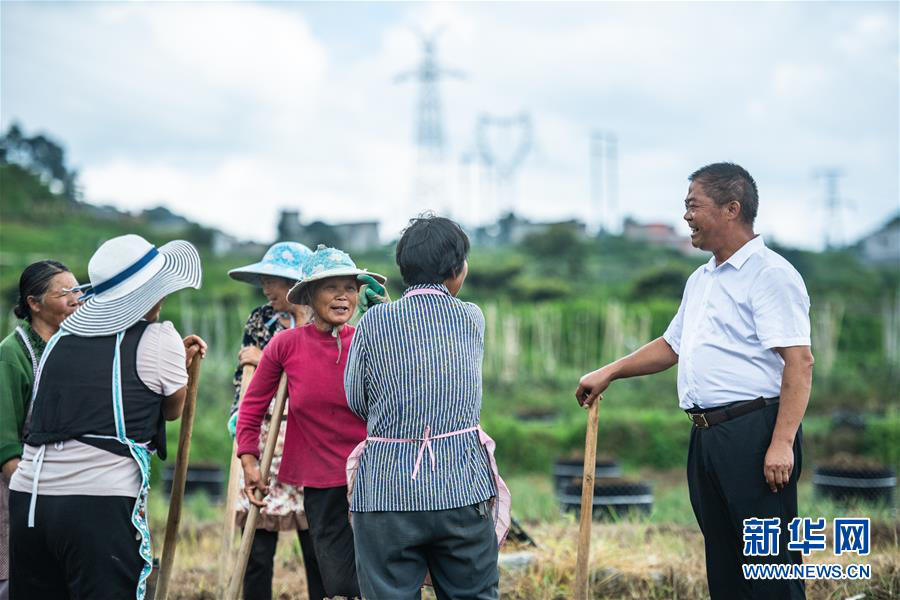 Party Secretary of Jiuhuang village Yang Shouliang (right) talks with farmers in Puding county, Anshun city, Guizhou province. (Xinhua/Tao Liang)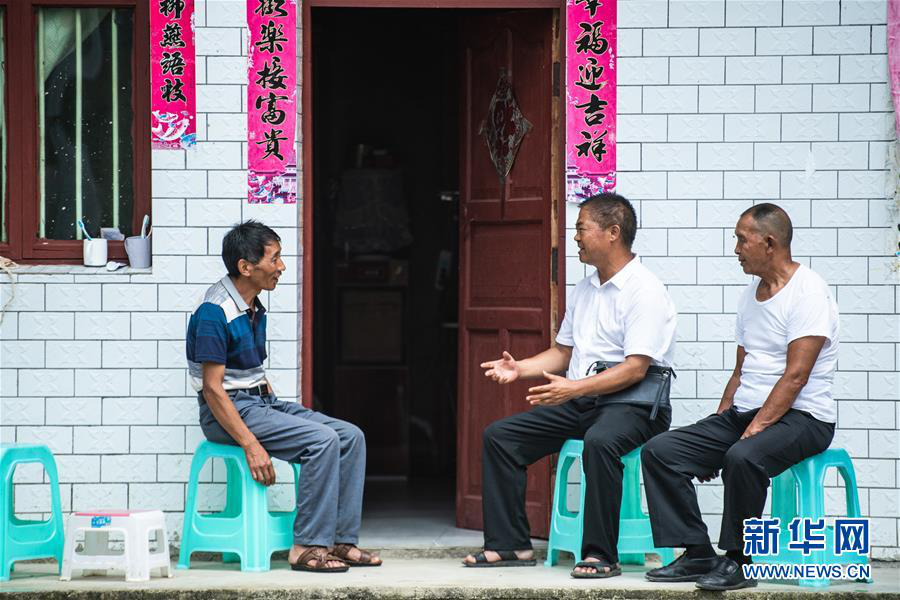 Yang Shouliang (center) visits Jiuhuang resident Yang Shourong. (Xinhua/Tao Liang)
Commitment to winning the battle against poverty
In 2016, military veteran Xiao Zhengqiang was elected Party secretary of Pingyuan village, Baiyun town, Pingba district, Anshun city. He wanted to pursue new industries in the village but first needed to address the lax and ineffective manner of working that the hamlet's officials engaged in.
"I realized that relations between the officials and villagers were relatively tense after I made some investigations and that residents had many complaints," Xiao remarked. He also stated that the members of the village leadership tended to be negligent and that they often failed to handle their duties and help people in need. Three incompetent officials were eventually replaced by new staff selected through public recommendation and appraisal, and Baiyun's Party committee signed off on the decision. The officials who compose the village leadership are now full of vitality, and their average age decreased to 38 years old.
"There is strict discipline in the army," Xiao noted. "It is very orderly, and commands are executed without fail. How can we achieve a decisive victory in the battle against poverty without diligence and discipline?" He also remarked that his military experience inspired him to begin by addressing officials' work styles.
Xiao required the members of the village leadership to be punctual, complete their entire shifts, and apply for leave if necessary, and formulated other regulations. He also began holding regular meetings on Mondays and Fridays for the purpose of reviewing various policies, explaining practical protocols and information, and expounding upon concepts and information related to the market economy. An assessment system was also established in which outstanding officials are chosen by the public and awarded and those with poor performance are punished.
"The officials that work in Pingyuan now provide good service to people in need and do so in a timely manner," Xiao explained. "The relationship between ordinary villagers and officials has become very harmonious." He also stated that residents' approval rating of the village leadership has exceeded 90 percent since 2018.
Military veteran Li Gang found that some of the officials working in his village played cards, were not diligent, and gave preferential treatment to friends and relatives, and that the village Party branch was lax and had not recruited new members for many year when he was appointed Party secretary of Wushimu village in Haizijie town of Bijie city in 2015. His dedication eventually contributed to the village's emergence from poverty.
Li focused on Party building and improving officials' work styles in order to address the problems that he found. He recruited more than ten new Party members in succession and normalized the activities of the village Party branch. Major village affairs, particularly identification of impoverished households and distribution of minimum allowances, must be discussed and approved by the villagers' assembly instead of the village officials themselves. Li believes that the principles and sense of discipline that are instilled in people who serve in the military can be effective in grass-roots governance and that these traits can help improve officials' mental states and work styles in a relatively short period of time.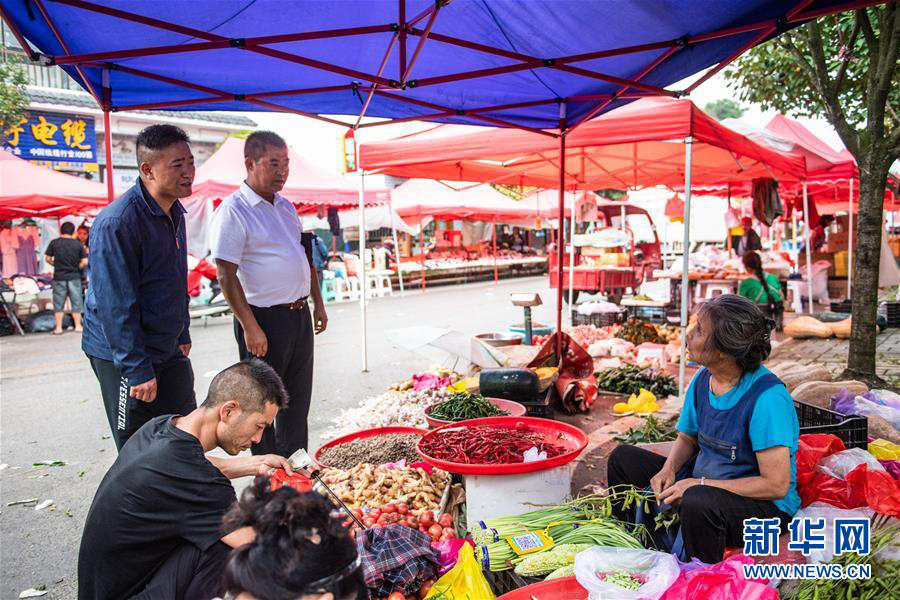 Yang Shouliang (second from the right) and veteran Yao Yanpeng (left) talk to a farmer. (Xinhua/Tao Liang)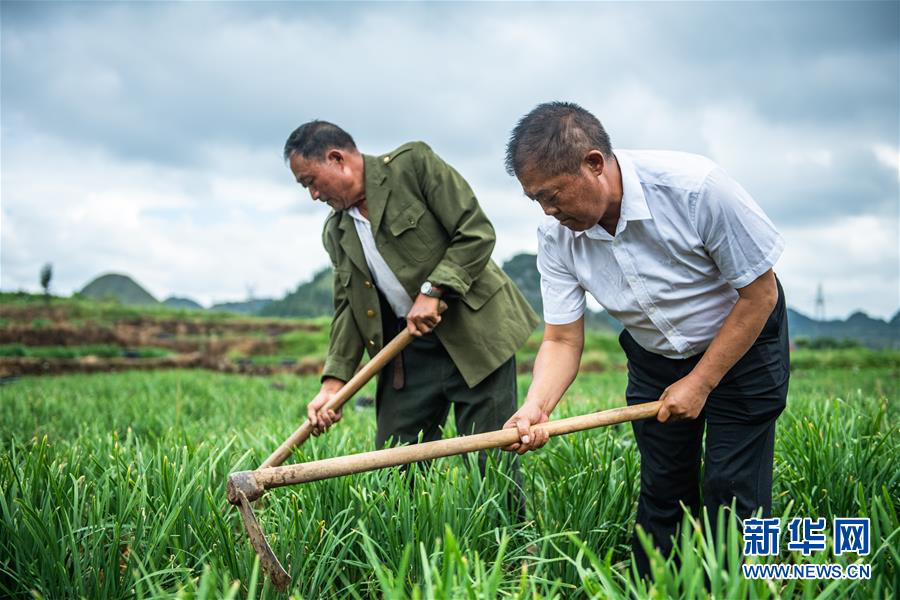 Yang Shouliang (right) plows chive fields in Jiuhuang village. (Xinhua/Tao Liang)
Variety of measures taken to eliminate poverty
Guizhou Provincial Veterans Affairs Office Director Pan Ke noted that with years of training and education in the army, these village Party officials have excellent ideological and political qualities, and in the meantime, they have a supple mind and and are willing to try new approaches on the front lines of the nation's poverty alleviation campaign. They have adopted a variety of methods to develop crop farming, animal husbandry, tourism, and other undertakings that factor in local conditions, which has made it possible for impoverished villages to become more prosperous.
Chen Bin returned to Xinfa township, Weining Yi, Hui, and Miao autonomous county, Bijie city in 2012 after finishing eight years of military service and became Party secretary of a local community in 2016. He has since devoted himself to reducing poverty and helping locals improve the infrastructure in the area.
"I am resilient and I often visited relevant offices once and again until problems are solved," Chen explained. The official has initiated projects involving road construction, drinking water supply for people and livestock, renovation of dilapidated homes, and other undertakings. He led efforts to establish a poultry farm that can house up to 250,000 chickens and currently produces more than 230,000 eggs per day and an 80-ha vegetable cultivation base that provides job opportunities for 200 impoverished households. Chen also meets with families in their homes and advises them about various educational matters. He has been able to eliminate the phenomenon of students dropping out of school in the area. Forty students in his community are now receiving university education, a significant growth compared to only three in 2012.
The aroma of fruits and vegetables floats through the air during the summer in Zhongchao village, Liping county, Qiandongnan Miao and Dong autonomous prefecture, and crowds of tourists usually come to the area. It's also often a busy season for Zhongchao Party Secretary Wu Changlin who oversees the village's strawberry and grape harvests and arranges deliveries to various supermarkets.
Wu was born in the 1980s and became Party secretary of Zhongchao village in 2012 after he retired from the army. He transferred about 2 ha of land from over 30 households to a new farming entity and led them to grow strawberries. More than 10,000 kg of the fruit were harvested and sold for over 600,000 yuan (US$86,700) in the first year alone. Wu then spearheaded the development of an eco-agricultural sightseeing park that combines fruit and vegetable farming with rural tourism and has helped 90 households escape from poverty.
Wang Tianqiang, 38-year-old supervision committee director of the Fenghuangtun village, Pingshan township, Shiqian county, Tongren city, won "model soldier" honor three times when he was in military service. He retired from the army and returned to his hometown in 2003, and has since become a poverty reduction leader. In order to start a tea plantation he spent all his savings on leasing land. He bought books about the subject, and participated in training programs. The veteran gradually expanded his operation to its current 26.6 ha and achieves more than 1 million yuan (US$144,500) of annual output value at present.
"Prosperous people shouldn't forget their poverty-stricken peers," Wang mentioned. As many of the village's residents are still impoverished, he has reached out to help them improve their lives. The official has taught members of more than 30 poverty-stricken households in the village to cultivate and process tea, and many of them have become fairly major growers.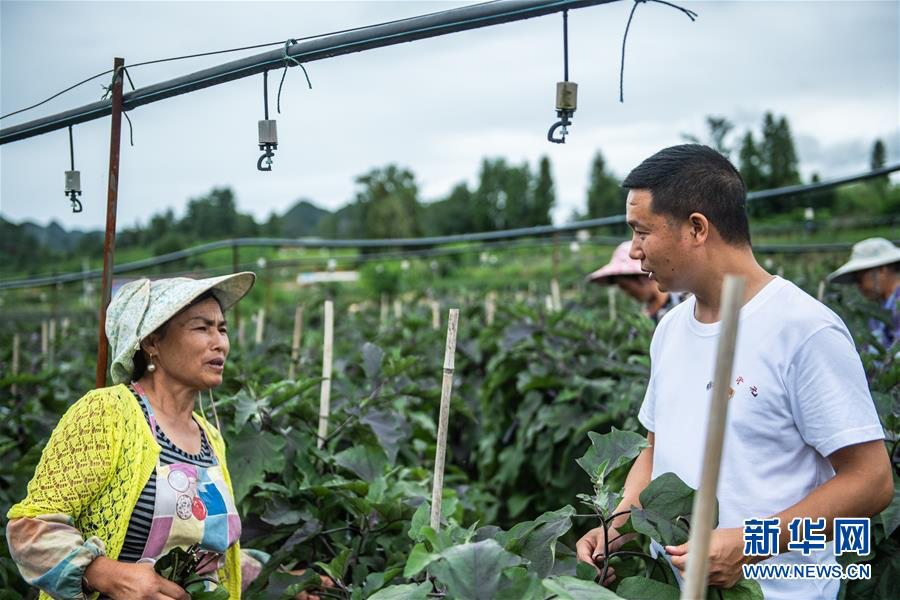 Pingyuan Party Secretary Xiao Zhengqiang (right) talks to local resident Zhang Xiuyun about eggplant sales. (Xinhua/Tao Liang)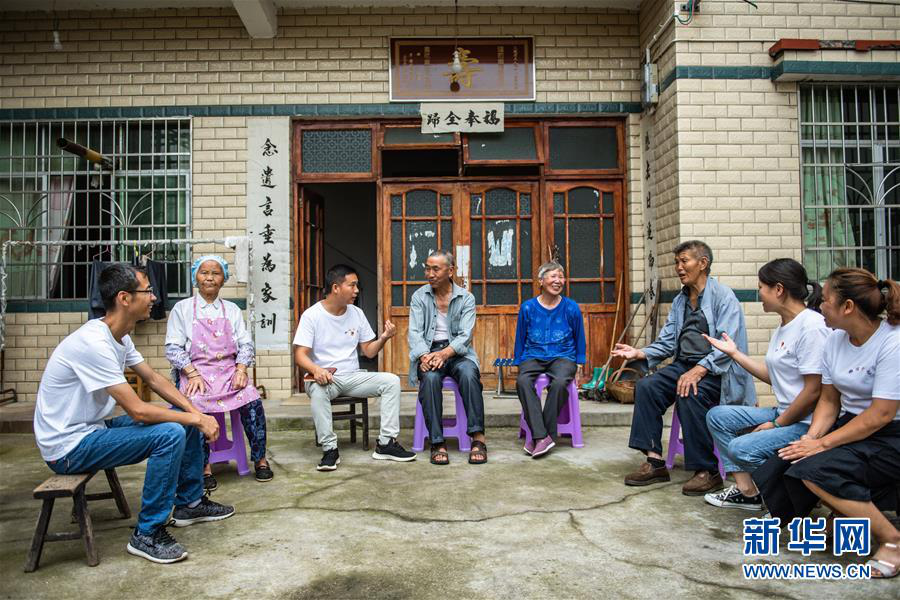 Xiao (third from the left) leads a village committee meeting at Huang Kaiwei's (forth from the left) home. (Xinhua/Tao Liang)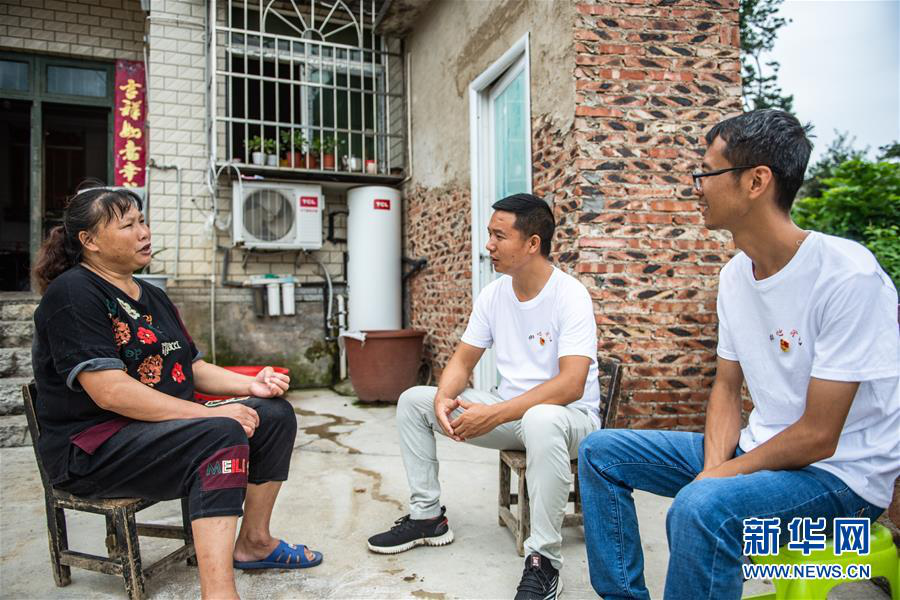 Xiao (middle) visits Pingyuan resident Qiu Mingfeng at her home. (Xinhua/Tao Liang)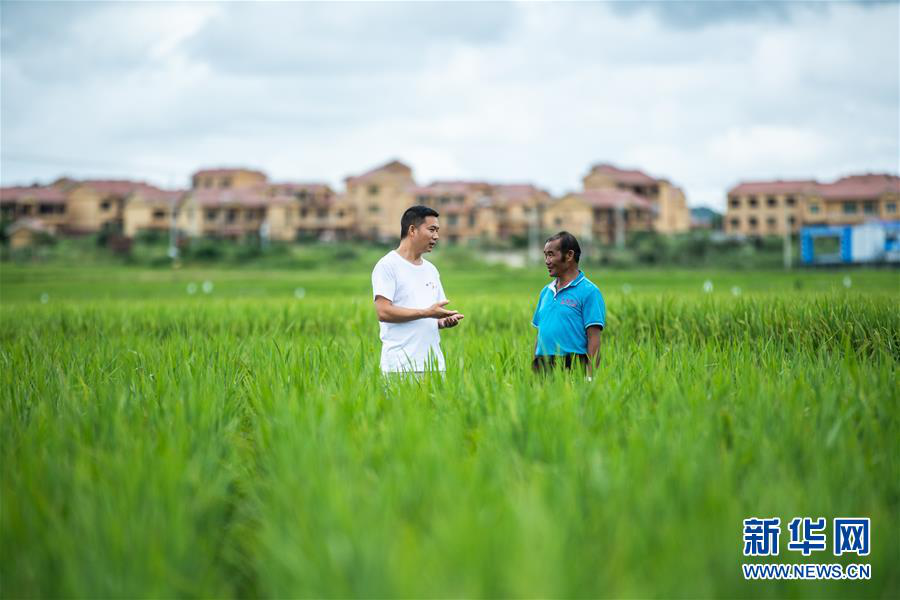 Xiao talks with impoverished citizen Luo Zhengyou about work conditions. (Xinhua/Tao Liang)