Guangdong engages in cooperative poverty alleviation with 4 other provinces and region
p.china.org.cn by Zhao Binyu ,December 21, 2020

Adjust font size:

Two years ago, 48-year-old Liangshan Yi autonomous prefecture native He Gongge in southwest China's Sichuan province summoned the courage to migrate to Foshan city in southeast China's Guangdong province for work, which made it possible for her family to escape from poverty.

Twenty-year-old Nujiang Lisu autonomous prefecture native Zhang Jiangling from Yunnan province also vowed to improve her life after completing a one-year technical education program in Zhuhai city, Guangdong province.

Guangdong has been engaging in cooperative labor agreements with provinces of Sichuan, Yunnan and Guizhou as well as Guangxi Zhuang autonomous region since 2016, which has made it possible for poverty-stricken citizens from deeply impoverished areas to work in the province in order to get out of poverty in a fast and stable manner.

Leaving hometown areas to pursue happier lives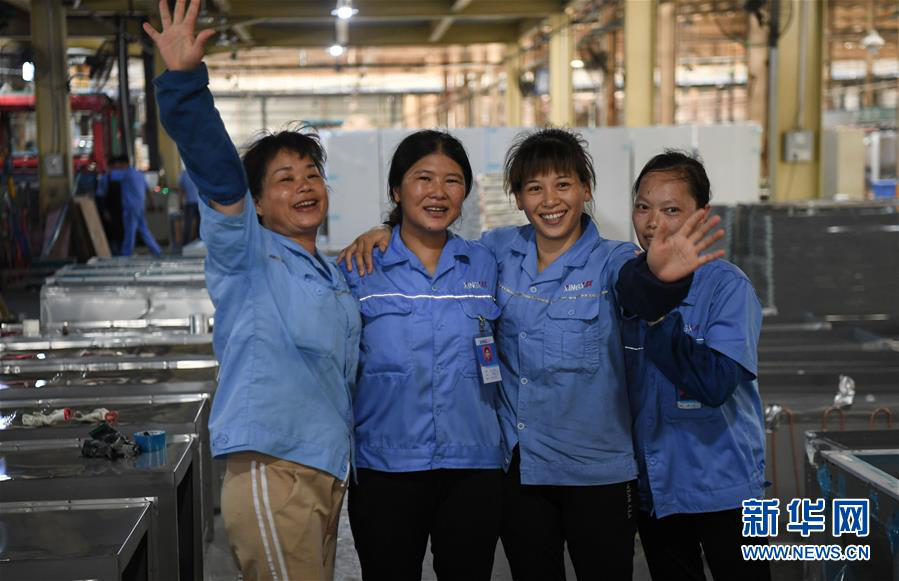 He Gongge (second left) and some colleagues who are also from Yanyuan county, Liangshan Yi autonomous prefecture, Sichuan at the Guangdong Star Refrigeration Equipment Co. Ltd. factory that they work in Foshan city (Xinhua/Deng Hua)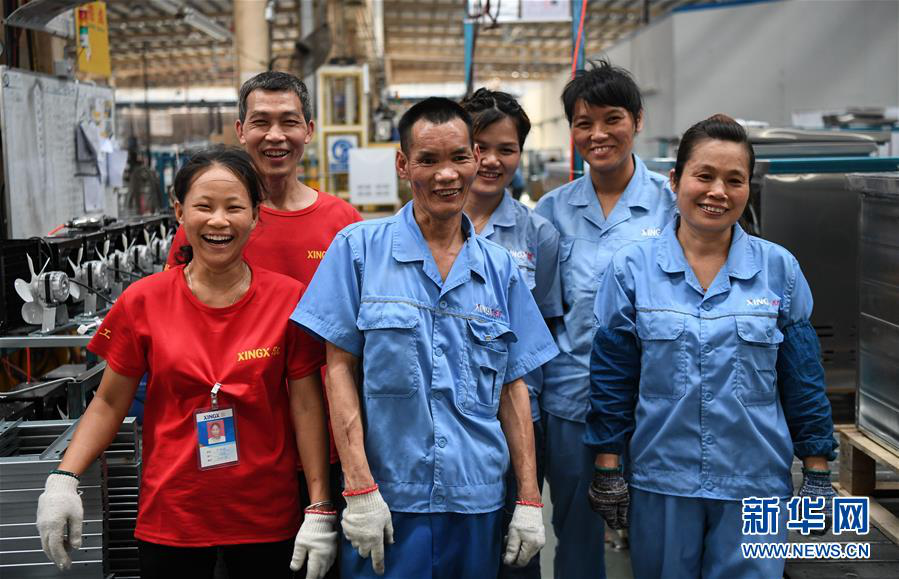 Li Liwa (middle front) from Yanyuan county, Liangshan Yi autonomous prefecture, Sichuan and some other employees at the factory they work in Foshan (Xinhua/Deng Hua)
This summer, 45-year-old Guangdong Star Refrigeration Equipment Co. Ltd employee Li Liwa was installing compressors in refrigeration cabinets on an assembly line at a factory in Foshan. He is very proficient with his work and has been acknowledged as one of the most hardworking employees in the factory, despite the fact that he has disabilities. His 48-year-old wife, He Gongge, also works at the company and has been assembling refrigeration cabinets on the other side of the facility.
Li and He have never received formal education, and their household was identified as impoverished by the government of Liangshan's Yanyuan county a few years ago. The couple grew corn and potatoes and raised pigs and poultry for many years, but the income that these endeavors generated was not enough to cover their two sons' education and living expenses, so they borrowed money to cover all their costs.
"If I fail, I will ask the government to send me home," He Gongge thought to herself when she decided to participate in a cooperative employment program organized by the Foshan and Liangshan governments in 2018 and departed for the Pearl River Delta area with a group of fellow villagers.
"We feel at ease now that we have paid off our debts," She said while smiling now that she has learned how to work on various production lines and repaid friends and relatives whom she borrowed money from. "If only we had started working here earlier." Her husband became employed at the Guangdong Star Refrigeration Equipment Co. a month after she started, and their decision to work outside of their hometown has changed their lives completely. The couple currently earns a total of 80,000 yuan (US$11,268) a year, which makes it possible for them to support themselves, pay for their sons' tuition and living expenses, and save for the future.
Employment is often the most effective and direct way for poverty-stricken people from severely impoverished areas to escape from poverty. Since 2016, Guangdong has been fully harnessing its advantages of industrial development in the cooperative poverty alleviation framework between localities in eastern and western China and provides job opportunities to impoverished people from western parts of the country to help them escape from poverty .
A total of 346,400 impoverished citizens from Sichuan, Guizhou, and Yunnan provinces and Guangxi Zhuang autonomous region started working in Guangdong-based companies from 2017 to June 2020 via cooperative east-west poverty reduction agreements.
A total of 53,518 impoverished citizens from the three provinces and the autonomous region have begun working in Guangdong as of the end of May, despite both the impact of the COVID-19 pandemic and the fact that only 13,145 more people were originally slated to do so this year.
Receiving laborers with warmth and sincerity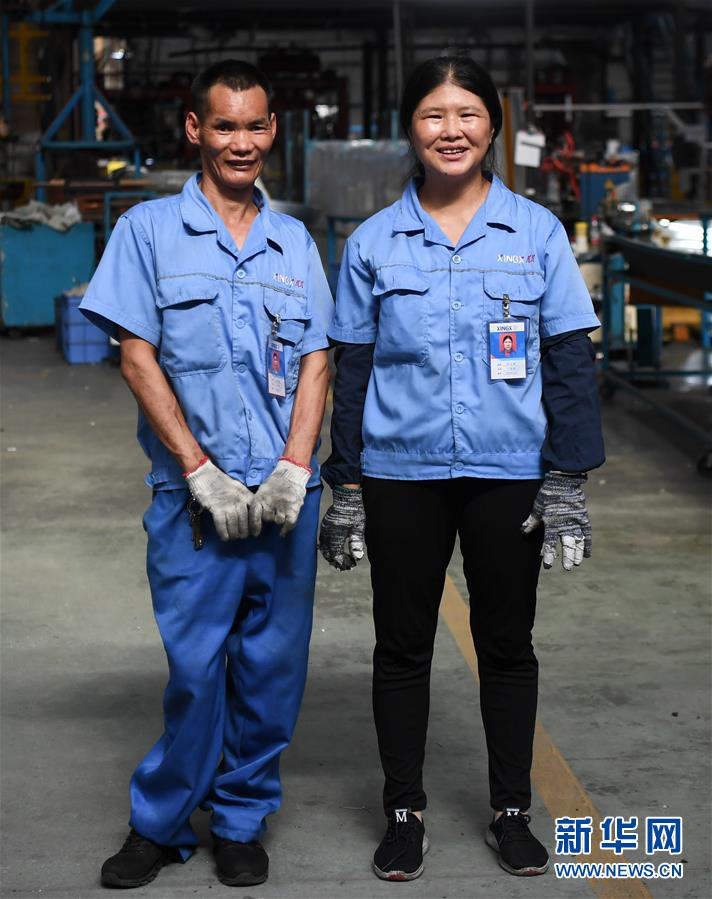 Married Yanyuan natives Li Liwa (left) and He Gongge at the Guangdong Star Refrigeration Equipment Co. factory where they currently work at in Foshan (Xinhua/Deng Hua)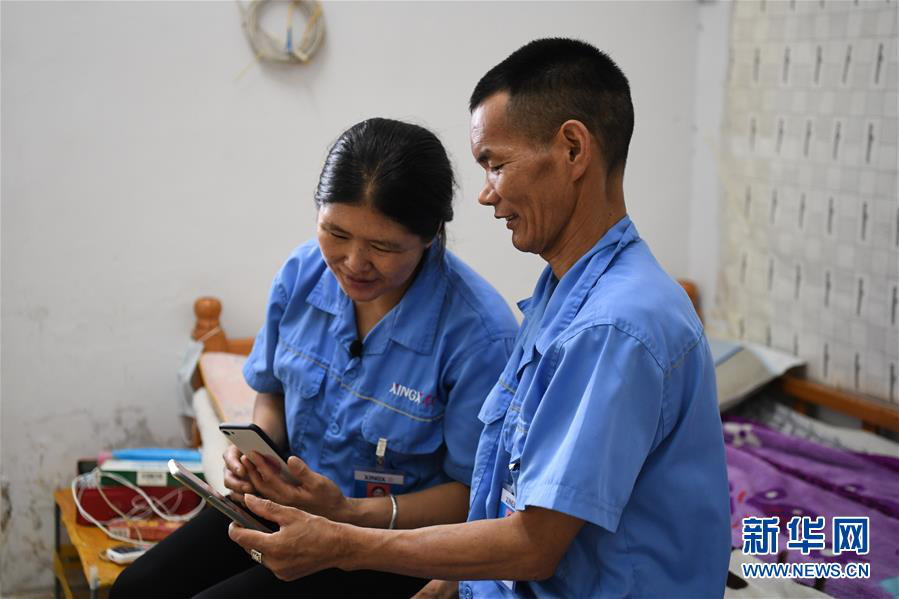 Li and He use their smartphones in their dorm room at the Guangdong Star Refrigeration Equipment Co. campus in Foshan during some of their spare time. (Xinhua/Deng Hua)
Many poverty-stricken people from deeply impoverished areas have spent their entire lives in the mountainous regions, which can make it difficult for them to adapt to life in other areas.
"At the end of November 2016, the first group of migrant laborers – 155 in total – went to Zhuhai," noted Yang Shiqiang, an official who had been working in Nujiang Lisu autonomous prefecture and is currently stationed in the Guangdong city. "Some people cried as soon as they got out of the vehicles that brought them there. Two months later, only a little more than 20 remained." Yang explained that those who left had experienced many problems, such as difficulty adjusting to their new environments, inability to acclimatize, changes in eating habits, and trouble with their work.
Zhuhai created "Nujiang staff quarters" that provide free food, housing, training, job placement services, and other types of resources and amenities for impoverished laborers from the prefecture who work in its borders in order to help address the situation. The facilities also help people get new jobs if their current position is not a good match for them.
Sichuan, Guizhou, and Yunnan and Guangxi also assigned their relevant officials to station in Guangdong in order to help their migrant laborers feel more at home. Yang Shiqiang is one of these officials and has been working in Zhuhai ever since 2016. He is responsible for helping migrant laborers from Nujiang set up bank accounts so they can receive their salaries, make arrangements to return home on holidays, change jobs if necessary, and complete other tasks that they may need assistance with.
Laborers from Nujiang are becoming more comfortable in Zhuhai and their lives are becoming stabler as a result of the "Nujiang staff quarters" that were created, the supportive officials that have accompanied them, and the examples that formerly impoverished people who have escaped from poverty have set. More than 3,000 poverty-stricken migrant workers from Nujiang have gone to work in Zhuhai via a cooperative employment program so far this year, and only 70 of them have returned to their hometowns.
The enterprises that have been involved with Guangdong's cooperative poverty alleviation programs have taken additional steps to help impoverished households as well. Xu Qing, manager of the Dongling Intelligent Electrical Appliance Technology Co.'s human resource department in Foshan, Wu Shihong, manager of Zhuhai Penghui Energy Co. Ltd.'s human resources department, and many other leaders have visited Liangshan and Nujiang more than ten times in the past two to three years and have forged deep connections with their residents.
"It's okay if the impoverished laborers who come here from other areas go slowly at first or make some mistakes," Wu Shihong stated. "We should provide them with opportunities and have the patience to let them learn. They will generally do as well as other staff members after about three months, and some will do even better."
Implementing support policies
All levels of government in Guangdong have created great support policies that promote the employment of impoverished laborers in the province, such as making direct subsidies available for these types of employees if they meet certain conditions, granting special subsidies to enterprises for every poverty-stricken migrant worker that they employ for more than six months, implementing a system that makes it possible for those who come to choose and change jobs more easily so that they can get positions that suit them, and so on.
Exhibiting determination to achieve dreams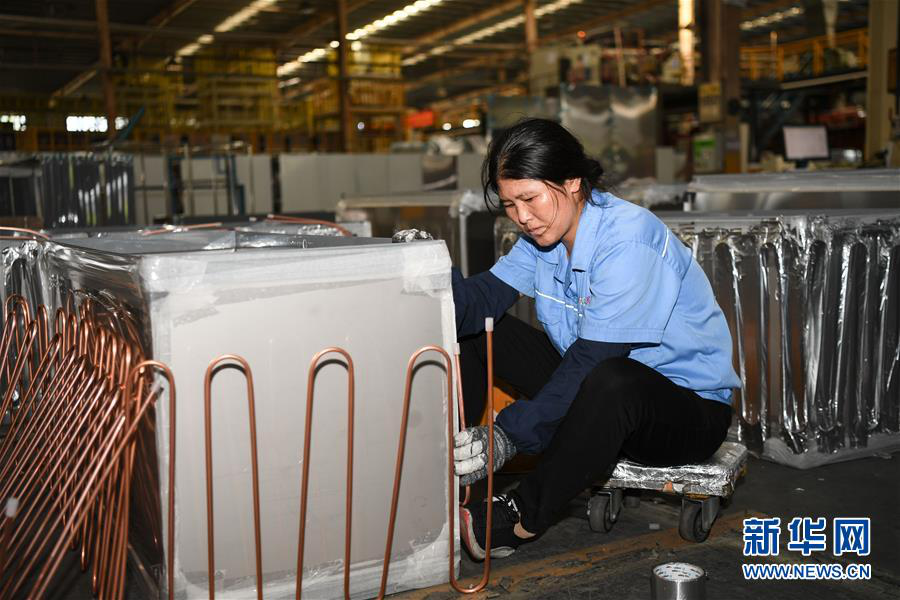 He Gongge assembles equipment at the Guangdong Star Refrigeration Equipment Co. factory in Foshan. (Xinhua/Deng Hua)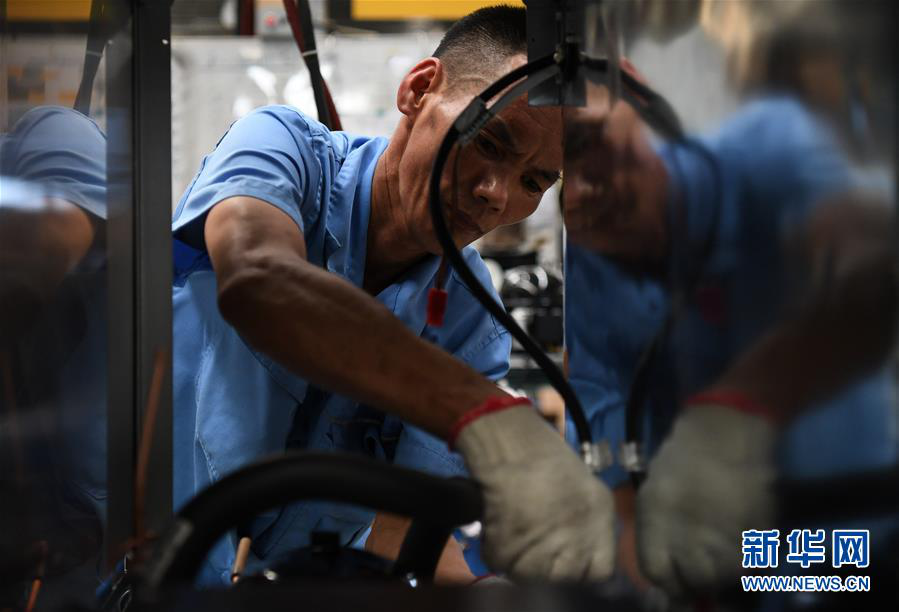 Li Liwa works on an assembly line at the Guangdong Star Refrigeration Equipment Co. factory in Foshan. (Xinhua/Deng Hua)
Broadening one's horizons after leaving mountainous areas
Jinyang county native Shamajiutu moved from Liangshan Yi autonomous prefecture to Foshan with his wife for employment reasons in 2018, and the couple currently earns a total of almost 100,000 yuan (US$14,370) a year. Shamajiutu mentioned that subsidies were originally one of the main reasons why he was interested in working in Foshan, but he later gained a new understanding of work and life and has gotten more out of the experience than he expected.
"We can't rely on government support our whole lives, even if we are in poverty," Shamajiutu continued. He recognizes the importance of education and has promised that he will make sure his children get educated.
Other measures have been taken to help impoverished people live more prosperous lives as well. Guangdong has promoted technical education in order to help improve young people's vocational abilities so they can get out of poverty and break its vicious cycle.
At the end of 2016, Zhuhai Technical College implemented a paired education assistance program for Nujiang natives. The institution waives all tuition fees for graduates from the autonomous prefecture's junior and senior high schools and provides job placement services. The college's president, Gao Xiaoxia, stated that yearly 6,000-yuan (US$865) stipends and other allowances are also available.
Nujiang native Zhang Chi was worried about how she would further her education and was unsure of her employment prospects when she graduated from high school in 2017 due to her family's financial difficulties. She became aware of Zhuhai Technical College and its special policies for Nujiang natives, however, and was able to enroll in a senior mechanical and electrical technician program for free at this crucial stage of her life. Zhang and another student later traveled to Germany to receive additional training from local enterprises, and the rest of her classmates began interning at high-quality enterprises in Zhuhai in July 2019.
"I decided to sign a contract with a company and will earn 5,000 yuan (US$705) a month," Zhang explained. She also mentioned that most of the more than 50 students in her class have chosen to stay in Zhuhai in order to pursue their dreams while the remaining a few have returned to their hometown areas to pursue their lives.
Impoverished citizens have the opportunity to change their fates when they move away from their hometowns and forge ahead in their lives. More and more poverty-stricken people have been summoning the courage and determination to leave the mountainous areas that they are from in order to pursue happier lives.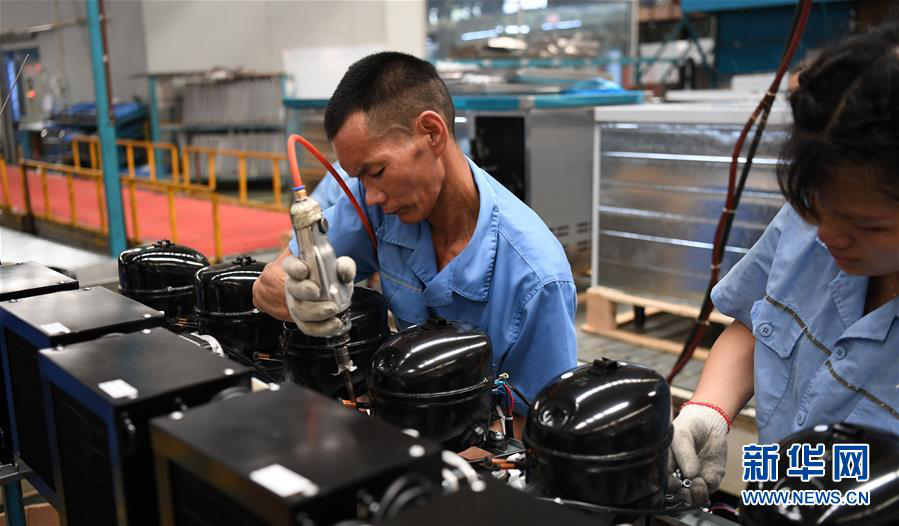 Li Liwa (left) works on an assembly line at a Guangdong Star Refrigeration Equipment Co. factory in Foshan. (Xinhua/Deng Hua)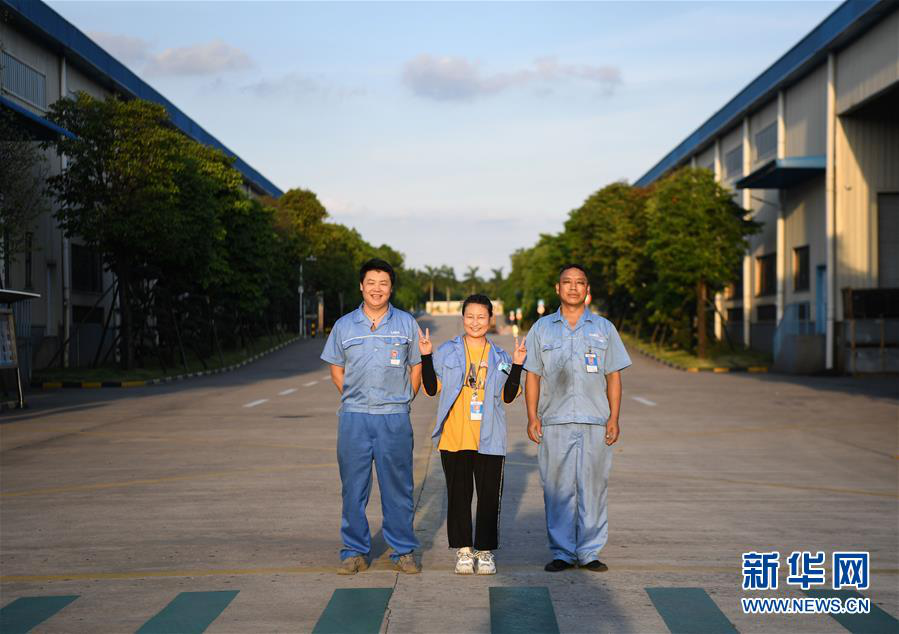 Impoverished migrant workers Wu Yuanguo, Yi Zhengmi, and Dong Zhengjun (from left to right) pose for a photo after their shift at a Guangdong Star Refrigeration Equipment Co. factory in Foshan. They were natives of Yanyuan county in Liangshan Yi autonomous prefecture, Sichuan, and were able to get their positions as a result of an agreement made through China's cooperative poverty alleviation framework between localities in its eastern and western regions.(Xinhua/Deng Hua)