Impoverished households achieve prosperity by raising high-quality pigs in Sichuan
p.china.org.cn by Ye Kai,December 10, 2020

Adjust font size: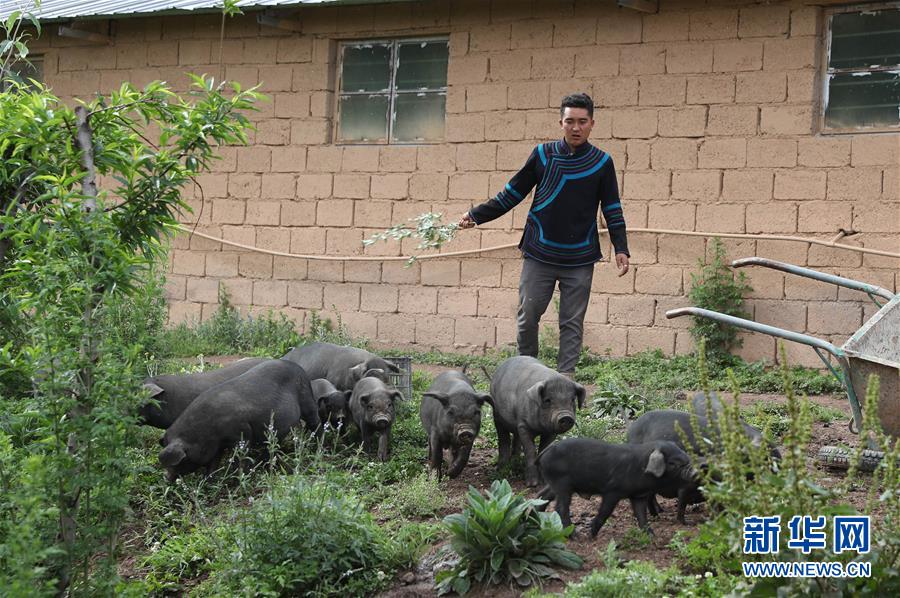 Zheng Chihe takes some of his pigs to graze in a field. (Xinhua/Jiang Hongjing)
Located at an average altitude of 2,500 m, Sanhe village, Liangshan Yi Autonomous Prefecture, Sichuan province is a mountainous hamlet full of largely unproductive land. Its residents have lived at the mercy of the elements for many years as a result of the undesirable conditions that are present in the area.
Zheng Chihe is a young ethnic Yi pig farmer who lives in Sanhe. He became a migrant laborer as an adolescent and never finished high school – a common phenomenon in his village. Zheng learned large-scale pig farming techniques at a major pork company in Jiangxi province during the time he spent working outside his village and felt inspired to apply them at home in order to expand production of the local, high-quality Wujin breed.
In August 2017, Zheng returned to Sanhe to pursue his idea. He borrowed money from friends in order to pay for the construction of a pigpen and a new road to the premises, which he built with an excavator that he rented. Zheng and his wife, Luogu Youre, began commuting to the site by three-wheeled cargo motorcycle, growing fodder, grazing their animals, cleaning and maintaining their facility, and engaging in other tiring, mucky, and monotonous tasks but felt very happy to witness the gradual growth of their animals. The couple sold out their mature pigs after a year, which made it possible for them to escape from poverty, and many people who initially doubted their ability to engage in large-scale Wujin pig farming began to visit them.
Zheng eventually established a cooperative with the help of the poverty alleviation team working in Sanhe in order to expand the scale of his undertaking and make it possible for more people to participate. He loans the cost of the piglets that he provides to new members to dispel their misgivings and deducts these expenses from the profit that they receive when mature pigs are sold. The cooperative currently has an inventory of 300 head, and its members raise a total of 200 additional head independently. Sixty households are involved with the organization at present.