Successful business is not chicken feed
China Daily by Wang Ru/Ma Jingna,November 16, 2020

Adjust font size: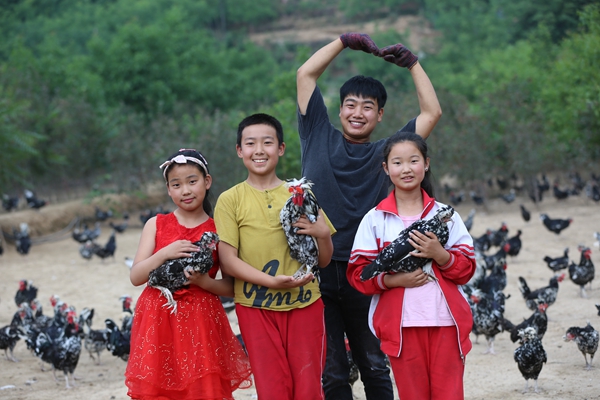 Shang Yukang raises princess chickens in rural Gansu province and gives his business a boost by producing popular online videos.
Art and beauty can appear in the most unlikely of settings.
Few would consider an image of chickens feeding as being a likely setting. But, when observed from above, they seem to form shapes that resemble a heart or the Chinese characterfu, which means "good fortune". They have certainly brought good fortune to the man breeding them.
This is not chicken feed. Such videos on short video-sharing platform Kuaishou have attracted many viewers. Uploader Shang Yukang, 24, returned home to raise fowl after working in various locations.
He was born in Baimasi, a small village in Chengxian county, Longnan city, Gansu province. Opportunities there were scant and most people left for work. The village only had about 100 elderly people and children. Shang grew up with his grandparents.
The village did enjoy one claim to fame; it was renowned for its walnuts, but because of its isolated location it was difficult for buyers to get to.
When Shang was 17, he followed his parents' path and left. He did odd jobs for two years as a cook, driver and factory worker in Beijing, Fuzhou, Fujian province and Suzhou, Jiangsu province.
But a program he watched on TV in 2015 changed his life. The program looked at people raising princess chickens. This type of bird has three combs and five toes on each foot. He decided to go back home and raise them himself.
"I thought I was still quite young, and should do something I really wanted to do. It was kind of an adventurous choice for me since I didn't know whether it would help me earn much money, but I just wanted to try," says Shang.
His decision met with strong opposition from his grandparents who believed it was a risky endeavor. They asked what would happen if the birds became sick. They believed he was making a mistake by, literally, putting all his eggs in one basket.
"My grandfather said I should learn a craft and continue to work outside so that I can earn money. He said even growing walnuts is better than raising chickens," says Shang.
Shang didn't change his mind. With 40,000 yuan ($5,700) he collected, he bought 500 princess chickens and raised them in the house his family had prepared for his brother to get married, and started his own business. He searched for information about raising chickens online, and also consulted people from the county's animal husbandry bureau and local veterinarians.
He gained a little profit from the first batch of chickens, and soon bought more and raised them in his grandfather's walnut garden. This was outside the village in the mountains, so that the sound of chickens would not bother anyone.
Then disaster struck as his grandfather had predicted. For some reason the chickens became ill and many of them died. He sought expert advice and help but he still lost 1,500 of his flock of 2,000.
"The next day I saw his eyes were still moist, and he was too upset to have lunch," says Shang Deyun, Shang Yukang's grandfather.
"He was afraid villagers would laugh at him, or we might scold him."
The illness cost Shang Yukang about 20,000 yuan, but he was determined to continue. His flock recovered and grew.
Shang had some spare time on his hands and began to watch short videos on Kuaishou. He saw many people share videos about their rural lives. He thought he could make such videos as well.
In 2017, he began to upload humorous videos about raising chickens. They included the chickens forming different patterns when they are fed and details about his work and daily life.
Shang now boasts 465,000 fans on the platform. His nickname is "chicken commander" in the village.
Some of his fans contacted him to buy eggs or chickens.
"The princess chickens I raise are more expensive than normal chickens, and local customers cannot afford to buy them. Through the internet, people in other places notice my birds and order online, so now they sell well," says Shang.
Shang earned about 100,000 yuan selling eggs and chickens in 2019.Now 70 percent of his eggs are sold online.
In 2019, he rented land in other villages, secured a loan of 250,000 yuan and planned to enlarge the scale of his hennery.
When villagers saw Shang's chicken business develop rapidly, they also wanted to follow his example. With local government help, Shang established a cooperative to teach villagers how to build and market a business.
In 2018, he was awarded the title of "the rural young wealth-leader of Chengxian county" by the local government.
Shang says in the future, he wants to organize a small group to make short videos, and try to sell other local products online.
"I used to work for others, but now I work for myself. The prospects seem to be brighter, and I feel more motivated."