Daylily growing helps farmers shake off poverty in Shanxi
Beijing Review by Yang Mengzhuo,November 09, 2020

Adjust font size: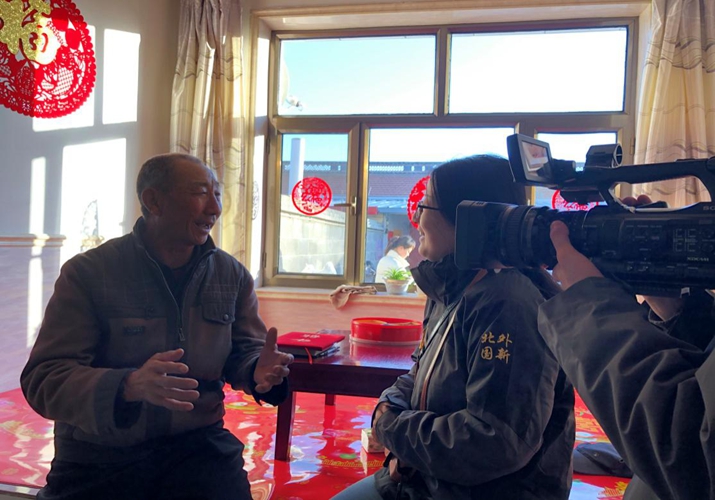 Bai Gaoshan (left) discusses the relocation to Fangcheng New Village, Datong, Shanxi Province in northern China (COURTESY PHOTO)
66-year-old Bai Gaoshan can't forget the day at the end of 2018 when he moved into his new government-subsidized house in Fangcheng New Village, Yunzhou District, Datong, Shanxi Province in northern China.
His new house, for which he paid only 10,000 yuan ($1,495), is equipped with natural gas, tap water and network cable, which were all absent in his former life under the roof of a shabby cave dwelling.
"My son couldn't find a wife when we lived in the cave because it was so inaccessible. Now my grandson is 8-months old!" said Bai.
The Fangcheng New Village is home to 412 people who have moved from inhospitable areas. Among them, 158 used to live in poverty.
In 2016, the Yunzhou District Government invested 781 million yuan ($117 million) to relocate 13,498 people and rebuild 6,868 dilapidated houses in 175 villages.
Relocation is only one of the ways to improve farmers'quality of life. With 32,568 people identified as living in poverty, the Yunzhou District Government made poverty alleviation its top priority.
The temperature in Yunzhou varies greatly between day and night. And thanks to the long daylight and volcanic soils, Yunzhou is an ideal place to plant daylilies, plants that are prized both for their medicinal properties and for their use in Chinese cuisine.
Local people in Yunzhou have been cultivating daylilies for about 600 years. As young people have left Yunzhou to live elsewhere, the size of daylily field has shrunk due to a lack of labor, which has lowered the income of the local people.
In 2015, daylily was identified as a key industry to help local residents to fight against poverty.
Option 1: The local government offered farmers a subsidy of 800 yuan ($120) per mu, roughly one sixth of an acre, for leasing farmland to grow daylilies.
"I can now receive an annual income of 70,000 yuan to 80,000 yuan ($10,554 to $12,062) for renting out my farmland, and an additional 120 yuan ($18) per day by watering land for others," said Bai.
The government has also established hydraulic facilities, and offered insurance and loans for daylily growing. Now in 2020, the coverage of daylily fields in Yunzhou has reached 170,000 mu (28,005 acres), which generates a yearly output value of 700 million yuan ($105 million), and helps 15,000 farmers escape from poverty.
The local government also offers free training to women. A skill training station has been established in Fangcheng New Village, teaching rural women learn how to apply makeup, use computers and babysit as part of a ten-day course.
Yunzhou District was officially declared to have shaken off poverty in May 2020. The government is now working on a rural revitalization project to turn the region into a health resort.
(Yang Mengzhuo is a graduate student from the School of International Journalism and Communication, Beijing Foreign Studies University)
Copyedited by Garth Wilson