Residents of inhabitable parts of Shanxi relocate to more prosperous areas
p.china.org.cn by Liu Yizhou,September 21, 2020

Adjust font size:

"We don't need firewood to cook, and we don't have to fetch our water anymore," stated recently relocated 72-year-old Jia Gaozhi. "Heating is available in the winter, and our home is equipped with a toilet. This is the happiest time in my life."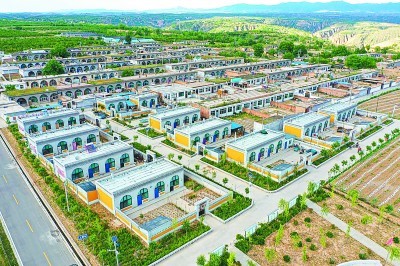 New housing at a resettlement community in Shangliu village, Xixian county, Linfen city
Jia had lived in a 20-sq m cave in Zhaojiawa village, Yangping township of Kelan county in Xinzhou city, Shanxi province ever since he was born and engaged in subsistence farming on 0.66 ha of land. A member of one of the many generations who had lived and worked amidst these harsh conditions, he never thought that he would live in a regular building.
A view of the interior of a new home at the Xiangyang resettlement community in Daning county, Linfen city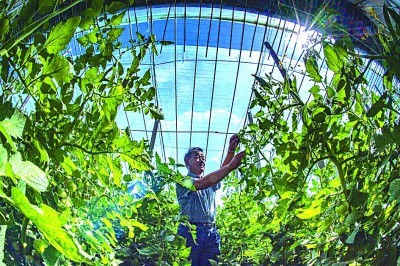 A farmer tends vegetables at a greenhouse that was built for poverty reduction purposes in Liujiaping village, Zhongyang county, Lyuliang city.
Kelan county launched its relocation program in June of 2016 and began implementing a plan known as "1+8+N" that involves the construction of one concentrated resettlement community called Guanghuiyuan new village in the county town, as well as resettlement communities in eight townships and various villages. The undertaking made it possible for Jia and his wife to move into a new home and improve their lives one year later.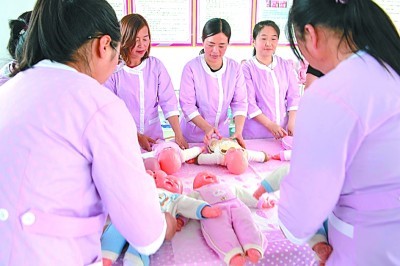 Villagers participate in the "good helper" skill training program in Yonghe county, Linfen city.
"The sum of subsidies that the government provides for returning cropland for forest, the profit that I receive from a forestry cooperative that I am a member of, my pension, and similar sources of income come to more than 10,000 yuan (US$1,428) a year," Jia explained. He also makes more than 1,000 (US$142) yuan a month as a doorman. "It used to be inconvenient to get tofu, but I can get it next door now," Jia continued, happy as a child. "We can eat whatever we want very easily."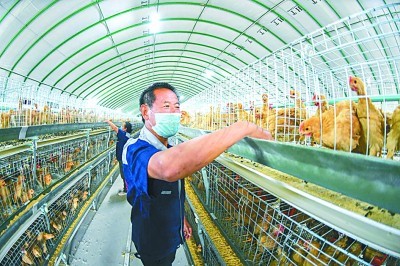 A resident of Guojia village in Yonghe county, Linfen city inspects chickens at the local Xinyuan Crop and Animal Farming Cooperative's poultry farm.
Jia is one of the beneficiaries of Shanxi's campaign to address poverty by relocating people living in regions with harsh conditions and poor natural resources. Situated among the hills and valleys on the Loess plateau, most of the impoverished counties in the province are distributed in the Lyuliang mountain, Yanshan-Taihang mountains area. The province has prioritized the relocation projects over other poverty reduction endeavors in recent years and has forged a development path by helping poor people move out of inhabitable and isolated mountain villages, returning the cultivated mountain slopes to forests, and pursuing the photovoltaic industry to create job opportunities. The efforts that have been made have resulted in the completion of 1,502 concentrated resettlement communities. In total 362,000 of Shanxi's registered poverty-stricken population as well as 110,000 villagers not on the registered poverty list were relocated and moved into their new housing. The followed up industry development has also helped 314,000 people gain employment to increase their income.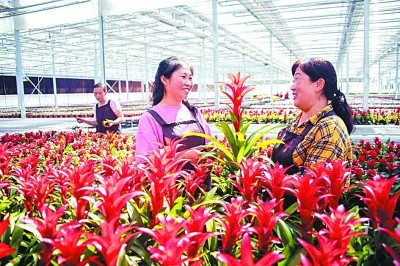 Villagers tend flowers and plants at a modern agricultural floral innovation demonstration park in Daning county, Linfen city.
During the implementation of those relocation projects, the authorities in Shanxi gave priorities to addressing the most urgent problems of most impoverished residents. Many villages in areas of extremely poverty were relocated entirely. Methods of accurately identifying poverty were adopted; resettlement communities were built with supporting facilities; the old villages where their residents had moved away were demolished and reclaimed for farming. In addition, efforts were also made in improving ecology, developing industries to provide job opportunities, and enhancing governance capacity of communities. All this has contributed to the obvious improvement of impoverished people's living standards.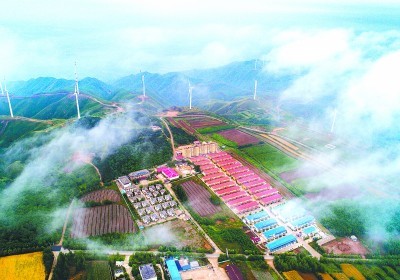 A resettlement community in Zhangdian town, Pinglu county, Yuncheng city
"I never dreamed that I would move to the county town and get a job there," 41-year-old resident Chang Hongyan mentioned. She is originally from a more remote Leyao village in Jieyu township, Yuanqu County of Yuncheng city, and has undergone major changes since she resettled in urban area. Chang participated in a culinary training program that the Yuanqu County Human Resources and Social Security Bureau made available in the beginning of 2019 and currently earns about 2,000 yuan (US$286) a month working as an assistant chef at a restaurant. "My children go to a county town school, and I work next to our home," she continued joyfully. "I am able to take care of my family and earn stable income. My life is getting better and better."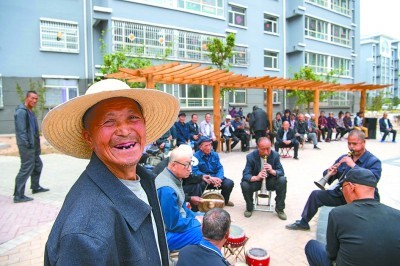 Residents of the resettlement community in Qiaojiagou village, Xingxian county, Lyuliang city play musical instruments and engage in other spontaneous recreational activities.
People are usually most concerned with employment when they move to a new place. Wu Jing, deputy head of Jieyu township, noted that the county proposed a goal of helping to ensure that "at least one member of every relocated household possesses a skill." The township invited forestry experts to teach local residents walnut cultivation techniques, collaborated with the human and social security agency to offer training courses on housekeeping and other labor skills, and encourage businesses to set up factories for poverty alleviation purposes near resettlement communities. A total of 500 from the township including 30 entrepreneurial leaders have benefitted from these professional training sessions.
Resettlement is only the first step of poverty eradication relocation undertakings. Their ultimate goal is to help people gain employment, gradually become more prosperous, and live stable lives. Shanxi has taken the industrial development approach, for instance, building characteristic industry parks and poverty-reduction factories, to ensure employment and sources of income for those people resettled in both urban and rural areas.
The Shanxi approach to the relocation for poverty reduction purposes has fundamentally changed the environments that impoverished people live and work in, greatly improved infrastructure and public services at their resettlement communities, effectively guaranteed employment for people who have relocated, and effectively combined the poverty reduction undertakings with rural revitalization and beautification efforts to gradually enhance the governance capacity building at grassroots.